"The students of the Clark Honors College—they are amazing, these students could go anywhere, and we want to continue that excellence. We want to nurture these opportunities."
— University of Oregon President, Michael Schill
---
Location, location, location. The academic home of the Clark Honors College, Chapman Hall is right off of 13th Avenue, the university's "Main Street." It is just down a long, grassy quad from Knight Library; and a hop, skip and jump to the student union. We've got the location thing covered.
About to change is what's on the inside. Alumni, friends of the college, and the State of Oregon legislature have come together to fund a complete interior remodel of Chapman Hall. New classrooms will be designed specifically for our signature seminar-style classes. Integrated classroom technology, community spaces for students and faculty to meet and mingle, and dedicated student spaces for social and academic activities are all central tenets of the new design.
Opening January 2018, the new Chapman will be the home our amazing students deserve.
---
A New Home in the Heart of Campus
Architecture firm Hennebery Eddy and general contractor Fortis Construction are working to transform Chapman Hall to serve the needs of our students now and for the next 50 years. Take a look at some of the design concepts behind the renovation.
Lobby

University Lecture Hall & Offices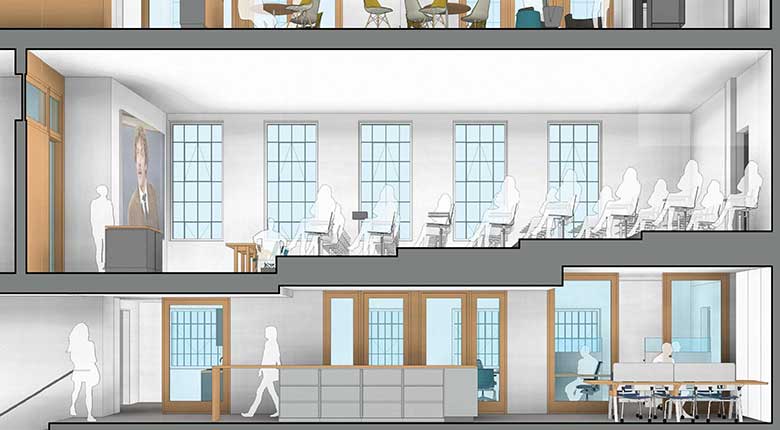 Library & Student Lounge

Community Space

---
A Legacy of Honors
We are so appreciative of our alumni, faculty, and friends who came together to help fund this renovation. Particular thanks go to our incredible donors who have sponsored spaces within the renovated Chapman Hall.
Named spaces are still available!  Contact Jen Parker [jeparker@uoregon.edu | 541-346-8018] to discuss the many ways you may be a part of this historic renovation project. 
---
Temporary Quarters
The renovation will require the honors college to relocate to temporary quarters in McArthur Court for one year and one term, beginning summer 2016. "Mac" Court was designed by noted architect Ellis Lawrence, who also designed Chapman Hall, and built in 1925 as a basketball stadium.
Moderate retrofitting has allowed us to create classrooms and student spaces at Mac Court. Clark Honors College students will have access to the same level of amenities that they are used to in Chapman, including a library and study space, student lounge, kitchen, computer lab and print station, as well as reservable group study rooms.
Our college is more than four walls; it is the people and the spirit of inquisitiveness and discovery that brings us all together. We believe that this time out of Chapman will prove to be an occasion for us to flex our community spirit, and make great memories together.