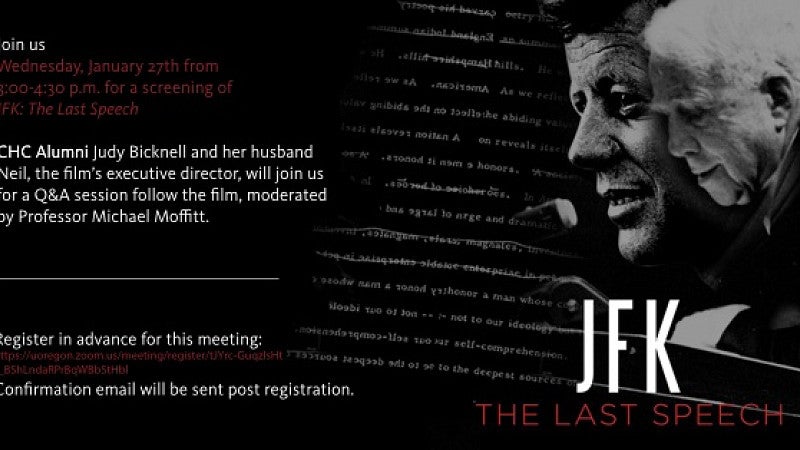 by Ellie Shalvarjian, CHC Communications
As social and civil unrest across the country grips the United States, the screening of JFK: The Last Speech at the Clark Honors College could not be more timely. Focusing on the leadership of former president John F. Kennedy and the creative genius of Robert Frost, the film and project was led by Neil Bicknell and his wife, Clark Honors College alumna Judy Bicknell (class of '68).
Since its release in 2018, JFK: The Last Speech has been screened over 500 times on PBS stations across the United States and gained recognition from 23 different film festivals. Along with the movie is a companion book, co-edited by Neil, which won first place in Writer's Digest's Self-Published Book Awards.
"It's an honor to be able to share this film with current students and faculty," Judy Bicknell said. "We want to provide resources for people to learn about JFK and Frost and be inspired by their civic values.  We also seek to encourage an appreciation of the arts and the joy that one can experience through the arts."
The film explores Kennedy's speech at the ground breaking of the Robert Frost Library at Amherst College on October 26, 1963, only 27 days before Kennedy's assassination and the impact it had on the students in attendance, one of whom was Neil. The project, originating at Neil's 50th college reunion, eventually gained over $300,000 of funding exclusively from Amherst College students.
"An extraordinary aspect of this project," Judy Bicknell explained, "has been getting to know people involved in the film, particularly Neil's classmates — the way they have conducted their lives and continue to conduct their lives, well into their 70s with a great deal of concern for our country and our democracy."
In honoring Robert Frost, Kennedy spoke about the relationship between poetry and power. He also emphasized of the responsibility of serving the public good, especially by those receiving a higher education. The screening of the film will include introductions from Judy and Neil Bicknell and Q&A session hosted by Michael Moffitt, a member of the University of Oregon law faculty.
The timeliness of the Bicknell's film resonated with Elin England, CHC's Program Manager for Alumni & Parent Outreach, who thought it would be a great fit not only with current events, but the relation of how the education of CHC students comes into play after graduation.
"At this point in our country's history, such a perspective is especially relevant and meaningful," she said. "For CHC students in particular, the question of how their liberal arts education and their undergraduate experience will inform their life as global citizens is one of increasing importance."
Going forward, the Bicknells hope to continue using JFK: The Last Speech for educational purposes: focusing on screenings in college and university classrooms and expanding the website to include additional commentary and research.
"That's our motivation for writing it and for the use of the film in classrooms and generally getting the message out relative to the values expressed in the film, the book, and the website," Neil Bicknell said. "The values of Kennedy and Frost are as relevant or more relevant today than when they spoke to us on campus."