Three professors will co-teach "Arctic Icebergs" in Spring 2020 that comprehensively examines climate change with aspects of environmental research, literature, and natural science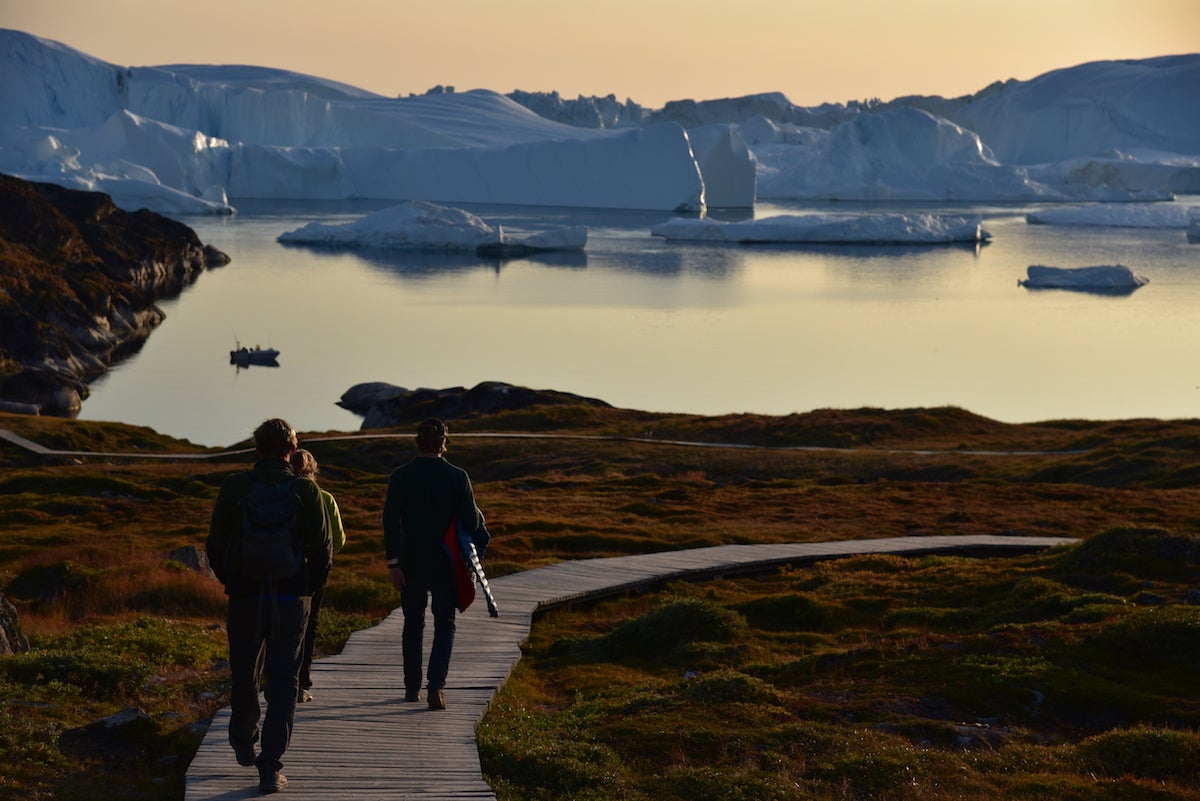 By Laurie Galbraith
At midnight on an evening last August, Casey Shoop, professor of literature and Mark Carey, professor of history and environmental studies, hiked to the top of a headland on the Greenland coast. They stood, watching the sunset, the mass of pink ice glowing in the middle of the not-fully-dark night, awestruck. Of that sight, Shoop would draw a parallel to the paintings of Caspar David Friedrich, in which distance can be hard to define and nature takes center stage.
"The experience of the world was totally different," marvels Shoop. "It was like nothing I'd ever seen."
History, literature and natural science don't generally run in the same circles. But in 2020, they will.
This spring, the Clark Honors College will offer a first-of-its-kind course called "Arctic Ice in Science, Policy and the Imagination," team-taught by three professors who represent three different disciplines; Mark Carey, professor of history and environmental studies, Dave Sutherland, professor of earth sciences, and Casey Shoop, professor of literature. The trio are curating an interdisciplinary class that will draw on research from their trip to Greenland last August to study Arctic ice not only for its role in climate change but also a lens to understand larger environmental conflicts in the world, from the policy and legal aspects to indigenous livelihoods, art, and the imagination of the polar regions.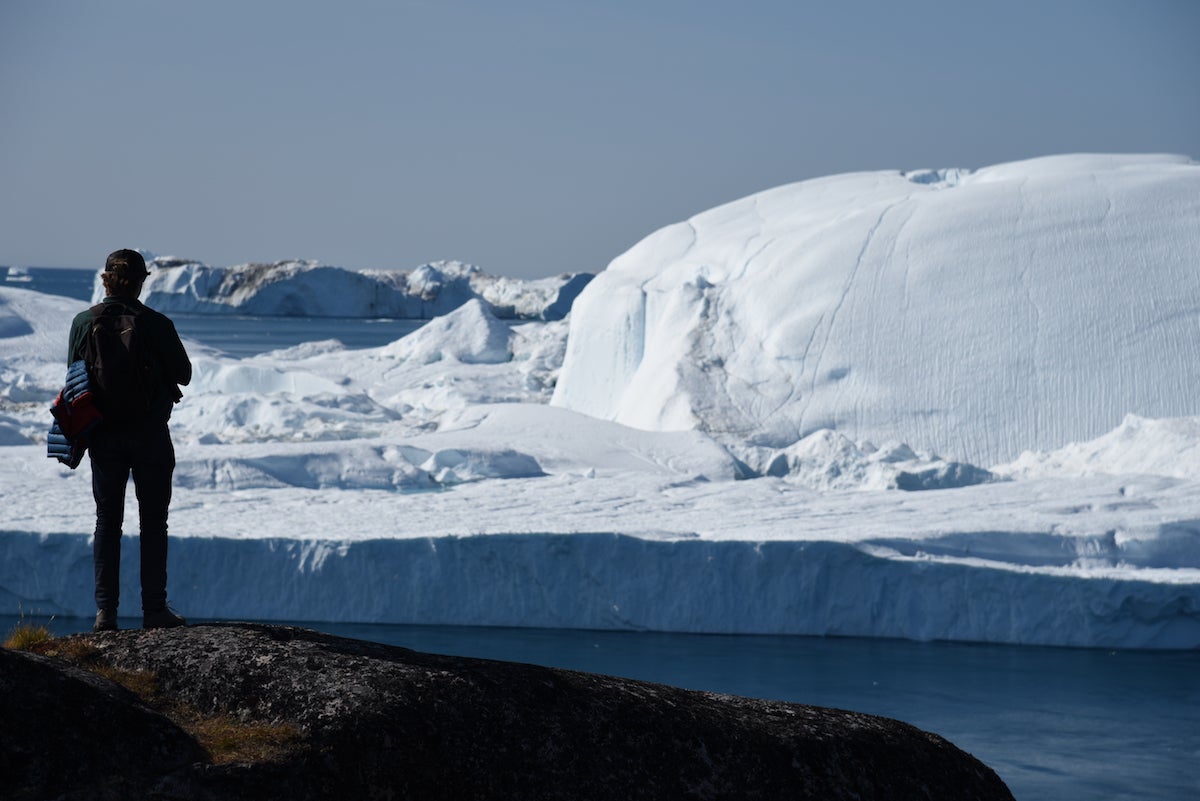 Carey explains that it's crucial to incorporate varied research and perspectives in this field because everyone — especially those living near icebergs and glaciers like those in Greenland — is affected differently. Arctic ice, then, is about much more than climate change, even if we generally hear about icebergs and glaciers primarily as casualties of a warming climate.
"The problem with a 'climate-only' angle or an 'ice-first' approach is that you see ice and climate change as the number one issue that should be affecting these people," he insists. "But if you ask them what their issues are, they report a host of things and have a different ranking and list of priorities. If we only see one issue, such as climate, it can be counter-productive for truly understanding both human societies and the complexities of environmental conflicts that are always multifaceted."
One of the driving ideas behind the class is to tangibly show students what varied research perspectives look like and why strong research includes many disciplines.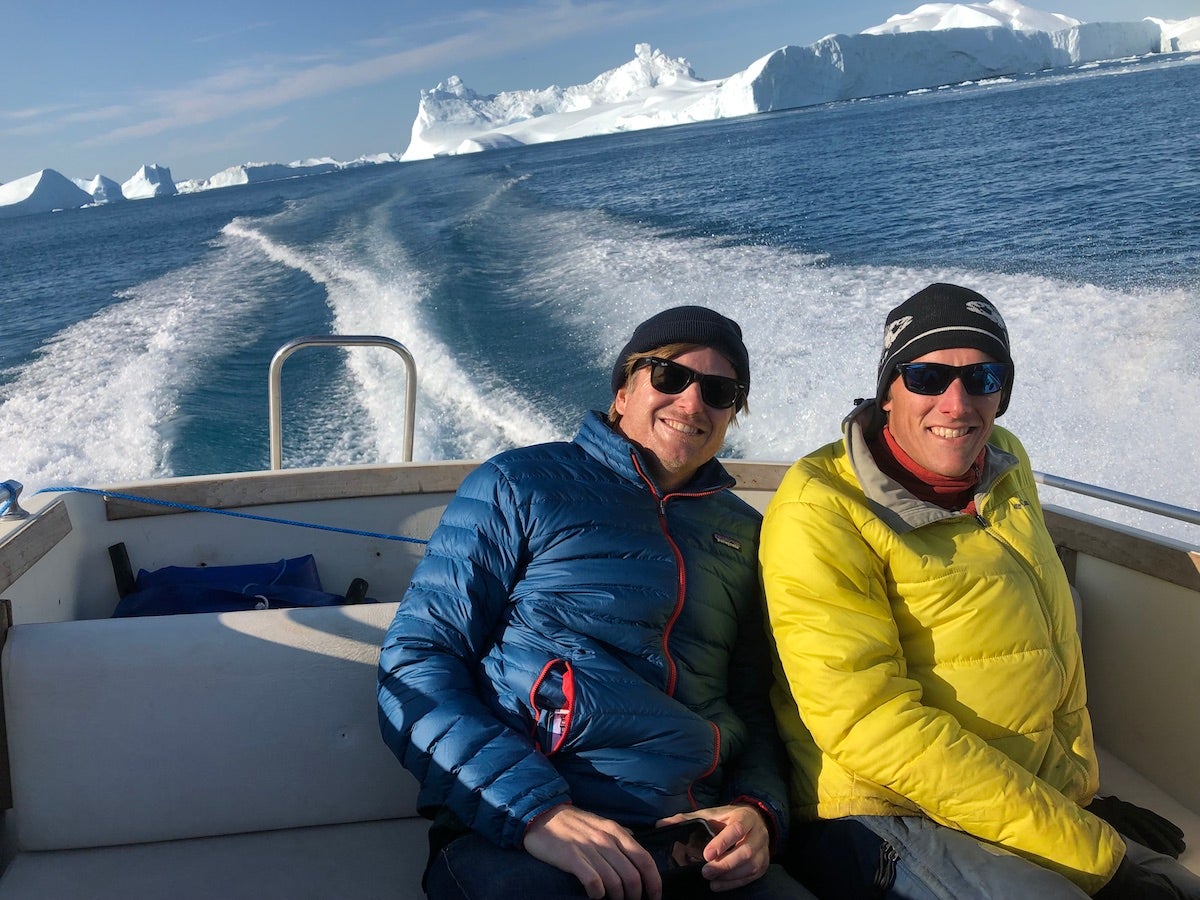 Kristin Schild, assistant research professor at the University of Maine and a former postdoctoral fellow at the University of Oregon in Sutherland's Oceans and Ice Lab, was also part of the 2019 research team. She's been to Greenland many times, on trips to study the effect of the warming ocean and Arctic ice. This time, she says, it was different, and she relished the perspective shift.
"Understanding the Arctic system isn't just a physical science question, and we can't gain any forward progress without collaborating beyond our field," says Schild.
Sutherland agrees, acknowledging that while physical science is certainly crucial, other disciplines help provide a desperately needed complementary approach that sheds light on how climate change affects different groups of people. Now they are thrilled to bring the fruits of that interdisciplinary research in Greenland to the classroom on the UO campus.
"With Mark and Casey there [in the class] we'll step back, take a broader lens and say 'well, what does ice mean for an oil company or someone who fishes in the fjords or a tourism company?" Sutherland adds. "It goes beyond sea-level rise, especially in communities there in Greenland."
Carey, Sutherland, and Shoop all agree that rising meltwater is only one part of the equation. Representation and ethics are significant considerations when doing this kind of research and teaching. Shoop talks about returning from Greenland with a new sense of obligation surrounding his experience.
"It became a matter of some urgency after I came back…how can I be responsible to the ice and the communities that I saw?" he asks.
Carey says that ethical considerations are more important than ever, that it's crucial to remember that research can be extractive and that indigenous peoples worldwide want to decolonize environmental research through consent and collaboration.
"Alliances must be built and asking permission is key," he says. "A singular, top-down approach driven only by the researchers can alienate a lot of people."
These considerations will be a substantial part of the class as well. Sutherland says one course assignment will be student-led collaborative project that finds ways to comprehensively explain the importance of Arctic ice.
"For example, there might be a group project that asks students how to best convey ice to people — in a way that includes history, culture and science," says Sutherland.
Casey Shoop, Dave Sutherland, Mark Carey and Kristin Schild during their research trip to Greenland. 
Mackenzie Myers, an environmental studies major, has high hopes for the course after working alongside Carey in the Glacier Lab during his first two years at the CHC. He believes Carey is great at being inclusive in his research. He says Carey has made a significant impact on his undergraduate experience.
"Mark has interesting and intriguing ways of thinking about climate change," Myers says. "He's helped me see that people in different communities experience climate change differently."
For passionate students who want to learn about climate change, how to address it with a wide lens, and think deeply about all the complexities, "Arctic Ice" will be a thought-provoking and groundbreaking experience.
The [MC1] course will also be a new format for team-teaching in the Honors College. A typical CHC course has 19 students. This course, however, will allow up to 57 students. This course-cap retains the 19 students to 1 professor ratio that is quintessential to the Honors College experience. But it also allows many more students to take advantage of the three professors and the numerous guest speakers who will engage the course from Greenland, Canada, and elsewhere in the United States. To represent the truly interdisciplinary nature of the course, it will be offered as CHC colloquium credit in either the natural sciences, the social sciences, or arts and letters—students get to choose for themselves how to count it toward CHC requirements.
In the end, the professors hope "to show students how to think about and approach environmental problems in thoughtful, ethical, comprehensive and integrated ways," Carey added.
---