Rollicking and controversial musical staged in UO Production
Tony Award-winning play began as a CHC thesis for alum Jeff Whitty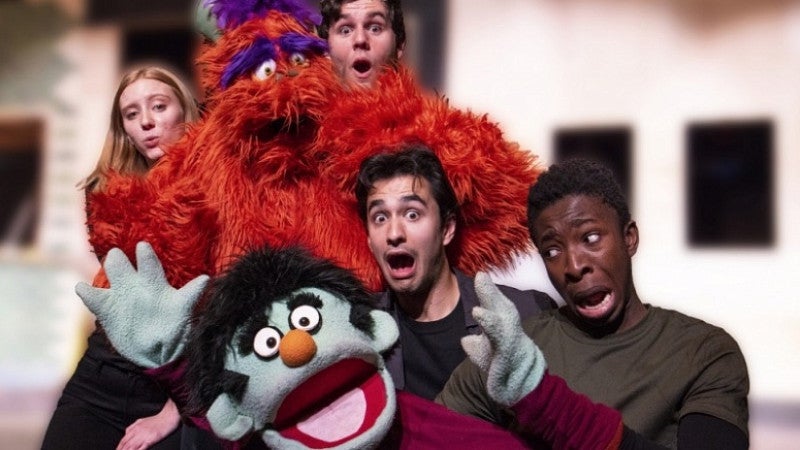 by Isabella Garcia
Brightly shingled houses give backdrop to a stage full of puppets singing in shimmering harmony. It looks like Sesame Street Live, except they are cursing, surfing the net for porn and proclaiming that everyone is a little bit racist sometimes.
The cast of the University of Oregon theater department's production of Avenue Q is preparing for their three-week run at the Robinson Theater opening November 2. 
The musical follows Princeton, a recent college graduate, who finds himself in New York City where the only apartment he can afford is on Avenue Q. As Princeton tries to navigate his new life, his eccentric but nice neighbors give him a healthy dose of reality and help him find his way through the pitfalls of adulthood.
"It's a show about community and drawing on community support when life and its challenges get away from us a little bit," said Zeina Salame, the PhD theater candidate directing the show. "When you're a kid, there are things you dream about and things you hope for that don't always work out the way you planned, but sometimes what comes about is more exciting than what you dreamed of."
The libretto, the text of a musical work, for the Tony award-winning production was written by Clark Honors College alumni Jeff Whitty '93, who cites his thesis as the beginnings of Avenue Q.
"It was the beginning of a sensibility that eventually, a decade later, led me to Avenue Q," Whitty said in a 2004 interview.
In the notes of the libretto, Whitty wrote that the musical is a show that can, and should, change over time, just as it changed while he was writing it.
Salame and the team have made an effort to approach the show in a way that reflect the current political and social climate.
"We haven't made changes to the text, but we've layered our sensibilities into the iterations of the characters," she said. "More specifically, it's got to do with conversations that have changed over the last 15 years, specifically in regard to race, gender and politics."
While casting the show, Salame was very conscious to choose actors who could bring their own identity to the character.
"When I'm working as a director, it's important to me that the character isn't about forcing something onto someone, but that every person who's a part of the team has an opportunity to let the character come from them in a way that makes sense for them," Salame said.
Liana Hu, an international student from China and Germany, feels that her own experience can bring more authenticity to her character, an Asian-American woman named Christmas Eve.
"They call Christmas Eve Asian-American in this play, but I see her as a Japanese immigrant to this country," Hu said. "She came here after receiving her graduate degree, which is when a person's life and worldview has already very much formed. The playwright probably did not understand her experience as much as maybe I can understand her experience."
Over the years, Avenue Qhas graced many stages, but never without a couple disclaimers. It's well known that the show tackles topics like sex, racism, porn and politics, but Salame also wants audiences to go into the show understanding that even though the cast is portraying the choices and opinions of some of the characters, it doesn't mean that they advocate for them.
"Each character is on their own journey to figure out their own sense of self and sometimes they make mistakes and hurt their friends," Salame said. "Part of what's interesting in a story is the mistakes that people, or monsters, make along the way."
Avenue Q runs November 2, 3, 9, 10, 16, 17 at 7:30 pm and November 11 at 2 pm in the Robinson Theater. Free tickets for University of Oregon students are available with a UO ID at the Miller Theatre box office up to one hour before showtime.