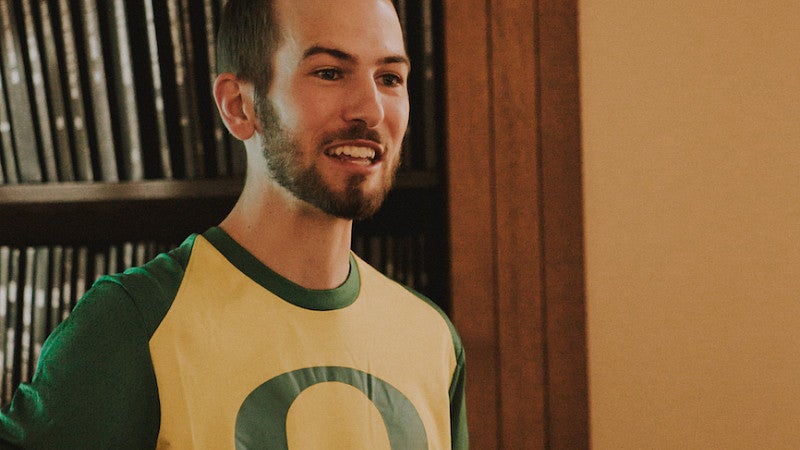 CHC alum Kevin Frazier, seen here addressing undergrads in a presentation in 2019, has established a digital platform to help heal the country's deep political division. 
Story by Abbey McDonald, CHC Communications
Photos by Sarah Northrop, CHC Communications
Last week, the presidential inauguration hosted 200,000 flags that stood in the place where spectators usually would, a stark example of the political separation in the United States. While President Joe Biden spoke of a deeply divided country and how it can sound foolish to some to achieve unity, Clark Honors College alumni Kevin Frazier ('16) had already been working on closing that national chasm. The first step is healing the separation of opposed sides, he believes, is simple: it's all about finding shared values.  
Frazier recently launched The Oregon Way, a blog that shares perspectives on issues and lifestyles across the state, from combating white supremacy to education inequity.
"We're trying to get as many Oregonians as possible to identify shared values and common ground, and their hopes for Oregon. Not in any sort of partisan sense, but just as what they want their community to look like," Frazier says.
Frazier, who grew up in Beaverton, knows Oregon well. He served as the President of the College Democrats of Oregon during his time at UO and would go on to intern for Senator Jeff Merkley. He also worked for Governor Kate Brown as an executive assistant.
"When I worked for Governor Brown, I had the chance to meet more Oregonians than I'd ever imagined," Frazier said. "I think there's a degree of cultural diversity that isn't always brought to the forefront. And so, what I wanted to do was to use the fact that I've been privileged enough to get to travel around the state to say, 'Hey, there's a common theme that runs across the state, and that's that people love being where they are in Oregon.'"
Frazier said that he wants to use the blog to capture Oregon's unique sense of place and has gathered contributors who are uniquely equipped to share their thoughts and experiences.
Recent articles include a look into the current political climate from former Oregon Deputy Secretary of State Rich Vial, thoughts on democracy in action from Oregon Food Bank Director of Advocacy and Organizing Moira Bowman, and a call for the bipartisan rejection of white nationalism from Eric Ward, Executive director of the Western States Center and Senior Fellow at the Southern Poverty Law Center.
One contributor is Clark Honors College Professor David Frank, who once taught Frazier. Frank has written several articles for the blog, including an argument to rename Deady hall to protest Mathew Deady's racism and another about the history of antiracism in Oregon.
"I think it's wonderful, because blogs and podcasts are vehicles that people use to engage in argument, and discussion and debate about what we should be doing in the country," Frank said. "There wasn't a blog designed to capture a conversation about the entire state. And that's what's impressed me about Kevin's vision. He's trying to bring in voices from all over the state, not just from Multnomah County or Portland."
Frazier hopes to expand The Oregon Way by adding new voices and perspectives to the blog. While he's plenty busy between studying at UC Berkeley School of Law and running his non-profit "No One Left Offline" which connects low-income families with donor-funded internet routers, he said he enjoys ending his days by reading new submissions.
"I think the thing that has stood out to me the most is: we share a common love for Oregon," Frazier said. "And what that means is we share a common desire to make sure that what makes the state so great now persists into future generations."
If you or someone you know would like to contribute to The Oregon Way, feel free to reach out to Kevin Frazier at kfraz@berkeley.edu.