CHC Alum Wins Coveted Nicholl Screenwriting Fellowship
Writing team Allison Buckmelter and husband Nicolas finally get their "big break"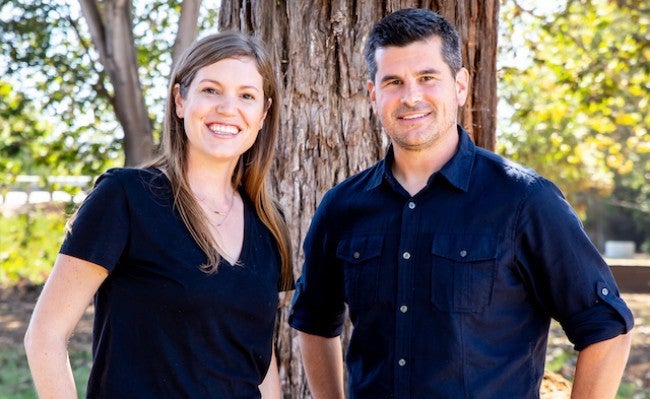 When the most recent call for the Academy Nicholl Fellowships in Screenwriting went out, 6,895 screenplays were submitted. Out of that avalanche of entries, only four screenplays were selected for the fellowship. 
The odds of winning were clearly not very good.  
One of those coveted slots belonged to the writing duo of Clark Honors College graduate Allison Buckmelter and her husband Nicolas, and with the award comes the relief of "the big break" after a decade of hard work.  
Winners of this year's Nicholl, from the same Academy that awards the Oscars, received their awards on November 8th. The Buckmelters' winning script, "American Refugee," takes place in the near future, where society unravels and a wealthy couple seeks refuge in a bomb shelter with their disturbed neighbor. The plot fits with their recent writing niche of edge-of-your-seat thrillers featuring families. This niche was one of many dots Buckmelter connected during her screenwriting career. 
Buckmelter came to the UO as a music major, but quickly realized her passion for English through the CHC literature courses. A playwriting class in high school previously piqued her interest in the craft, so she explored a film certificate. 
In that program, she took a year-long screenwriting course instructed by Lesli Larson. Industry legends James Ivory ("Call Me by Your Name") and Larry Ferguson ("The Hunt for Red October") taught several of the lessons. The students there created a writing group which continued after the class ended. Buckmelter knew she had found her calling.  
For her CHC thesis senior year, she wrote a dramatic screenplay about a girl whose mother goes missing, so her uncle takes her in and teaches her about jazz music. 
"I got to have a taste of what it would be like to write a screenplay start to finish," Buckmelter says. "if you're a writer you write every day…being in the honors college was such a good experience of having someone make me do that with a deadline." 
Larson was Buckmelter's thesis advisor and read her drafts weekly. Buckmelter enjoyed her time at the UO, and gave a shout-out to professors Henry Alley, Dennis Todd, Daniel Rosenberg, and Michael Aronson.  
After graduation, she moved straight to Los Angeles, met her husband and worked entry-level jobs and internships. The climate of the entertainment industry required serious personal adjustment. Her advice to student screenwriters is to dive in headfirst. 
"To really write professionally you have to live in LA," she says. "I'm an Oregon girl —I was born in Portland, I went to U of O— and it was really hard for me to leave and go do this, but now California really feels like my home and I love it here." 
After over a decade of teaching at an alternative high school and writing in the evenings, and after 14 script submissions to the Academy, the couple finally won the Nicholl Award. The Buckmelters felt the shift of attention from agents and producers. 
"It was like a light switch went off; it was night and day," she says. "People who we hadn't heard back from, suddenly we were getting emails from them asking to meet with us so that was really exciting…things are really taking off." 
They are currently in talks with producers for writing jobs, and Allison would love to see "American Refugee" filmed. From her thesis to an Academy recognized script, Buckmelter worked hard, and now has a lot to look forward to in the entertainment industry. 
"It's really validating, after putting a lot on the line to try to make it happen; it finally happened!" she says. 
—Abbey McDonald, CHC Communications 
Additional links: 
Nicholl Fewllowships in Screenwriting