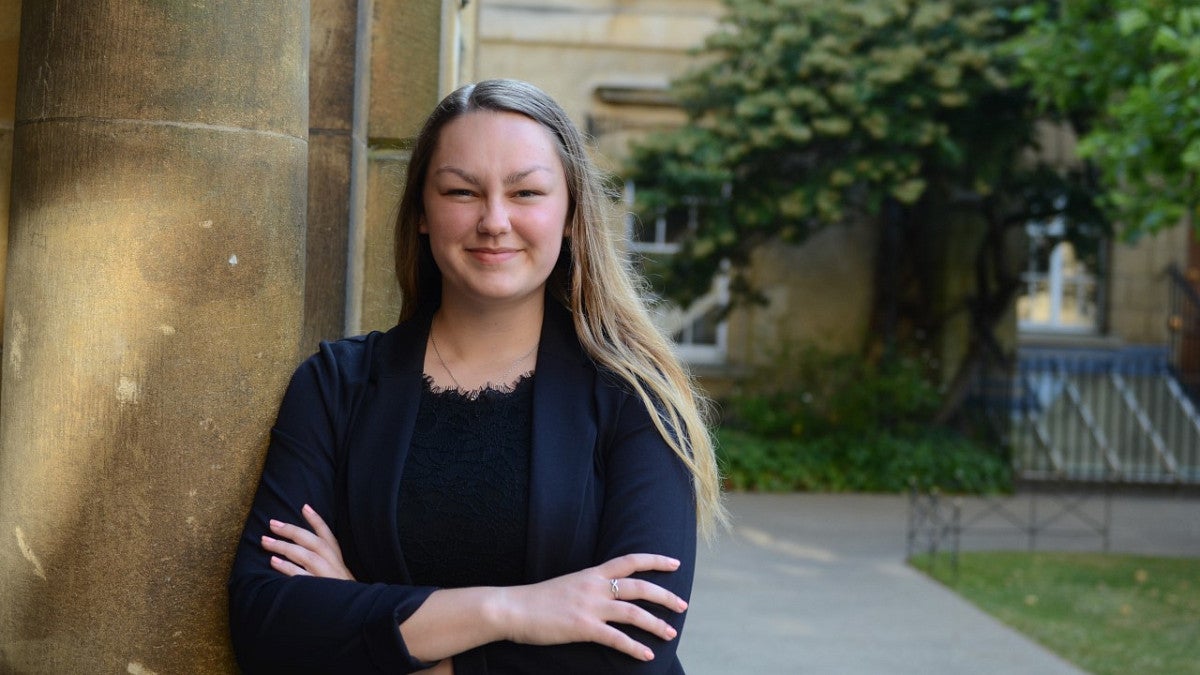 Caitlin Scott, '20, received the Bartell Prize for her CHC thesis, which she presented at 2021 Human Development Conference "The Future Is Now: Innovative Responses to Global Adversity" at Notre Dame earlier this year.
April 21, 2021
Story by Jillian Baldwin, CHC Communications
Photo courtesy of Caitlin Scott
When Clark Honors College alumna Caitlin Scott was finalizing her thesis last spring amongst travel restrictions and thesis defense cancellations, it was difficult to find the silver lining. The pandemic had "put (her) on a pivot" about her plans for her thesis, she said, a feeling shared by countless peers that found themselves in the same situation.
A lack of culmination loomed over Scott during her last quarter. Her thesis defense, a moment to stand in front of her thesis committee and present years of research, was cancelled. It was a defeating blow after dedicating so much time to research and writing.
"I was just trying to find other things to do with my time since it wasn't turning out how I expected," Scott added. But soon, an email and some family encouragement would change all of that.
The email was a call for applications for the 2021 Human Development Conference "The Future Is Now: Innovative Responses to Global Adversity" at Notre Dame.
"I saw this opportunity, applied on a whim, and was accepted," Scott said.
In February, Scott was finally able to present her thesis, "Reinforcing Push Factors in the Northern Triangle: An Investigation of Trump's Attempts to Deter Immigration through Humanitarian Aid Reduction," and her knowledge and passion for international justice to the virtual stage at the conference. She was one of two winners nationally to secure the Rev. Ernest J. Bartell, CSC Prize for Undergraduate Research on Poverty and Development from the Kellogg Institute for International Studies.
For a graduate of the class of 2020, it is apropos in Scott's case to say that hindsight is, too.
The conference took place over Zoom and was entirely student-run. "There were people my age in charge and putting it on, and I think that was really cool," Scott added.
The conference is dedicated to creating a platform for students to share and collaborate on issues of development, humanitarian aid, and global adversity. Caitlin was placed in break out room where she presented her Honors College thesis along with two other students from across the country. "It was nice to hear people from all over the country with similar ideas but still having new takes on it and new perspectives."
Caitlin's thesis focused specifically on how the United States' political climate under former President Trump affected immigration in the Northern Triangle, the area of Honduras, El Salvador, and Guatemala.
Though she didn't know it at the time, Scott's thesis had been in the works for years. The development of her idea started her senior year of high school when she became involved in the Ignatian Family Teaching For Justice, a collaboration of Catholic high schools across the country in Washington D.C.
"There are presentations on social justice that you attend with team members from your high school," Scott explained. She had the opportunity to familiarize herself with developmental justice by advocating to her state senators while on the trip.
"That year, there were three topics, and one of them was human rights for Central American refugees, and so that's the first time that I looked into that issue," she added.
Throughout her time at UO, this became her go-to research topic as a Global Studies major. She used those papers as a basis for her thesis, then added her own original research to create the work that on the Bartell Prize.
Scott's passion for humanitarian aid and social justice expands beyond the classroom. In the fall, she interned at the Diabetes Community Care Team and HIV Alliance to get experience in non-profit work. Looking to the future, Scott hopes to use her skills from her internships and non-profit management minor to pursue further non-profit work after graduation. However, with an abundance of interests, she's hesitant to point to one right now for a career.
"I don't know what exactly I want to do and it's good to have a broad range of interests so you can rely on them and apply them in certain situations," she added.
After the pandemic recedes and travel opens again, Scott hopes to make it to Spain. "It would be amazing just to actually get that after waiting for so long," she said.