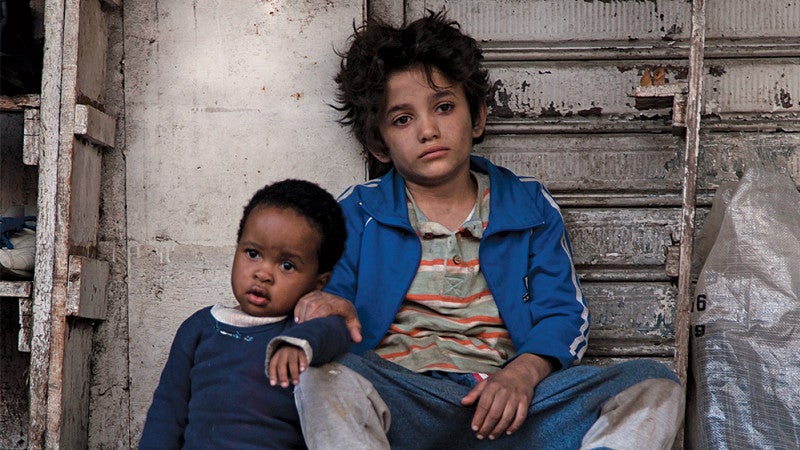 A scene from Capernaum, the next film in the "Racism in the U.S. and Beyond" film series

Story by Claire Warner, CHC Communications 
Inspired by the summer's anti-racism demonstrations, Matthias Vogel, Global Scholars Hall faculty in residence and director of the Global Engagement ARC, was looking for a way to address race and racism on an international scale. Collaborating with Clark Honors College ARC director Casey Shoop, the two decided to host a film series titled "Racism in the U.S. and Beyond,"  which aims to "make aware and make immediate the discrimination and racism that is going on," Vogel said.
Vogel said the goal of UO's residential learning model is to overcome the artificial separation of home and school. By bringing students from the CHC and Global Engagement ARCs together, the two faculty provide students a comfortable and collaborative space to engage in important discussions. As such, students are encouraged to enjoy each film dedicated to exploring racism of a certain time and region and engage in a faculty-led discussion.
"We have such capable people on campus who can introduce students to film as a tool for thinking, and they're doing it," Shoop said.
On January 21, the series presented Sairat, which focused on the Indian caste system. Associate Professor of English and Cinema Sangita Gopal led the accompanying discussion, answering students' questions about the origins and features of the caste system. Professor Michael Allen is a comparative literature specialist who focuses North African cinema and will be leading the discussion after Thursday's screening of the Lebanese film, Capernaum. But despite the scholarly insight available, the discussions remain informal spaces for students to ask questions and offer observations.
"For me, it's important that it is not a class. It's not supposed to be a film and then a formal lecture about the film," Vogel said. "The idea was, basically, as if we're coming together with a group of like-minded friends, watching a film on a certain topic and then everybody can offer an observation. You don't have to have a specific insight or be a film scholar to participate."
Despite a common "Zoom fatigue," among students and faculty alike, Shoop and Vogel were pleased with the turnout and level of engagement demonstrated at the Sairat screening.
"It went as well as it could have in spite of all the challenges of trying to create community together," Shoop said. "A film can do that, magically."
CHC student Neva Lillis who attended the series' screenings spoke enthusiastically of the series' first film, I Am Not Your Negro, which was about Civil Rights Leaders in the 1960s and how the government conspired against them. "I really enjoyed that one because it was super informative about how the government hasn't always been pro MLK."
Lillis said participating in the film series is a great way for students to engage in educational material outside of the classroom.
"The discussions afterward are always super cool," Lillis said. "The feedback from the professors is amazing. I've noticed the professors are way more excited to talk about what they're presenting and since [the films are] not required, they're a great opportunity for students to attend something that's more specific to their interests."