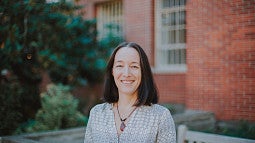 Lisa Munger  
Story by Andy Jobanek, CHC Communications
Photo by Sarah Northrop, CHC Communications                                                                                      
Of the things you don't realize you'll miss until its gone, community might top the list at the moment. The strongest communities persist, however, even across pandemics.
That may be the biggest takeaway Dr. Lisa Munger taught her The Mystique of Marine Mammals in History, Science, and Culture class during a virtual visit to the Museum of Natural and Cultural History earlier this quarter. The class, a 400-level colloquium within the Clark Honors College, focuses on the science, folklore and culture around marine mammals across a large swath of history (and no, they don't learn how to speak whale).
The middle section of the class dives into indigenous uses of marine mammals, as well as some of the folklore around them. When Munger first taught the class in winter term 2020, that section meant a visit to the Museum of Natural and Cultural History, where Munger's students observed artifacts that indigenous people made out of marine mammals.
"Basically, every use you can imagine. From clothing to weapons to games to ceremonial items to just art and handicrafts," Munger said of the artifacts. "People in regions that depend on marine mammals depend on them for survival but they're also a really important part of culture and identity."
The artifacts helped drive home that marine mammals continue to tie indigenous communities together.
"People who live, for example, in the far north, there's no gardens to speak of. They don't have agriculture. They rely on food sources that they can hunt and gather from the sea and from the land for a very short time during the year. So marine mammals are really just a central part of life in those regions," Munger said.
Little did Munger know then that the coming pandemic would find her and the rest of the Clark Honors College looking for what tied their own communities together. Munger had scheduled a return trip to the museum when she taught the class for a second time in the spring, but the pandemic forced a hasty change of course. In place of observing the physical artifacts, Munger's class was left with pictures on a shared screen over Zoom, which left something to be desired despite everyone's best efforts.
Knowing that the class would be online again this fall, Munger decided to change things up. Lauren Willis, curator of academic programs at the museum, was  happy to oblige.
"This fall we switched to having our curator join on Zoom and hold the objects up so even though students couldn't come and experience the objects in person, it still felt like a real, live experience," Willis said.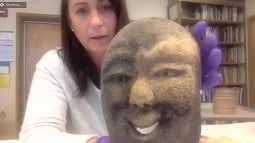 Museum of Natiral History and Culture curator Elizabeth White shares an indigenous Arctic mask over Zoom with Lisa Munger's class.  
Collaborations like the one between Munger and Willis have become an even bigger focus for the museum during the pandemic. Virtual visits may not be Willis' first choice for guests, but she notes that they can still break up the Zoom fatigue many students might be feeling while taking a full course-load online.
"We want our collections and the knowledge that our researchers have to be available to courses and to our faculty to really help enhance their classroom learning," Willis said. "Give them a different point of view, change their perspective a little bit. Even during COVID, we can still give them the experiential learning that the museum really prides itself on."
Munger and Willis' collaboration extended even after the virtual visit,  when images of the artifacts went up on the Creative Spaces page on the Clark Honors College website. Munger pitched the images to CHC staff member Liza Alter who immediately saw a connection to one of the main purposes of the project she was curating.
Alter said the original plan for the Creative Spaces project – before it was known that fall term would be remote – was to fill Chapman Hall with physical artwork from CHC students and faculty. Physical distancing, while necessary, can make for unwelcoming environments, and Alter said CHC staff wanted to counter that with artwork that could tie their community together.
"For a lot of honors college students, Chapman has sort of acted as a home base for them. And so we still wanted it to feel, given the context of this very barren, very strange looking building that wasn't at all what it used to be, we still wanted it to feel like part of the community," Alter said.
When it was decided fall term would be remote, though, those efforts shifted online. Five themes were selected to help focus the project, and Alter saw the collaboration between Munger and the museum as fitting perfectly with the third of those five themes: what is community?
Each level of the collaboration had its own showing of community. The artifacts Munger's class observed from the museum showed marine mammals at the center of indigenous communities. The back-and-forth between Munger and Willis showed the academic community within the University of Oregon. And the images of the artifacts on the Creative Spaces project showed CHC students outside of Munger's class a digital sense of community.