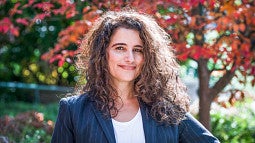 Story by Lauren Church, CHC Communications 
Photo by Jasper Zhou, CHC Communications
For Professor Alison Gash, her dedication to teaching and her commitment to public policy are closely linked.
"My interest in teaching is equal to my interest in public policy," Gash, an associate professor of political science at CHC, said. When she's not  lecturing or researching, Gash continues her public service work off campus — mainly fighting inequalities of race, gender, sexuality, and disability. "I was happy to land at U of O where I didn't have to give up my commitments to advocacy."
Gash believed she would enroll in law school, but after earning her bachelor's degree, she took a gap year  and spent it working to abolish the death penalty before turning to creating fair housing and public accommodations litigation. Despite her legal experience, Gash decided against law school.
"Being inside a civil rights litigative framework, I saw the limitations of what law could provide," she said. Instead, she decided to enroll in Princeton University's public policy graduate program. 
"When I left [Princeton], I was able to pursue a career in public policy where I was able to be on the policy-making side of affordable housing as opposed to the litigative side," Gash said. The degree landed her a position wherein she connected unemployed or recently houseless people with job opportunities. "It was an amazing experience," Gash remembered. "I don't think I had anticipated that, specifically, when I had graduated from college. I didn't even know those programs existed."  
Gash said her hands-on experience in the "real world" after obtaining her graduate degree lets her speak to the legal piece of public policy as well as its policy aspect. "As a professor, I can lean on those experiences as a way of asking questions and maybe even answering them," she said. "That's what compelled me to go back and get my Ph.D." 
This winter, Gash will teach a 400-level colloquium course at the honors college: The (Ir)Relevance of Law. The class explores the American law's exclusion and hostility toward marginalized communities throughout history as well as today. The course topic relates to a book Gash is brainstorming this year, and says she'll use course content as inspiration.
"The discussions and the material that I use will help me shape the arc of the book," she said. "A lot of what I'm going to be doing in class with those students this year and next year, if I get to teach it again, will be not just about creating a space of learning, but also organizing my narrative for the book."
Gash wants students to explore their own advocacy as well, encouraging them to volunteer, or to work on fundraising/donation projects with local food justice and housing non-profits.
At the honors college, Gash can teach the tightly knit classes she'd imagined herself leading one day; she loved the liberal arts framework her undergraduate alma mater, Vassar College, offered. "I really missed that small classroom environment," she said. "It's going to be great to be able to just really hone in on discourse and discussion in a way you can't when you've got 40 or 50 students."  
Read Professor Gash's latest op-ed about Roe vs. Wade in The Conversation here.