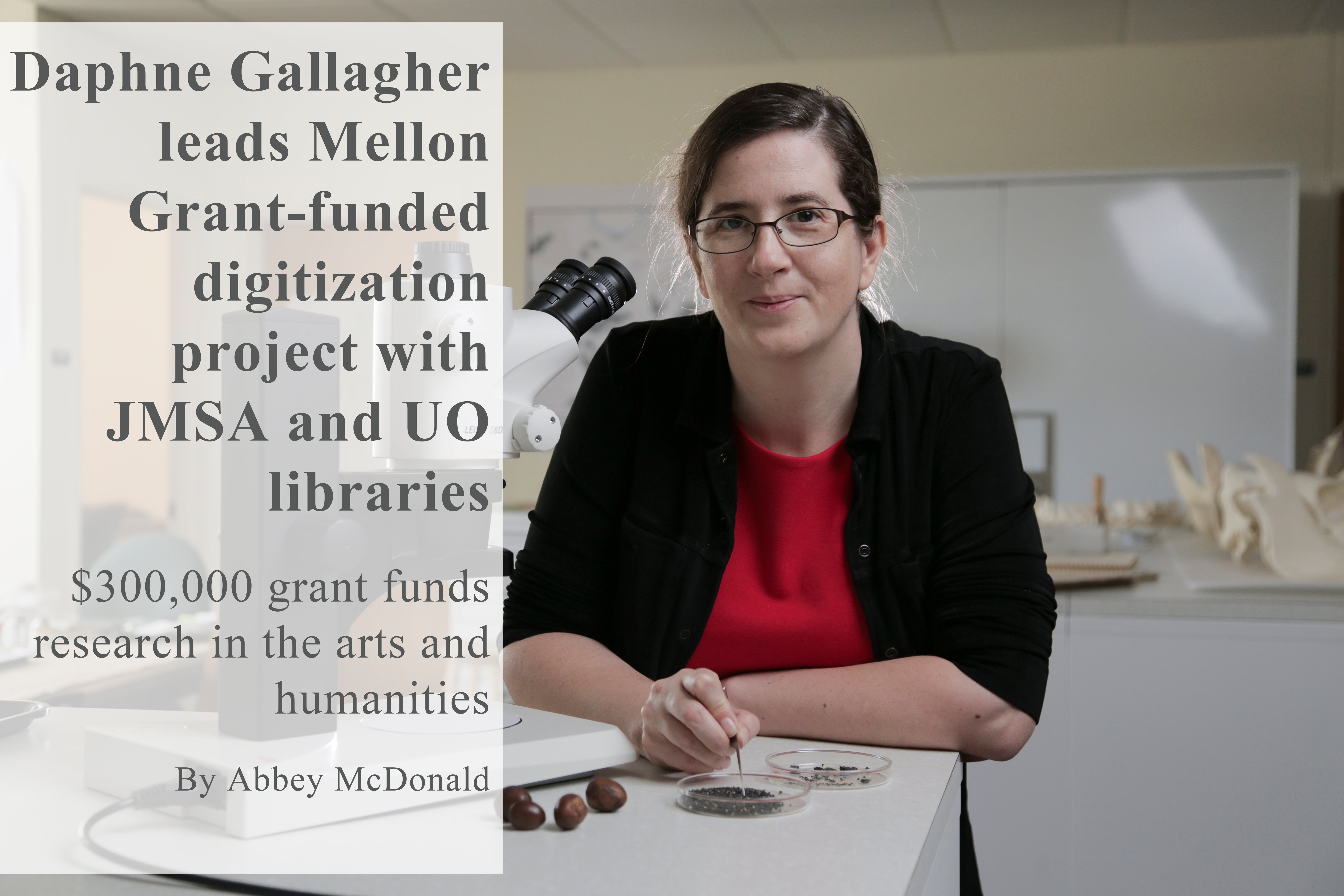 In her cozy new office at Chapman Hall, which often is crammed with artifacts and stacks of readings, Dr. Daphne Gallagher welcomes students to chat about anything related to classes, travel, archeology, history, or life in general. Whether it's a question from Clark Honors College students about ancient burial practices, African Studies, or Atlantis, Dr. Gallagher has the expertise to answer it.  
With archeological focuses on paleoethnobotany, agriculture, trade, and disease, her research has taken her around the world, including ongoing projects in West Africa.  
Dr. Gallagher now can add leadership on a Mellon Grant-funded project to her already impressive resume. 
In December 2017, the Jordan Schnitzer Museum of Art and the University of Oregon Libraries received a $300,000 grant from the Mellon Foundation, a prestigious nonprofit established in 1969 to fund research in the arts and humanities. Dr. Gallagher was chosen to work on the project to digitalize museum collections. 
"I'm very excited for Dr. Gallagher as she embarks on her project to develop a new course about how libraries and museums build, curate, study, and display their collections," said Dr. Jenny Kreiger, a Mellon Postdoctoral Scholar in Library-Museum Collaboration at UO. "I think we're all going to learn a lot from Dr. Gallagher and from each other as we work together." 
The Schnitzer Museum and UO Libraries aim to make their collections publicly accessible through digitization, so anyone can view them online regardless of whether they're on display or archived. This may seem like a straightforward task, but the process of archiving is much more than merely taking pictures. 
"Digitization is really complicated," Dr. Gallagher said. "The infrastructure that's required to ensure your digital stuff is in a format that will be good for perpetuity, and that it's reported, and that you can keep up, but then also on the flip side thinking about the ethics of digitization: Who's making this choice about what to digitize?" 
With her extensive background in colonial history, Dr. Gallagher thinks critically about these challenges. Along with considering what the communities who sourced the objects want, she also evaluates the diversity in the collections and looks for opportunities to further represent different groups. 
The project kicked off in March and gained momentum over the summer. Dr. Gallagher is looking forward to working with an interdisciplinary group of archivists, librarians, open-education specialists, curators, and collection managers. 
"It's going to be a really neat collaborative project that brings in a lot of the expertise we have on campus and will connect it not only to the classrooms here at the CHC, but also will create a resource that will be really broadly available," she said.  
From her work on the project, Dr. Gallagher is developing a hands-on seminar for CHC that will explore collection maintenance at libraries and museums. This is her first year as a faculty member at CHC, having previously worked in the department of anthropology. To date, her courses include an exploration of medieval West Africa and a course on the ethnobotany and conflict of the trans-Atlantic exchange.  
In the coming year, Dr. Gallagher and her colleagues will continue to use the grant to promote accessibility and interactivity online, in museums and in the classroom.  
"I really love the Clark Honors College," she said. "It's been a really gratifying place to work, and the level of enrichment and discussion that students bring to the classroom makes the classroom a really exciting place."