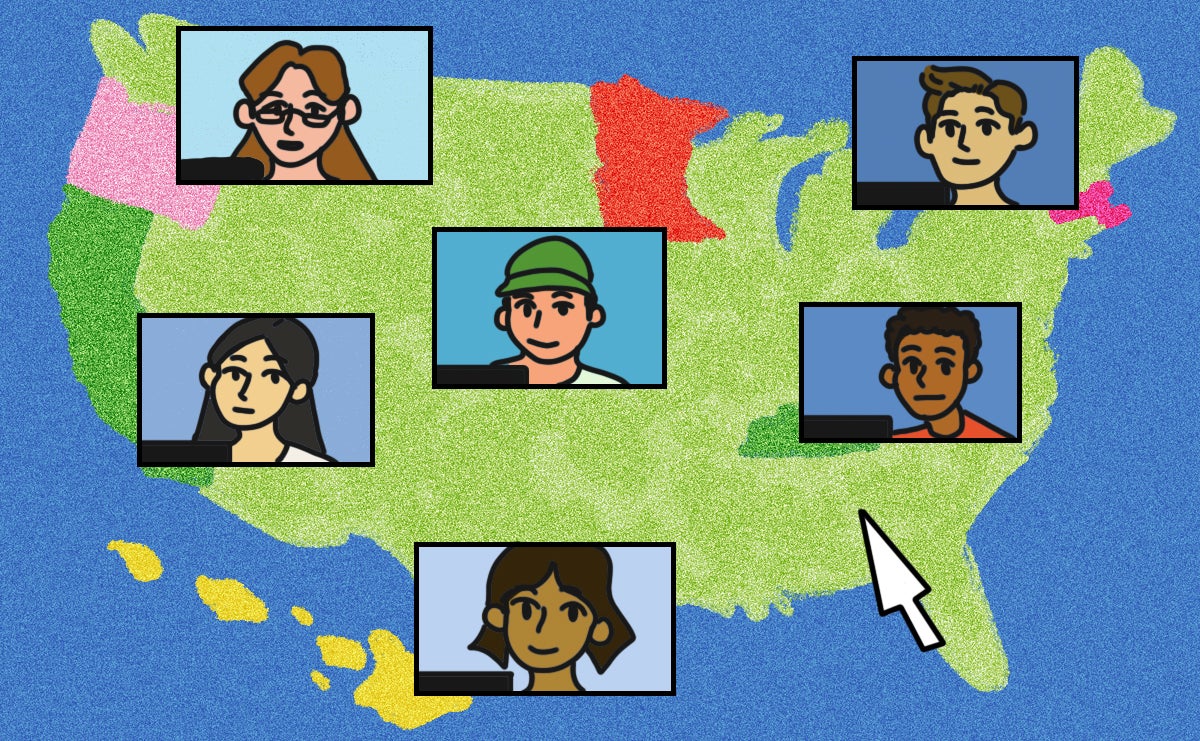 Illustration by Lauren Jin
by Kaitlyn Jimenez, CHC Communications 
Dare Baldwin, Clark Honors College professor of psychology, has experienced a "powerful feeling of togetherness" after modifying her three spring term classes to be conducted remotely and having her students "zoom in" from Oregon, California, Tennessee, Minnesota, Massachusetts and Hawaii.
"As we're meeting by Zoom under these very anxiety-fraught circumstances of this global pandemic, it is incredibly reassuring to actually be able to see people and hear their voices. I can see that they're well and wanting to stay engaged with learning," said Baldwin.
On March 19, the University of Oregon made the decision to provide remote education for the entirety of the spring term, to ensure social distancing measures and help slow the spread of COVID-19. This caused an abrupt change for professors and students who have had to quickly adapt to a new way of learning.
Baldwin has found "a different solution for each class" in order to give students the same quality of learning as they would on campus. Using Zoom, she has found ways to mimic in-person classes by using break rooms so students can discuss topics with each other, and devoting more hours than normal to contact with her students because of the screen barrier.
Every term Baldwin teaches Psychology 401, giving students course credit for assisting with research projects in her lab. Since the COVID-19 outbreak, all face-to-face human subjects research, except in rare circumstances, has had to stop. To adjust for this, students are conducting research through online surveys, working with preexisting data sets and analyzing them in new ways in relation to a new research question, and some are planning new studies which is a process that can take months.
Baldwin has also found that learning to teach remotely is part of a natural progression, given that the world has already been "increasingly moving to remote formats." Another course she offers this term, Psychology 607: First Year Research Seminar, supports first year doctoral students in psychology in becoming skilled science communicators, focusing in particular on assisting them in giving high-quality presentations about their scientific research. This class might not seem like the best to be taught remotely. But given how popular video platforms are to connecting people around the world, Baldwin says teaching presentation skills on Zoom increasingly seems relevant and important.
In the two weeks since remote education began, Baldwin has found that Zoom actually seems to facilitate students in "connecting with a larger, more diverse set of students."
"In a face-to-face setting one tends to have a fairly restricted set of other students that one interacts with, but I think the Zoom format makes it less obvious to turn to your neighbor because it's not clear who your neighbor is, and you don't sit next to the same person every time," said Baldwin.
While some students have told her they find it harder to engage in this new way of learning, Baldwin is impressed with her students for coming to the new style of classroom, ready to learn, and adjusting to the changes so quickly. To her, this shows how eager and motivated students are to continue their education.
Baldwin notes that the pandemic and the social distancing it is requiring may seem like a relentlessly long haul, but she wants to reassure students that, from the long-view perspective, this ultimately will be just "a blip" in life for many or even most of us.
"My sense is that 10 years from now, one will look back with a mixture of memories about the experience but it will be a blip in the arc of one's life and to try to remember that," said Baldwin, "If you think of it as a blip, that gives you some freedom to actually try to enjoy the parts that you can."