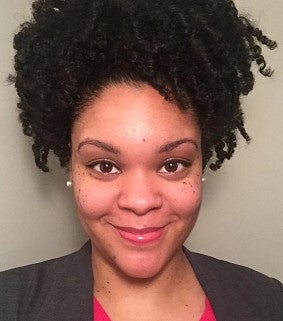 April 04, 2022
Story by Lauren Church, CHC Communications
Dr. Erin Bradley's passion for equity in public health was sparked when, as an undergraduate first-year, she thought she saw a mistake.
Sitting in a reproductive wellness workshop at Spelman College in Atlanta, Bradley was shocked to learn that the rate of HIV diagnosis for Black women was 22 times that of white women.
"I thought, oh, no, there's a typo on her slide," Bradley thought and approached the speaker afterward to clarify, and she was alarmed to learn the slide was error-free. "That was really a turning point for me. I became very, very interested in understanding, 'Why is that?' and, 'What can we do about it more than just being demoralized or discouraged?'" she added.
Now, as an assistant professor of public health at Agnes Scott College in Atlanta, Georgia, studying and addressing health inequities and disparities is Dr. Bradley's passion and profession. This spring, she's sharing her knowledge and expertise with Clark Honors College.
Through the CHC Visiting Fellowship in Equity, Justice, and Inclusion program, Dr. Bradley is teaching a colloquium course entitled "Health Equity: Social Justice in Health" in which students analyze the social influences that sustain the health disparities that Black Americans face. Through the lenses of history, public health, and inclusivity, students will utilize strategies to monitor health disparities and craft solutions for addressing health inequities.
"Beyond individual knowledge, attitudes, and beliefs, we're going to examine the way that social and structural factors, the role of racism, for example as a systemic factor, has broadly affected the health of Black Americans," Dr. Bradley elaborated. She explained that in a healthcare system designed for white Americans, legal barriers to healthcare access—like segregation—have ended, but many systemic patterns of that white-serving healthcare system persist.
"As a Black woman, my degrees do not protect me when I go into a health care setting. Depending on who I'm engaging with, implicit or explicit racism can be detrimental," Dr. Bradley said. "Whether it's my treatment plan or disbelief when I'm reporting pain or my background, my medical history, or any of that—the way I am engaged with and my ability to navigate the system. It's still there."
Students in Dr. Bradley's class will explore the Black experience with public health and apply it to their own interests and disciplines. Her goal for the course is for students to consider how they can use their understanding of the importance of equity to facilitate change in their industries and communities.
"One of my primary hopes for students is that it illuminates some things that may have even been right in front of them all of the time, but they see differently," she said. "I just hope that people leave with a broader perspective, a deeper perspective, and even some practical tools for how to be a good ally."