A Passion for Service Motivates Research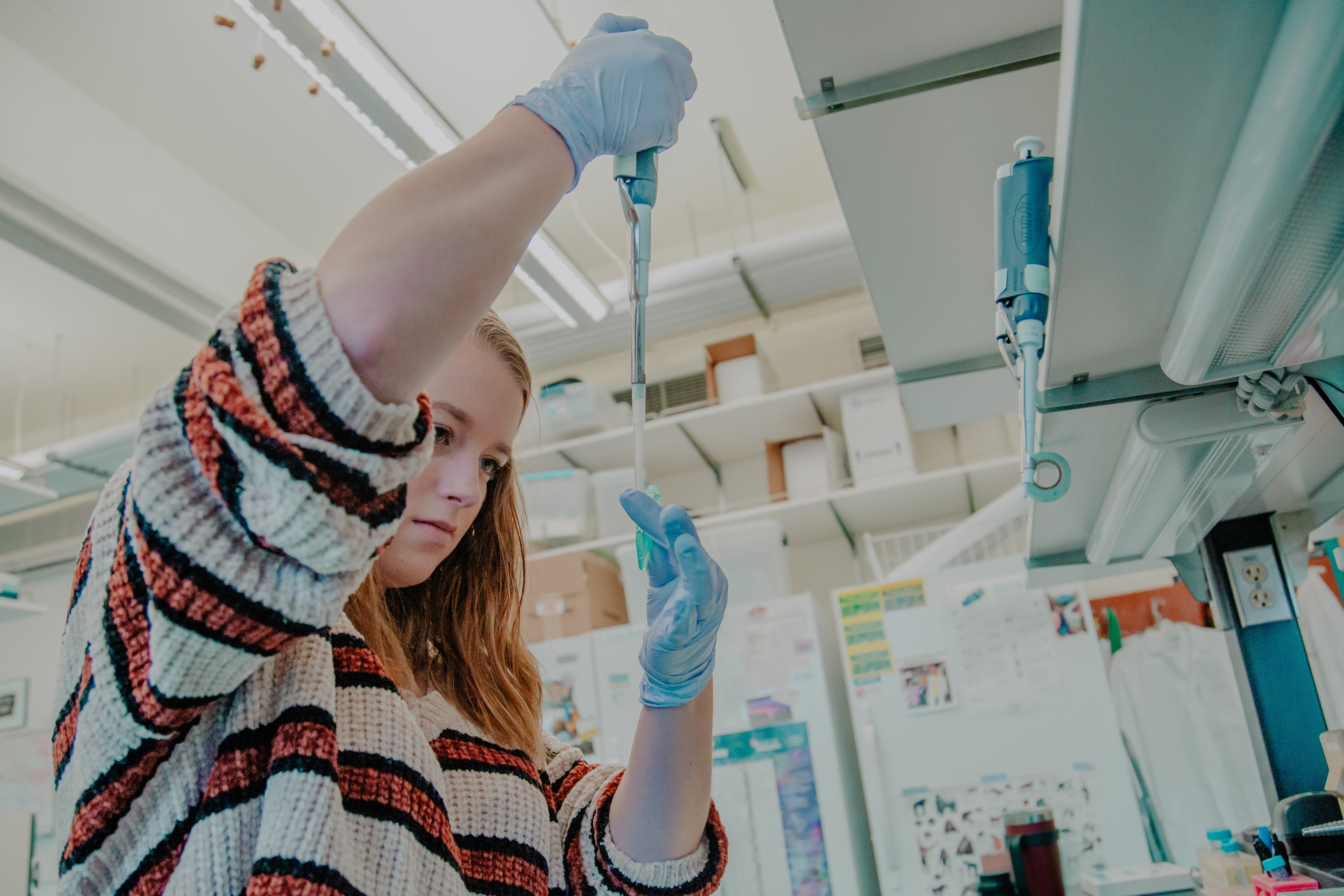 By Laurie Galbraith
Photos by Sarah Northrop
Emily Niebergall has been traveling to North East India since she was thirteen. Each visit, she goes to an orphanage in the state of Mizoram where the children are sick with diseases like AIDS and Hepatitis B. 
Spending a decade experiencing firsthand the effects of these illnesses has been one of Emily's most significant academic motivators. 
Emily Niebergall BS 20' is part of the first Knight Campus Undergraduate Scholars program cohort. This prestigious program awards $8,000 to natural science majors with a minimum 3.3 GPA. The curriculum also includes a professional development training component. This term, the topic is communicating scientific information which Niebergall describes as "how we can best communicate our knowledge to a variety of different audiences, be that through writing or speaking." 
The Knight Campus Undergraduate Scholars program provides a wealth of opportunities to network and utilize the interdisciplinary work going on around campus. Similarly, Clark Honors College students enjoy great access to varied opportunities on and off campus; the collaboration is opportune.
"This partnership between the Knight Campus Undergraduate Scholars Program and the Clark Honors College is really symbiotic," said Robert Guldberg, vice president and Robert and Leona DeArmond executive director of the Knight Campus.  "Students will benefit from the tremendous access, experience and opportunity. But the Knight Campus — and ultimately society — also will benefit from the tremendously talented honors college students who take part in the program. " 
The star of Niebergall's research is the three-spined stickleback — a fish often used in biology research. She says the stickleback's adaptive immune system, especially when it first starts, is important to laying the groundwork so there's a possibility to use them for the kind of research that would benefit people like the kids in India who suffer from tropical and infectious diseases. 
Going into college, Niebergall had never even heard of the three-spined stickleback. She says the opportunity to find out just sort of presented itself. 
"I got connected with the Cresko lab (on campus) by doing a work-study position, feeding the fish and cleaning the tanks. Then Bill Cresko who runs the lab, found out I was interested in doing research. Then they offered me the opportunity to do some grunt work and it went from there to some bigger projects and then we got to talk about my thesis project in the lab."
Niebergall's experience is a great example of what CHC students can look forward to.  
Assistant Dean of Advising & Strategic Partnerships, Elizabeth Raisanen, says "CHC Scholars in the Knight Campus Undergraduate Scholars Program have access to the financial resources and the professional development opportunities that will enable them to embark upon cutting-edge research experiences that can lay the foundation for their Clark Honors College thesis projects and their future careers."
Niebergall also says that the Knight Campus Undergraduate Scholarship is extraordinary because it gives her a chance to meaningfully contribute to her field. 
"It's been amazing and it's gone beyond my expectations, not just in financial support, but also because we've been able to connect with other people who are doing similar research on the same fish and it's exciting for me to know that the results of my experiments are going to be useful to people who are doing this research."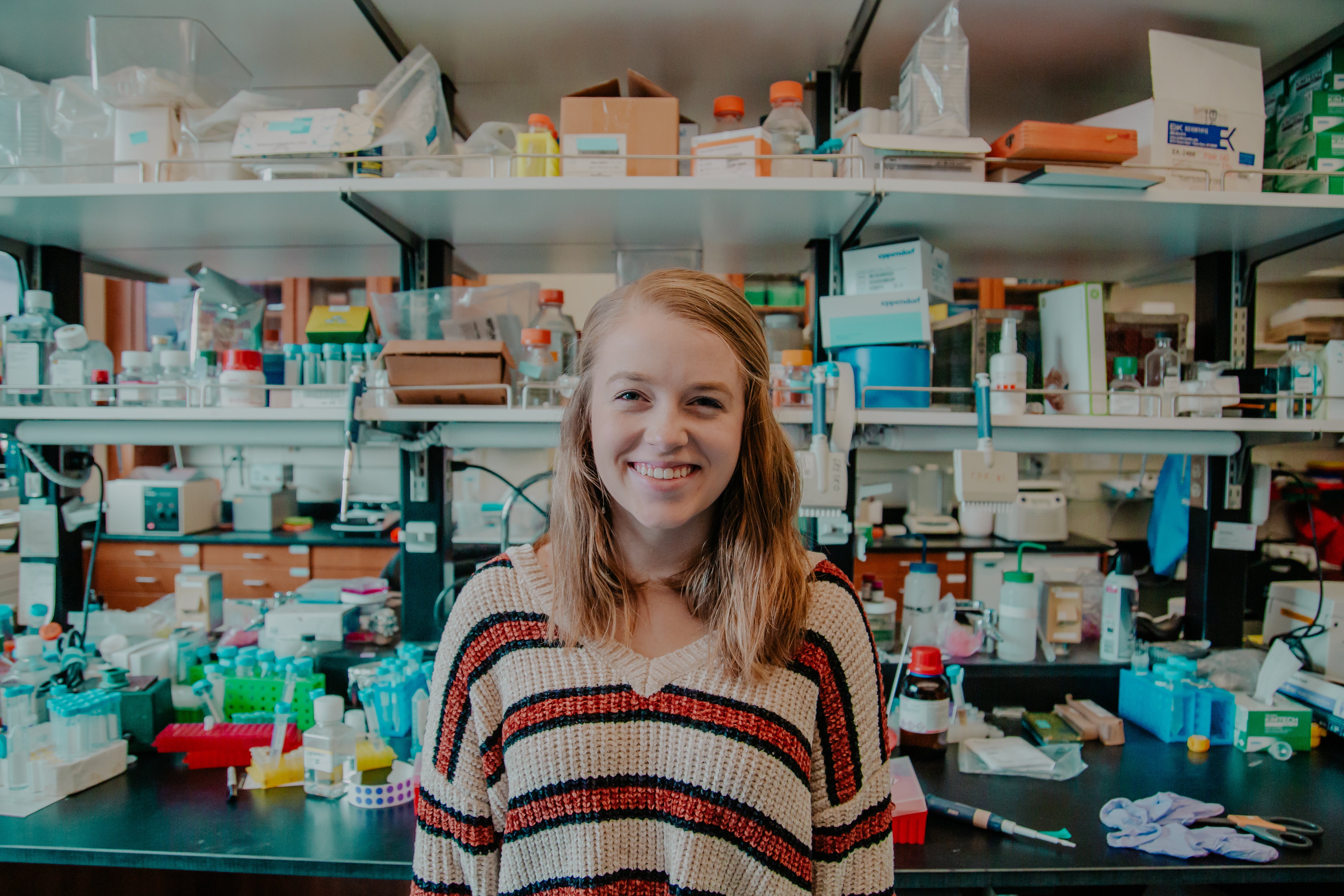 Emily Niebergall in the Cresko lab. Photo by Sarah Northrop
Niebergall took International Baccalaureate classes at her Hillsboro, Oregon high school. Later, as she looked at colleges, she knew she wanted a varied, liberal arts honors college experience and felt CHC was the best fit. Now in her last year, she still believes she chose well. She says the CHC has given her the specific skills she needs to be able to be a better writer and to find sources. 
"All the courses I've taken, from the research course to the prospectus course, have given me skills beyond the lab — to do research well."
As for the kids in the orphanage battling disease;  Niebergall is passionate about global health issues and thinks deeply about how little the scientific community actually understands about infections and tropical diseases. 
Melissa Graboyes, Assistant Professor of African & Medical History, recognized Niebergall's multi-faceted interest early on. 
She says of Neibergall's curiosity, "Emily is extremely motivated and notable in her desire to learn about the sciences and global health from many perspectives, and in her willingness to pursue a variety of diverse learning experiences."
Diversity isn't just meant for research, Niebergall says. She's also zealous about finding varied solutions.
"Whether that's public health interventions or seeking treatments, that's something I intend to pursue," she adds.
The path she'll take to serve those populations and feed her passions isn't quite fleshed out yet. Niebergall says she's in a decision-making process now and wants to take some time to decide after graduation what her next step will be. 
"I'm going to be taking a year to kind of work and explore some positions in either labs at OHSU where I'm from or other opportunities to explore the field a little bit more and either go on to complete a doctorate in a biological field or maybe even pursue a Master's in Public Health."