Teachers Who Support, Guide, and Mentor
Our distinguished and award-winning professors are experts in fields stretching from one end of campus to another, coming together in a learning environment that centers discussion, diversity, and collaboration.
CHC professors design courses that push the boundaries of traditional classroom experiences: in "Intro to Air Guitar," Professor Brian McWhorter encourages students to explore the meaning of movement and how gesture contributes to human experiences; in "Pick Your Poison," the image of an evil witch and pharmacist combine to interpret the line between harmful and beneficial substances; in "African-American Writers in Paris," transports students the classroom is transported to post-World War One France, the vibrant community that settled in the City of Lights and the impact that those writers had on both American and French culture.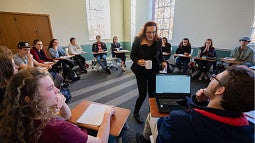 What Our Alumni Are Saying
"The preparation I received as an undergraduate and the experience I obtained as a member of the faculty at CHC were extraordinary. CHC has been the wind beneath my wings ever since I left."
—Linda Robertson, UO '68 (English)
Professor at Hobart and William Smith Colleges
Hot Off the Press!
Recent Books by Faculty
What Our Alumni Are Saying
"CHC and commitment of its in residence faculty were key to my success as I had just arrived in the US with my family from Iran in 1979 when I started at CHC in Fall 1981. I was at first accepted into CHC provisionally as I did not have the scores and grades and I had just arrived in US in my junior year of high school. The nurturing I got from Professor Frances Cogan in particular but CHC curriculum and other faculty allowed me to get accepted to Harvard Law School after 4 years of CHC! I think my subsequent success was due to CHC. I have no doubt about it."
—Padida Alai, UO '85 (English)
Professor at American University Washington College of Law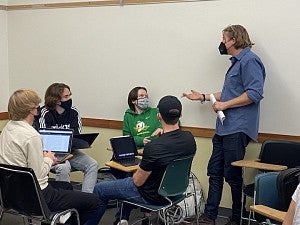 Excellence & Innovation in Teaching
Faculty are essential to the student experience.
Faculty join CHC because they are passionate about teaching and student success. As experts in archaeology, biology, chemistry, conflict resolution, earth sciences, gender studies, literature and culture, media studies, music, political science, and more, CHC professors are constantly creating cutting-edge courses. Each term, you can expect to see new classes on topics like artificial intelligence, cryptography, sustainability, film noir, and climate change. In courses like our Calderwood Seminars on Public Writing, faculty members work shoulder to shoulder with students as they learn the hard work and persistence that goes into writing for public audiences.
Help us attract and support world-class faculty through an endowed chair or professorship.
What Our Alumni Are Saying
"In my day, the Honors College was a cozy warren in the basement of Friendly Hall, the site of endless discussions, chess games, plans unfolding and collapsing, late nights at the piano, and the occasional drama. The core of the Honors College curriculum was "HC Arts and Letters," a suite of small and diverse courses with options to study a wide range of philosophy, the history of ideas, and communication. These classes expanded my knowledge of Western philosophy, and began the painful process of instilling in me some intellectual rigor. It struck me that the faculty were themselves still engaged in their own intellectual journeys. Perhaps this helped me to push aside the need to find the narrow niche that would define my future self (What do you want to be? What do you want to do?). The Honors College gave me the freedom to take the risk of exploring a cacophony of interests."
—Mark Sykes, UO '78 (Physics)
CEO and Director at Planetary Science Institute, Arizona