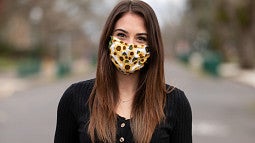 Briana Mofhitz-Faieta
Story by Sammy DiMinno, CHC Communications
Photo by Maddie Knight, CHC Communications
Heading to college as a first-generation student can be intimidating, but for junior Briana Mofhitz-Faieta, it is an opportunity to create a path that is solely hers.
"I get to hold the flashlight for myself, blaze my own trail," Briana, the first and only child in her family to attend college, said. "I get to figure out that path and I think it's special because while there are many routes to success, I get to explore one that my family hasn't really seen."
From valedictorian of her high school in Carson City, Nevada to an accomplished student in Clark Honors College, Mofhitz-Faieta has always had a strong work ethic.
"One thing that my family has really instilled in me from a young age is work ethic, you know finding something that you are passionate about, sticking with it and putting your all into it," Mofhitz-Faieta said.
That is exactly what Briana did with school and what drove her to the University of Oregon. Her family has all had different paths in their lives to their success. Briana's dad created a solid foundation for himself, starting with an auto racing career and has now developed a business out of it. Her mother  followed her passion of acting and later pursued a career at a law firm.
"School isn't your only outlet, you will find success wherever you want to find success," Briana said. "It doesn't have to be school."
She attributes a lot of her scholarly success to her mom and the expectations she put on her, encuraging her to do well in school and helping provide her with opportunities for the future.
Although Briana so far has had a fulfilling experience at the University of Oregon, being a first-generation student can come with constant questions and sometimes a sense of feeling overwhelmed.
"College has been different, and there are times that I wish I could turn to my parents and be like what do I do, what can I expect?" Briana said.
She could not lean on her parents to answer questions about her transcripts, what they are and how to get them, how to apply to grad school, or how to find the right advisor for her. At UO, she knows she is not alone and that there are mentors and people she can talk to who share a very similar story.
Briana has been able to find accessibility to resources and have important conversations with advisors and mentors. Now, she fully embraces being a first-generation student.
"It feels empowering to say this is my big accomplishment," Mofhitz-Faieta said. "It's something that I don't feel brings me down at all. I am not alone. I have people I can talk to."
Mofhitz-Faieta plans to continue her education after college and pursue a master's program in industrial organizational psychology, where she can follow her passion of working with and understanding people.