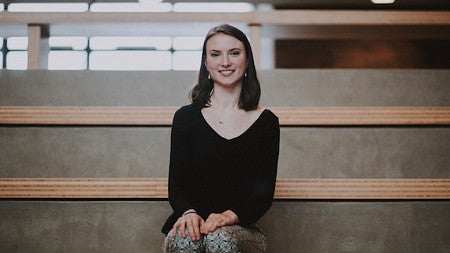 Rennie Kendrick, the second only student from UO to be selected to present in Posters on the Hill to the US Congress.  
Story by Lauren Bruce, CHC Communications
Photo by Sarah Northrop, CHC Communications
By the time she was twelve years old, Rennie Kendrick already knew she wanted to be a scientist.
In the summer before her eighth grade year, Kendrick began to think about her project for the upcoming school science fair that spring. The three winning entries would be awarded a spot in the Intel science expo, and Kendrick was determined to place so she could attend. She decided to do her experiment on memory, and began a quest to research mnemonics —  devices used to assist in the memorization of many words or phrases, wherein each letter of an easily memorized word stands for one of the phrases difficult to memorize. "I checked out every neuroscience book at the library I think there was that summer," Kendrick, now 22, says, "I was just hooked."
Kendrick gathered her participants, comprised of her friends and family, on her bedroom floor and had them memorize a list of words. She had some look at a sentence with bolded words (the mnemonic) that they needed to memorize while others would just see a list of words without context. Kendrick determined the mnemonic group was able to memorize the words the best. By the time the spring fair came, Kendrick felt prepared. She presented her data on a poster board for the judges. They called the third place name first: Rennie Kendrick. It was a moment of exhilaration. 
 "I showed up to the expo with a binder full of supplementary figures and tables," Kendrick says with a laugh, "I don't even know how I generated that much data from that experiment."
Kendrick realized that she could combine her passions of writing, teaching and reporting onto one role.  "Since then," she says, "I wanted to be a neuroscientist."
Now, nine years later, Kendrick will attend Posters on the Hill, an annual event in which only 60 undergraduate students from across the United States will travel to Washington D.C. to present their research to Congress. The event is an opportunity to show Congress members the importance of supporting undergrad research. Kendrick's application was selected from 350 other applications as one of the top in the country. In April, Kendrick will travel to D.C. and connect with members of Congress at the Posters on the Hill event. She's hoping to set up meetings as well with government officials who are interested in science and present the importance of the research she's been working on throughout her college career. 
For the past four years, Kendrick has been researching how the human brain makes connections and commits information to memory, a nod to her eighth grade science experiment. "It's basically your ability to combine things you've learned in different classes or in your life and form new knowledge," Kendrick says. She explains that her findings might offer a way to optimize instructional time in the classroom, by determining the most efficient way to encourage connections across learned material.  
Kendrick is only the second student in University of Oregon history to be accepted to Posters on the Hill in its 24 years of existence. She's also a former cross country and track athlete, making her the first former or current student athlete in UO history to be presenting her research at the event. When Kendrick came to UO in the fall of 2016, she did not plan to run on the official Division One  team despite running throughout her time in high school. She'd planned to join the club team, but the summer before she arrived at UO the club coach recommended her for the D1 team and Kendrick accepted the spot. 
 "Up to that point I think the resounding message was that [academics] somehow comes at a cost to doing athletics," Kendrick says, "but I feel like running enhanced my school because it was such a stress reliever."
During the last track season, Kendrick traveled for cross-country, made good times, and prepared for the Pac-12 cross-country championship. Three days before the meet she felt a familiar pain in her foot in the middle of a workout. Kendrick, being no stranger to stress fractures, knew immediately she wouldn't be making it to the Pac-12. After multiple injuries over three years made it difficult for her to keep up with running, Kendrick resigned from the track team this year. "It was hard to let go of it," Kendrick says, "but that's how it goes in life. You have to weigh your options."
Running is only one of Kendrick's interests, and managing interests for someone who's intrigued by everything can become a balancing act. "I think that the impossible quest of understanding everything is my primary motivation," Kendrick says, "I'm obsessed with getting to the bottom of something."
Kendrick's passion for knowledge isn't new, she has always been curious about the world. "When I was little I would drive my parents crazy because I wouldn't stop asking questions," Kendrick says with a smile. 
When it comes to her interest in memory, Kendrick has a personal stake as well. 
She has dealt with severe flight anxiety, and she's aware of the role that fear plays in memory and how it perpetuates anxiety disorders. Soon, Kendrick will be working at the University of British Columbia in Vancouver, Canada, joining a team working to help people with fear memory disorders like PTSD.
 "Right now I'm motivated by trying to understand something," Kendrick says, "but I think what will carry me through in the end is the motivation of helping others like me."