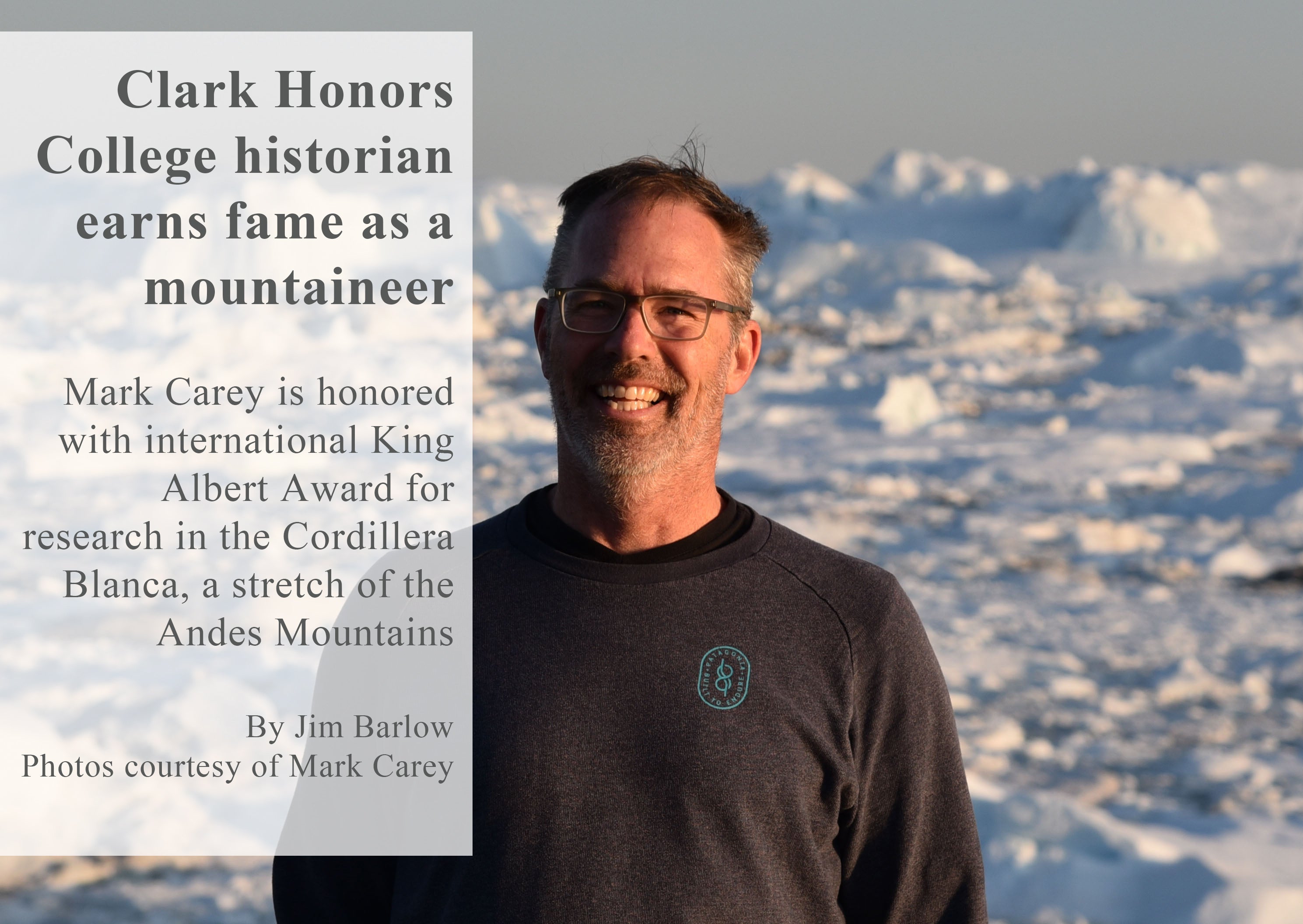 Mark Carey never saw it coming, but his twenty years of research in a region of South America strongly affected by glaciers has elevated him to international mountaineering fame.
Carey, a historian in Clark Honors College and the director of the Clark Honors College environmental-studies program, received a King Albert Mountain Award during ceremonies Sept. 8 in Pontresina, Switzerland. The King Albert I Memorial Foundation bestows the award to "persons or institutions that have distinguished themselves in some way in the mountain world."
Carey was joined on the winner's podium by Nasim Eshqi, an Iranian female mountain explorer; Swiss filmmakers who documented a cross-country skiing trip on the Silk Road; and representatives of Italy's Val Grande National Park.
"I was pretty surprised. I was in shock when they got in touch with me," Carey said. "I appreciate this award because it values the historical context that I bring into research on glaciers, climate change, and natural hazards. And it recognizes the fundamental importance of cross-disciplinary collaborations, which I have increasingly put at the forefront of my research practices with concepts like hydro-social modeling and integrated disaster prevention."
The awards, given every two years, are issued in memory of King Albert I of Belgium, who died during a solitary rock climb near Brussels in 1934. Carey, who received a gold medal and a certificate, is one of fifty-six recipients since the award was established in 1993.
The certificate recognized Carey for his lifelong devotion to mountains, which began when he was a park ranger at Mount Rainier and Glacier national parks; his studies in Latin American and environmental history; his teaching role; and his Glacier Lab for the Study of Ice and Society at the University of Oregon.
Carey has conducted research for two decades in the Cordillera Blanca, a stretch of the Andes Mountains in Peru that encompasses more than 500 tropical glaciers, and the valley below that's home to 250,000 people, mostly farmers and ranchers. The Cordillera Blanca has a long history of glacier-related floods and avalanches.
"Thousands of people have died as a result of these events," Carey said. "I don't know of any other place in the world where glacier melting has been so catastrophic as in this one valley."
People in the area, northeast of Lima, over many decades have adapted strategies to monitor glacial activity and construct artificial dams to prevent outburst floods from glacial lakes. Yet, dangerous glacial lakes still exist, Carey said, and some remediation projects have fallen apart amid political and economic upheaval.
"I'm trying to understand the impacts of melting glaciers from a societal perspective, especially the politics behind the projects that are chosen to be completed," he said. "After many decades of success preventing outburst floods, there are still vulnerabilities."
A glacial lake near Huaraz, Peru, that burst in the 1940s and killed 2,000 people now has more water in it than it did then, Carey noted. The population of Huaraz seventy-eight years ago was 12,000; it now is 120,000.
"This is a story of both shrinking glaciers and societal change, which demands cross-disciplinary collaboration," he said.
"In the last decade, I've also been looking at water issues related to glacier retreat, suggesting that we should not be focused solely on ice loss or just the climate story but rather be more attentive to downstream-water management, rights, and the distribution of water from glaciers. There is a supply of water that leaves the glacier, and as it does, it becomes deeply political and economic. Who gets that water and who doesn't?"
That effort, which has led to Carey's speaking with various government agencies and at academic conferences in Peru, is being done through the Transdisciplinary Andean Research Network, which Carey cofounded and leads with several other researchers in the United States, Canada, and Peru.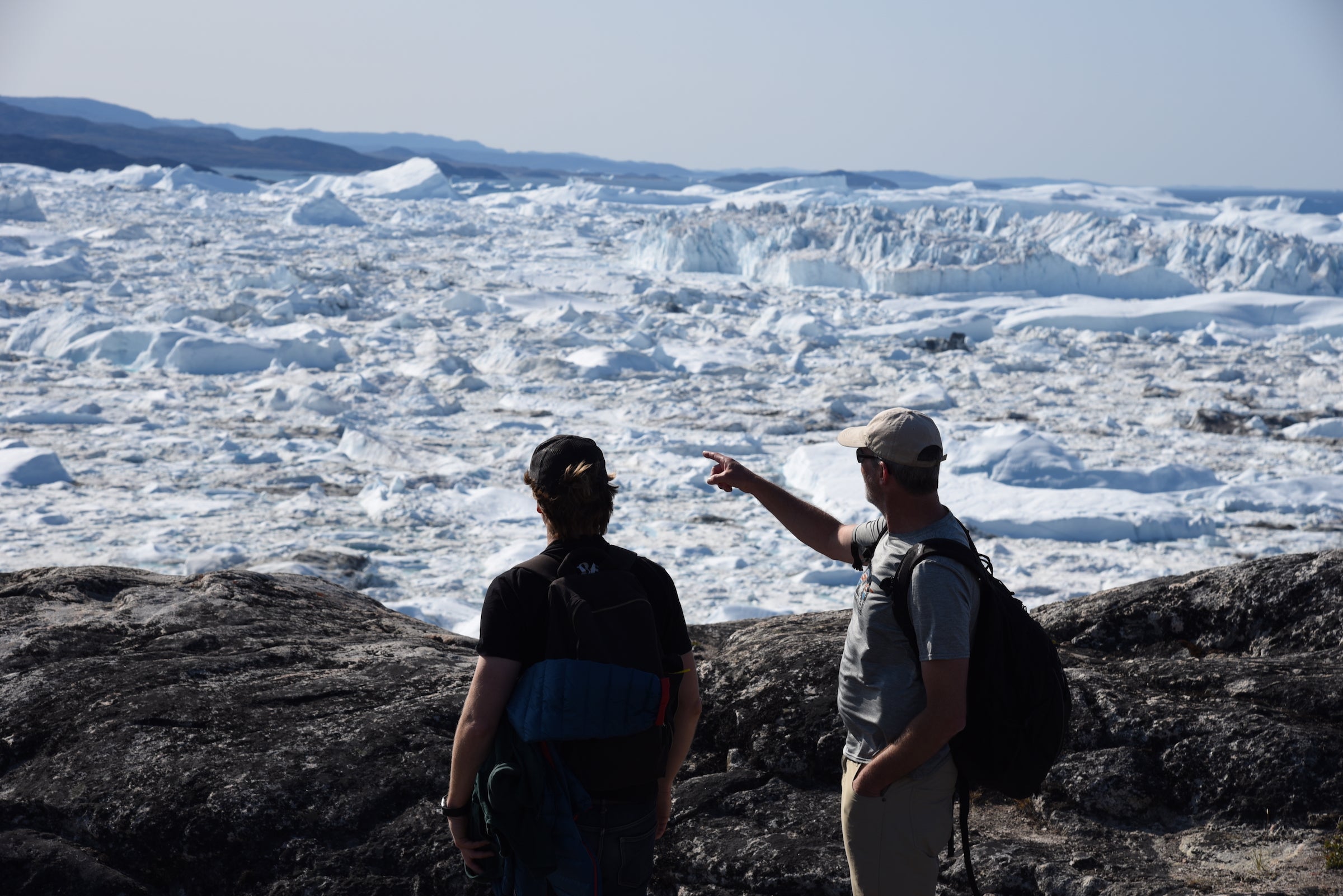 His glacier lab includes a mix of undergraduate, master's and doctoral students, as well as occasional postdoctoral researchers. Carey's mentoring efforts with students led to his winning an all all-campus advising award in 2015.
"There is a lot of teaching and mentoring involved to encourage thinking about environmental problems in a broad way that brings in the social science and humanities to complement work in the natural sciences," said Carey, who also is working with UO earth scientist Dave Sutherland on iceberg research in the North Atlantic.
In addition, he's working on a book, geared to the general public, that will portray a 150-year period in which icebergs have captured people's imagination. It will encompass, he said, how icebergs have influenced such things as artwork, tourism, shipping, and the oil industry.