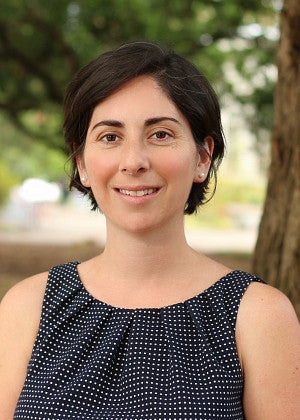 Assistant Professor of African & Medical History
graboyes@uoregon.edu | 541-346-3894 | 
Curriculum Vitae

ACADEMIC AREAS: Colonial and Postcolonial African History, Medical History, History of Science, Medical Ethics, Global Health
Teaching Philosophy
My goal when teaching is to facilitate an engaged room of learners, to have students take ownership over the material, and for me to introduce students not just to a particular topic, but to the types of sources and methods used by historians. In each of my courses, I create opportunities for students to interact with primary sources in multiple forms: photographs, videos, oral narratives, archival documents, and ideally, material forms of culture. This exposure to, and active engagement with, provides an entry point for conversations about the creation and nature of historical knowledge. Introducing students to the challenges (and frustrations) of primary sources also helps me look at my own materials in a new way, has often led to new insights, and is the most authentic way I know of showing students what historical research looks and feels like.
Past Courses
HC 231H Epidemics and Epistemologies in Pre-Modern Europe
HC 232H Disease, Public Health, and the Making of the Modern World
HC 408H Workshop for Human Subject Research
HC 441H Current Bio-Medical Research Topics, OHSU
Opportunities for Students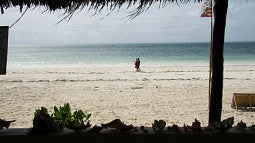 Professor Graboyes co-organizes a summer term Swahili language study abroad experience for students in Zanzibar, an island off the coast of Tanzania. Swahili is the most widely spoken African language, and the program is open to all university students; no prior knowledge of the language is required. 
During the 8-week program, students earn a total of 16 credits, including 4 units of a 400-level HC colloquium. For summer 2017, the program will run from June 25 - August 20, 2017, and will coincide with the Zanzibar International Film Festival. Many scholarships are available, and interested students should contact Professor Graboyes as early as possible.
Professor Graboyes also has opportunities available for undergraduate research assistants to work either in Eugene or in East Africa to assist with archival research and field work.
Learn More About Intensive Swahili in Zanzibar »
Academic Background
Ph.D., History, Boston University, 2010
M.A., History, Boston University, 2007
MPH, Public Health, Boston University, 2007
B.A., History, University of California - Davis, 2002
In addition to her teaching in the Clark Honors College, professor Graboyes is involved with the history department and the African Studies Program at the University of Oregon. She served as Assistant Director of the African Studies Program for three years, during which time she helped launch a new study abroad program in Zanzibar focused on intensive study of the Swahili language. She is an active member of the university's Global Health Advisory Committee, and PeaceHealth's Medical Ethics Review Committee.
Graboyes holds dual degrees in history and public health, and has prior experience in the public health sector. She has worked domestically as a health educator with Planned Parenthood, and has led health outreach and advocacy programs in Botswana and Tanzania.
Research Interests & Current Projects
Melissa Graboyes' research focuses on issues related to science, medicine, health, and disease on the African continent. She has conducted extensive field work in East Africa and discovered new archival sources in Tanzania and Kenya. Her first book looks specifically into the history of human experimentation and medical ethics in East Africa from 1940-1980. Graboyes works to recreate community understanding of, and responses to, medical encounters over the past seventy years. She hopes her work will provide useful information to contextualize current global health debates, and create more sensitive policy and research programs in the future.
Graboyes is working with a number of colleagues at the UO, organizing two new edited book projects, in addition to working on a new single-authored project. An edited volume on "Everyday Life on the Continent: Fun, Leisure, and Expressivity" is being organized with co-editors Kemi Balogun, Habib Iddrisu and Lisa Gilman, and a symposium on the same topic will be held at the UO in February 2017. Another edited volume, co-edited with Daphne Gallagher, focuses on anthropological and historical approaches to the relationships between disease and environment on the continent. This book draws on the extensive network of Africanists within the state of Oregon, coordinating scholars from the UO, OSU, PSU, Reed, and Willamette through a year-long collaborative writing process.
Independently, she is working on a book about the the history of failed malaria elimination attempts in Zanzibar, and the resulting lack of trust between local residents and international public health organizations such as the WHO and the Gates Foundation. Archival research has been completed, and fieldwork will be continued in summer 2017. Another project, in the very early stages of research, traces the creation and growth of the ubiquitous "DHS" (Demographic and Health Survey), its widespread use in economic development and public health work, and the ethical questions surrounding the use of this tool.
Graboyes is particularly interested in making research findings accessible to the larger public, and serving as a bridge to translate academic findings to practitioners working in the field.
Awards & Grants
2016: Center for the Study of Women in Society RIG Innovation Grant, University of Oregon
2016: Schnitzer Museum Academic Grant, University of Oregon
2015: Freshman Seminar Award, University of Oregon
2015: College of Arts and Sciences Program Grant, University of Oregon
2014: Center for the Study of Women in Society RIG Innovation Grant, University of Oregon
2014: Freshman Seminar Award, University of Oregon
2013: Global Seminar Development Grant, University of Oregon
Selected Publications
For a complete publication list see Professor Graboyes' Curriculum Vitae.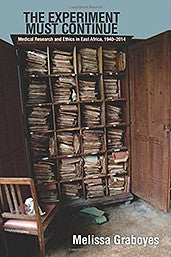 Books
Articles
2014, "'The Malaria Imbroglio:' Ethics, Eradication, and Endings in Pare Taveta, East Africa, 1959-1960," International Journal of African Historical Studies - Special Issue on the History of Medicine in East Africa: 47, 3: 445-472.
2014, "Incorporating Medical Research Into the History of Medicine in East Africa," International Journal of African Historical Studies - Special Issue on the History of Medicine in East Africa: 47, 3: 379-398.
2011, "Chappati Complaints and Biriani Cravings: The Aesthetics of Food in Colonial Zanzibari Institutions," Journal of Eastern African Studies, 5: 313-328.
2010, "Fines, Orders, Fear…and Consent? Medical Research in East Africa, c. 1950s," Journal of Developing World Bioethics, 10: 34-41.