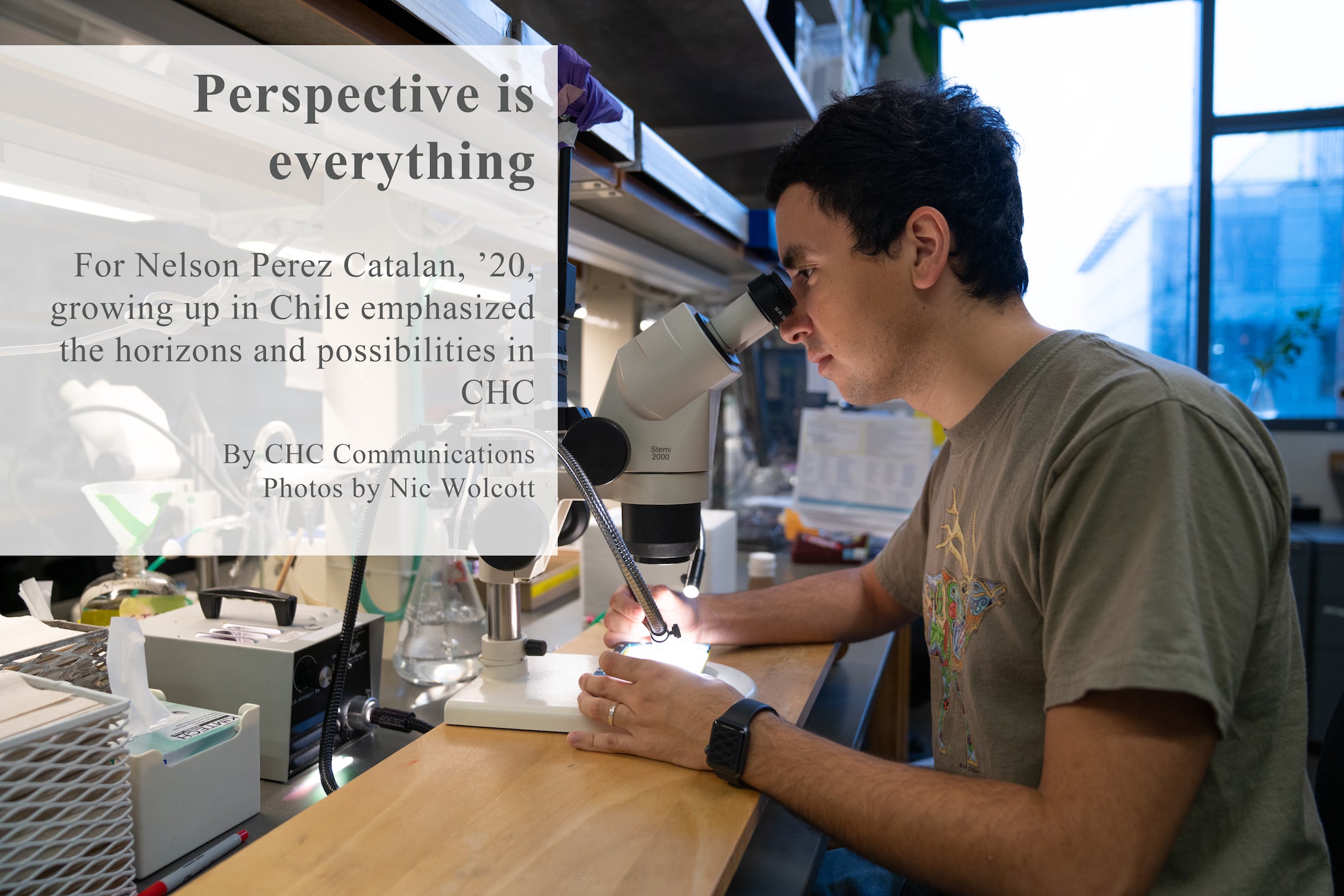 Two-and-a half-hours from Antarctica by airplane is Punta Arenas, Chile, a small town on the tip of Patagonia. 
It's where Clark Honors College senior Nelson Perez Catalan was raised, although he was looking much farther away in pursuit of a university education. In particular, he was searching for financial aid opportunities for international students. He found two schools, one of them the University of Oregon, that seemed like the right fit, but he was torn between them. Clark Honors College helped make up his mind.
"I decided to commit to UO because of the potential for scientific research," Perez Catalan said, "and the liberal arts curriculum of the honors college. I wanted to be in a small liberal arts college while maintaining the opportunities and resources of a large research institute."
But the transition to the university and Eugene was difficult, and Perez Catalan found it hard to adapt at the beginning. There were cultural differences, which didn't help in a highly motivated academic environment. 
"The classes and professors were very engaging and exciting, but many of my peers here were very smart and from a complete different social bubble," he said. "There was quite a lot of impostor syndrome that I had to overcome."
But Perez Catalan will never forget walking into Professor Barbara Mossberg's EPIC literature class during his first year and the moment that changed everything for him. 
"Literally, she just uncovered the secret to make all her students feel like they could be the next president! It was all upwards from that point on," he recalled. "My CHC experience has taught me the importance of humility by realizing we are all smart in our own way, and that asking for help is step one in the path towards resilience." 
During his first years in CHC, Perez Catalan took classes outside his discipline, which he said was crucial, especially early in his academic career.  
"It caused me to break outside the subject bubble I had created," he said. "I was exposed to new ideas, perspectives, and areas of study. CHC was instrumental in helping me discover the field I am truly passionate about, and I have my CHC advisers and faculty mentors to thank for encouraging me to pursue that passion, even if it meant making difficult decisions and changing career paths."
Working in a neuroscience lab since sophomore year, Perez Catalan dug deeper into the scientific rabbit hole and realized his personal interests were bound to medical research. 
"I was able to secure the CHC-sponsored Cell, Developmental & Cancer Biology summer internship at OHSU, the largest medical institute in Oregon," he said. "My objectives there were two-fold: First, I wanted to conduct medically relevant research in a true hospital-institute setting. Second, I wanted to network with medical scientists and researchers to get feedback on my future graduate school application."
                                     Perez Catalan working in the lab; his focus is primarily on the brains of flies. 
He came away from this experience with more than just fulfillment of his goals. Perez Catalan was able to interact directly with the graduate programs he was interested in, and was able to secure partnerships with faculty members for a current project he's working at UO: how the integrity of neuronal circuits is maintained during the early onset of such diseases as ALS.
Perez Catalan said the writing has been challenging, especially because his project deals with a previously undescribed phenomenon. 
"Regardless of the complexity, I have been guided by terrific mentors that help me set up experiments, and even help me manage my busy schedule," he said. "Developing a thesis is not the entirety of my life; I also enjoy the beautiful Oregon scenery when I can with sporadic camping trips to the coast or the mountains. There I go to relax and remind myself that the Earth also has a busy agenda." 
After graduation this spring, Perez Catalan will dedicate a year to research, hopefully publish his first paper, and apply to medical science training programs. But again, he faces a big decision.   
"I have been torn between dedicating fully to scientific investigation or do something more along the lines with science education," he said. "I know I want to help others to access the academic opportunities and the financial security I was given by the CHC and the International Cultural Service Program on campus." 
Looking back on his time at UO, Perez Catalan's fondest memories come from CHC: mentoring students as a peer adviser, tracing his exemplar's footsteps all over Europe on a CHC signature foreign study program, presenting his colloquium research on a 16th century Persian manuscript at the Undergraduate Research Symposium, and the UO Library's Undergraduate Research Award night. 
"The CHC gave me more than a well-rounded education," he said. "It gave me lifelong friends, cultivated my love of research, and supported me with incredible faculty mentors that I will forever be thankful for."