story by Ashley Lorraine Wiesnerphotos by Sarah Northrop
"It's about sex," Professor Monique Balbuena whispered to her class.
The students look around, half of them nervously laughing and the other half rolling their eyes.
It's a Thursday morning and she is guiding her CHC class, The Jewish Diaspora in Latin America, a discussion about the "Living Flame of Love," by St. John of the Cross. They read it in contrast to "commentary 23," a poem by contemporary Jewish Argentine poet Juan Gelman, that dialogues with the 16th-century Spanish poet's text. The class is exploring mystical poetry as part of their Jewish diaspora studies. 
"Don't cut yourself short before you try," she says to a student, timid to provide analysis of the poem.
Balbuena is passionate about Jewish studies in Latin America and about teaching. Both passions become clear when she's in a classroom. She discusses weekend plans with a student while laughing and excitedly encourages students to speak up in class.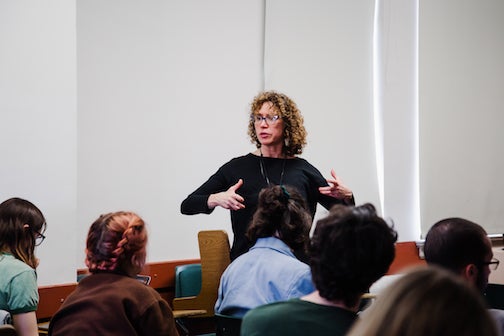 Professor Monique Balbuena leads a class discussion.
A new project will soon allow Balbuena's passions to reach beyond the academic world as she and the class develop an informational and educational website. 
This website will narrate the history of Jews in Latin America and offer varied examples of Jewish culture in the continent. Approximately 15 Clark Honors College students will work both independently and collaboratively to create an informative website for a broad public audience, with a focus on high school and university students.
The Jewish presence in the history and culture of Latin America is little known, Balbuena explains. The class' website seeks to shed some light on how Jews have been a part of Latin America, and how specific Latin American realities have also shaped a distinctive Latin American Jewish identity. Students in the class will discuss the contributions of different Jewish ethnic groups and explore various cultural aspects, such as burial practices, Jewish languages, art, and dance. They will also include relevant political history, such as the military dictatorships that ruled several countries in the 20th century, and the 1994 bombing of the Argentine Israelite Mutual Association in Buenos Aires, a terrorist crime with international connections, that has not yet been solved, she adds.
 "It's been interesting researching and narrating such a diverse history," says AJ Heckman, a CHC student.
Balbuena ends her lecture and instructs the students to get out their project work. Laptops pull up interactive maps and PDFs, folders filled with loose papers of art clutter desks, and thick books get pulled out of backpacks.
She buzzes around the classroom and sits down with each student, anxious to hear about the advancements in their research. Together they discuss progress, edit work and find additional source materials. 
Balbuena chose this teaching approach strategically. She wanted her students to develop a collaborative project, and she wanted to empower them  to create a product that will educate people outside of their classroom. She says that by having a project where they are responsible for something beyond themselves, students might push themselves a little further.  The students, she says, also began to see themselves as participants of a much larger scholarly conversation.
"Plus, it's also fun," Balbuena adds.
The students seem to agree. They laugh as they look at art or mimic dances, and they compare history to modern memes.
Part of what makes this project fun is that students were able to select topics that they were interested in. Balbuena says this helped the students get invested in the project. 
Jude Stone chose burial practices because it's "a little morbid;" Heckman stuck with his interest in history, while Isabel Crabtree explored the various Jewish languages and dialects.
"It's been fun; studying linguistics is right up my alley," comments Crabtree, as she pulls up an interactive map and highlights the Ladino language, a Judeo-Spanish language formed in the former Ottoman Empire, and one in which Balbuena specializes.
As the term comes to an end, discussions about website design have started. Students chime in, mentioning the type of coding they know, and others express the importance of interactivity in the website. The "Jewish Diaspora in Latin America" website is set to launch on March 11 and will celebrate with a gathering from 3:00 – 5:00 pm in the DREAM Lab at 122 Knight Library.
Balbuena looks forward to the website becoming a rich resource about Jewish culture in Latin America. She says the website will be a great entry point into this topic for people who are beginning their research, and that it also has the potential to grow, since additional information can be included in the future.
For Balbuena, the most important aspect of this project is that people know this information is valuable. She says she hopes people will feel inspired to dig deeper and explore the world around them after they explore the website.
"After all, the world is big out there," Professor Balbuena notes.