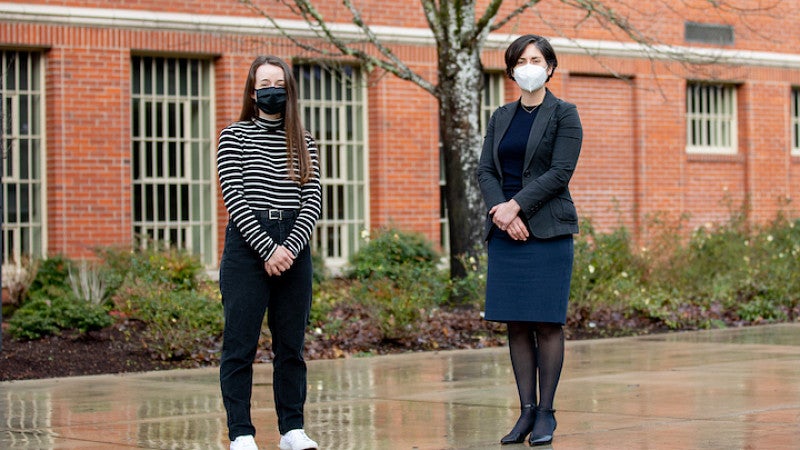 CHC student Rachel Conner and Professor Melissa Graboyes were part of a professor/student collaboration that won the 2020 African Studies Prize for the book Africa Every Day. 
Story by Lauren Church, CHC Communications
Photo by Maddie Knight, CHC Communications
In 2015, CHC Professor Melissa Graboyes had an idea. She was working with the UO's African Studies program on campus and teaching courses on African health and disease.
"I worried that students were coming away with a one-dimensional portrait of the continent," she said. "My classes about disease often left students without exposure to what daily life was like."
In collaboration with three other UO African Studies colleagues—Kemi Balogun (Sociology/Women's, Gender and Sexuality Studies), Habib Iddirsu (Ethnomusciology/Dance), and Lisa Gilman, now at George Mason University—and three CHC students at the UO, Clara Gorman ('19), Rhaine Clarke ('19), and Rachel Conner ('21), Graboyes created a volume of essays which address the joys and challenges of African life. Africa Every Day: Fun, Leisure, and Expressive Culture on the Continent won the 2020 African Studies Review (ASR) Prize for best Africa-focused edited collection for its valuable contribution to the field of African Studies.
Clarke, Conner and Gorman say they mainly helped with copy editing and chapter revision but also learned a lot about the complex, collaborative process of publishing a volume with so many contributors. "This project gave me the opportunity to build a particular skillset around academic writing in various stages, critical thinking, and collaborating with a wide range of colleague and peers," Gorman said.
The students' work on the project, Graboyes adds, went beyond technical skills.
"They contributed a huge amount of labor, thought and creativity to the project from behind the scenes," she said.
Conner says the process was almost surreal to be a part of. "Each chapter started as its own Word document and eventually turned into a printed book!" she added.
Their work with Graboyes inspired Clarke, Conner and Gorman to continue working in the field. They say the experience showed them their work can have an impact. "It is inspiring to be a part of this process… and to know how much it will add to the discussions within African Studies courses and programs," Clarke said.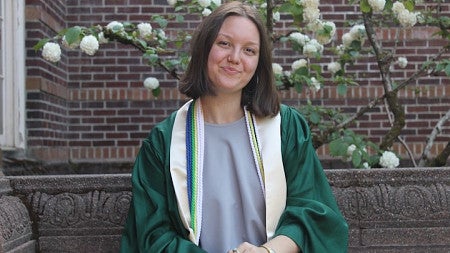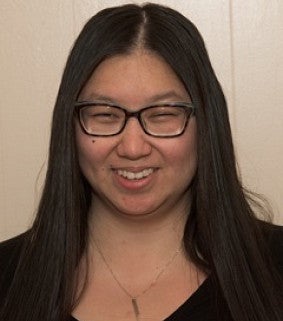 Rhaine Clarke, '19, (left) and Clara Gorman, '19 (right). 
More than 20 scholars from Europe, Africa and the U.S. contributed their unique expertise and experiences in Africa Every Day. The team of African Studies professors editing the volume  didn't originally plan on incorporating so many voices into the collection, but they received so many valuable chapter proposals that they "re-imagined the entire edited volume" to expand its content geographically and historically. "All the editors agreed that diversity was important for creating a more representative volume," she said.
Scholars in Graboyes' field recognized the value of her innovative, inclusive work when they nominated the edited volume/book for the ASR Prize. Every year, the ASR accepts nominations of scholarly works from around the world that have contributed original, revolutionary additions to African Studies. When she found out the collection had won the prize, she didn't even know it had been nominated.
"All the editors were surprised," Graboyes said. "It's actually my favorite type of good news to receive: unexpected good news!"
Though Graboyes initiated the project, she recognizes the collection's success was due to the partnership with other UO African Studies faculty members. It was only by having a community of scholars that were research-active, dedicated, that the volume actually came to life. UO Professors Lisa Gilman, Kemi Balogun and Habib Iddrisu "all come from different disciplinary backgrounds," she said. "It contributed to the wide range of topics we could cover." The book also allowed the editorial team to directly link their research with teaching.
"One of the reasons we wanted to take on this topic was because there is a shortage of good texts to teach introductory African Studies classes with, and that includes struggling to find a text to teach our class here at the UO," she added.