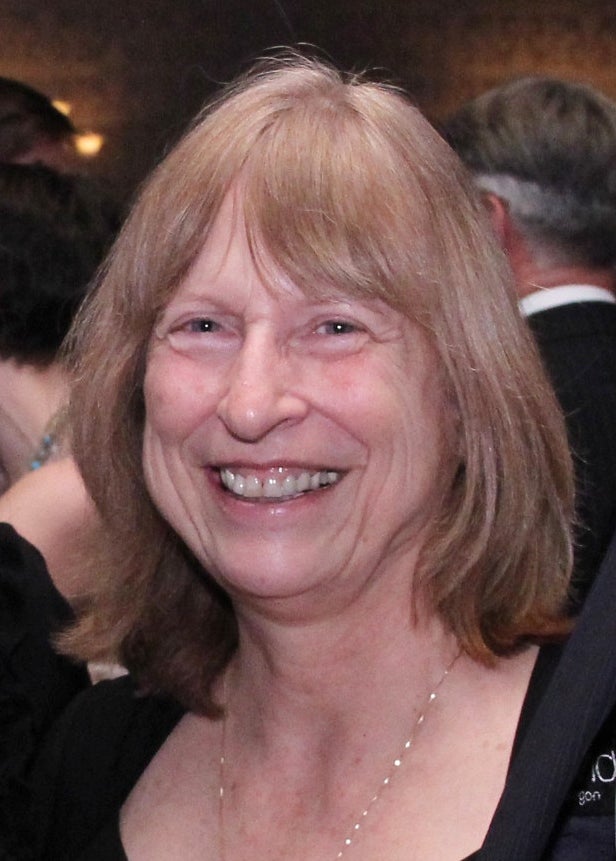 Professor Emerita of English and Comparative Literature
Curriculum Vitae

ACADEMIC AREAS: Modernist Literature, Culture and Film, Rhetoric, Social Movements and Gender Roles, Literature, Film, and Environment
Teaching Philosophy
In courses such as "The Cold War," "Evolution and the Modern," and "Hemingway and Film," my classes study important cultural moments in depth, including literature, film, art, media, popular culture, rhetoric and debate. The class engages together in question-based inquiry, not answer-based, and students have opportunities to bring their own interests to bear on our questions. 
Past Courses
HC 222H Evolution and the Modern
HC 444H/421H Accused and Silenced: Cold War Heroes and Anti-Heroes in Story and Film
HC 444H/421H Heroes and Anti-Heroes of the Sixties
HC 444H/421H The Cold War 70s: Did the Revolution Fail?
Academic Background
Ph.D., English, University of California - Irvine, 1980
M.A., French, University of Oregon, 1965
B.A., French, University of Oregon, 1961
Professor Clark has spent over 30 years teaching throughout the Oregon university system. In her current role as professor emerita, Clark teaches courses in the Clark Honors College, as well as in the departments of English and Comparative Literature at the University of Oregon. She served as the university's Director of Graduate Studies in the early 1990s, and her familiarity with developing graduate-level coursework has inspired her to create several new courses for the honors college, with teaching and student participation at the graduate level. Her courses often include innovate and interdisciplinary partnerships that take advantage of the university's diverse resources.
Clark's involvement in the university over the years has seen her serve as Co-President of the University Senate, Chair the President's Task Force on Athletics, and spearhead a new study abroad program in Angers, France.
Research Interests & Current Projects
Over her career, Suzanne Clark's teaching and research have focused on the profound shifts in our culture's rhetorical practices during the past century that have both initiated and represented new ways of thinking.  From the rupture of conventional forms of language and art of the modernist movement, which taught us to accept global changes in cultural forms, to our current era of mechanical and technical reproduction that has produced war and robots - and the cinema - Clark explores how each new era influences discourse, provokes thought, and initiates change.
Currently, Clark is finishing a book she co-authored with professor David Frank on the "rhetorical presidency" of her father, Robert D. Clark. The book is an intellectual biography that traces the way Robert D. Clark's study of speech and rhetoric deeply influenced his leadership through the difficult 1960s and 1970s, during his tenure at the University of Oregon and San Jose State University, as well as his leadership in founding the Robert D. Clark Honors College.
Increasingly, professor Clark finds herself writing about and working to produce films. She has acted as Producer for a number of filmed interviews and for three documentary films, the most recent of which, a film about the 50th Anniversary of the March on Washington, is currently in post-production.
Awards
2007: The Wayne T. Westling Award for University Leadership and Service
Selected Publications
For a complete publication list see professor Clark's Curriculum Vitae.
Books
Films
2011, With Honors: 50th Anniversary of the Robert D. Clark Honors College (Suzanne Clark, Producer and Editor).
2010, Fire in the Heartland: Kent State, May 4, and Student Protest in America (Daniel Miller, Director; Sam Allen, Editor; Suzanne Clark, Producer).