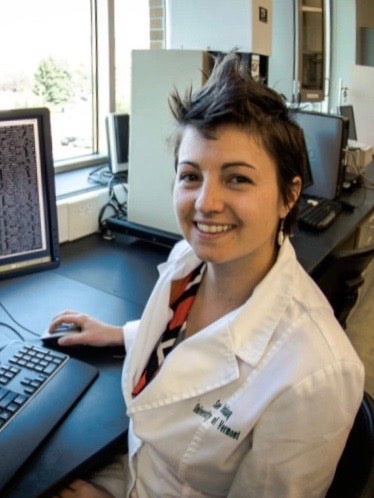 Research Assistant Professor of Microbial Ecology
sueishaq@uoregon.edu | 802-310-2792 | 103 Pacific Hall
ACADEMIC AREAS: Microbiology
Academic Background
Ph.D. Animal, Nutrition and Food Science, University of Vermont, 2015
B.S. Animal Science, University of Vermont, 2007
Awards & Fellowships
2014, American Society of Animal Science President's' Pick Poster, Kansas City
2007, Justin Morrill Honors Scholar, University of Vermont
2005, 2006, Dean's List, University of Vermont
2003 – 2007, Presidential Scholarship, University of Vermont
2003 – 2007, University of Vermont Scholarship
Selected Publications
Yeoman, C.J., Ishaq, S.L., Bichi , E., Olivo, S., Lowe, J., Aldridge, B.M. 2018. Biogeographical Differences in the Influence of Maternal Microbial Sources on the Early Successional Development of the Bovine Neonatal Gastrointestinal tract. Scientific Reports 8: 3197. Impact 4.259. Article.
Zeng, H., Ishaq, S.L., Liu, Z., Bukowski, M.R. 2017. Colonic aberrant crypt formation accompanies an increase of opportunistic pathogenic bacteria in C57BL/6 mice fed a high-fat diet. Journal of Nutritional Biochemistry 54:18-27.  Impact 4.418. Article.
Ishaq, S.L., AlZahal, O., Walker, N., McBride, B. 2017. An investigation into rumen fungal and protozoal diversity in three rumen fractions, during high-fiber or grain-induced sub-acute ruminal acidosis conditions, with or without active dry yeast supplementation.  Frontiers in Microbiology 8:1943. Impact 4.076. Article.