Assistant Professor of History
timw@uoregon.edu | 541-346-8798 | 
Winter 2022 Office Hours:
• Mondays, 10am - 12pm (via zoom)
• Thursdays, 3:30pm-4:30pm (via zoom)
Curriculum Vitae

ACADEMIC AREAS: Intellectual & Cultural History, 19th Century United States, Gender & Sexuality, the American South
Teaching Philosophy
Small, discussion-based classes are the heart of a CHC education. On the first day of class, I tell all of my students that they may not remember every lesson learned in a given term, but they will remember the community we created together. I facilitate this community by asking students to think about class as a conversation in which speakers and listeners matter equally. Accordingly, I require students to learn their classmates' names and call on one another during discussions. While perhaps intimidating at first, this signature pedagogy of my classes is one that students consistently praise and appreciate.
Past Courses
HC 231: The History of History
HC 231H Human Encounters and the Origins of Historical Knowledge
HC 232H Nationalism and Regionalism in U.S. History
HC 232H #OldNewMedia: Print Culture in the Modern Atlantic World
HC 233H Gender and American History
HC 424H/431H Perspectives on American Manhood
HC 444H/431H Understanding the Nineteenth-Century South
Academic Background
Ph.D., History, University of North Carolina at Chapel Hill, 2010
M.A., History, University of North Carolina at Chapel Hill, 2005
B.A., History (magna cum laude), Wake Forest University, 2003
Before joining the Clark Honors College in 2014, professor Williams taught at the University of Northern Iowa and Appalachian State University, and was a Postdoctoral Research Fellow in the Institute for Southern Studies at University of South Carolina. He was also a recipient of the nationally competitive Spencer Dissertation Fellowship, offered annually by the Spencer Foundation/National Academy of Education.
Williams currently sits on the university's Phi Beta Kappa Executive Committee, and maintains membership in a number of professional organizations, including the Society for Historians of the Early American Republic, the Organization of American Historians, the Society for civil War Historians, and the Southern Historical Association.
Research Interests & Current Projects
Professor Williams works in the fields of intellectual and cultural history, focusing particularly on the nineteenth-century United States and the American South. He is currently working on two new research projects: an edited collection of the writings of a Civil War prisoner of war and his fiancée, and the manuscript for his next book, The Confederate Diaspora: Intellectual Life in the Confederacy & Postwar South. Both projects seek to understand relationships among intellectual life, region, and national identity in American history, as well as the effects of the Civil War on the history of ideas in the United States.
Awards, Fellowships & Grants
2018: Archie K. Davis Fellowship, The North Caroliniana Society
2018: C. Ballard Breaux Fellowship, The Filson Historical Society, Louisville, KY.
2018: Earhart Fellowship on American History, William L. Clements Library, University of Michigan
2015: Archie K. Davis Fellowship, The North Caroliniana Society
2014: Research Grant, The Virginia Center for Civil War Studies, Virginia Tech
2011: M. E. Bradford Dissertation Prize, St. George Tucker Society
2010: Research Fellowship, Institute for Southern Studies, University of South Carolina
2010: Impact Award, Graduate Education Advancement Board, University of North Carolina
Selected Publications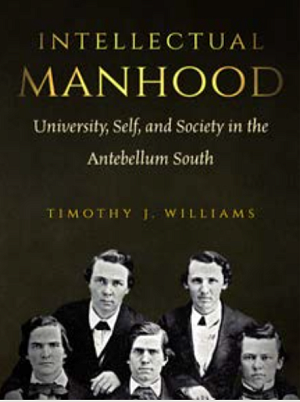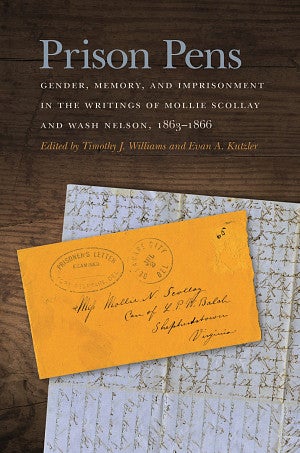 For a complete publication list see Professor Williams' Curriculum Vitae.
Books
Book Chapters and Articles
2018, "The Readers' South: Literature, Region, and Identity in the Civil War Era," The Journal of the Civil War Era 8, no. 4 (2018): 564-590.
2017, "Pursuits of Character: Rethinking Honor among Antebellum Southern Collegians," The Field of Honor: Essays on Southern Character & American Identity (edited by John Mayfield and Todd Hagstette), University of South Carolina Press.
2008, "Confronting a 'Wilderness of Sin': Student Writing, Sex, and Manhood in the Antebellum South," Perspectives on the History of Higher Education, Vol. 27: 1-30.