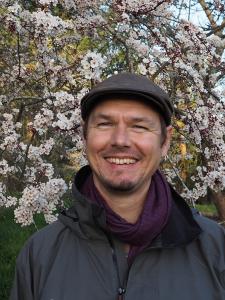 Career Instructor of Biology 
tpolicha@uoregon.edu | 541-513-8263 | 73 Klamath
ACADEMIC AREAS: plant community ecology, pollination biology, biodiversity, neotropical orchids
Academic Background
PhD., Biology, University of Oregon, 2014
M.S., Biology, University of Oregon, 2011
B.S., Biology (minor in Biochemistry), University of Oregon, 2007
As an instructor in the Oregon University System (UO, PSU, LCC, LBCC) I have had the opportunity to teach botany, ecology, evolution, and general biology to hundreds of students at all levels. Additionally, I have taught community workshops on botany, gardening, ecological design and sustainability for the last 15 years, and been invited to present to a variety of community groups on topics ranging from ethnobotany to biodiversity. I regularly volunteer with local conservation organizations.
See a list of publications at my Google Scholar profile.
Teaching Philosophy
The core of my teaching philosophy is engagement. I want students to engage with the material, engage with their learning community, and engage with the world at large. The proverb "Tell me and I'll forget; show me and I may remember; involve me and I'll understand," reminds us that active learning has the most lasting impact: I believe in a multi-modal approach to robust understanding that includes telling, showing, and doing. This approach helps achieve a durable grasp of the content, and engages students from diverse backgrounds with a variety of learning styles. Student-centered approaches such as active learning, cooperative learning and inquiry-based learning have the ability to bridge the gap between abstract conceptualization and concrete experience. I incorporate these approaches to help students develop problem solving skills and critical thinking which promotes a solid understanding of the content, and fosters skills that are applicable in any field.
Research Interests and Current Projects
I am a plant ecologist with broad interests and training. I study plants at the molecular, organismal, population, and community levels of biological organization using tools from chemistry, genetics, manipulative experimentation, and field observation. This research takes place in the lab, the greenhouse, and the field, and has included the interactions of plants with other organisms including, insects, fungi, and humans. I have developed and executed projects independently as well as worked as part of large international research groups. Broad questions that my research and publications have addressed include: How symbioses structure biodiversity, chemical ecology of communication, floristic biogeography, and ecological sustainability and conservation. I currently have funding from the American Orchid Society to document threatened neotropical biodiversity as part of a National Geographic funded expedition to Ecuador.