"The National Book Awards," Associate Professor of Literature Mai-lin Cheng says, "are like the Oscars for American writers." Cheng has helped to bring two of this year's contenders to the University of Oregon for a series of events, including a reading, conversation with students, and a UO Today interview.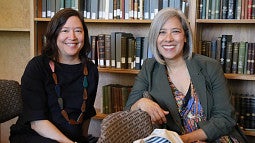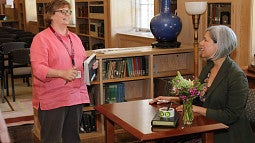 Mai-Lin Cheng with Susan Choi; CHC students Dory and Sarah, Mai-Lin Cheng and Susan Choi; an event attendee and Susan Choi at a reading at Knight Library. 
Nominated for his book ​"On Earth We're Briefly Gorgeous," ​author Ocean Vuong visited in October 2016 and met with CHC students. Vuong was among ten authors longlisted for the NBA 2019 award. 
Susan Choi is one of five authors named a finalist for the NBA award with her coming-of-age novel, "Trust Exercise." Choi visited the University of Oregon in May 2018 in collaboration with Cheng's "Book Love" class, giving CHC students the rare opportunity to meet two NBA contenders.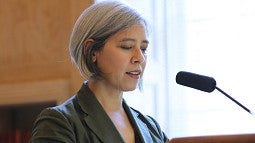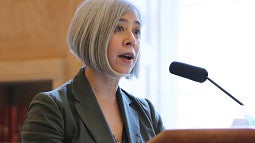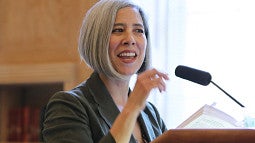 Susan Choi, winner of the 2019 National Book Award for fiction. 
Both Choi and Vuong are Asian-American authors, which is important to Cheng. "I have a real interest and passion for making sure contemporary writers of color come to campus," she says, "and our students are exposed to them."  
Cheng's favorite Choi novel ​is 2008's "A Person of Interest​," which addresses assumptions about Asian-American professors.
 "I was just waiting for [Choi] to win the Pulitzer or be nominated for the National Book Award," Cheng says. 
Choi, a finalist for both her 2004 novel ​"American Woman"​ (was nominated for the Pulitzer Prize in fiction) won the National Book Award on November 20th.
—Keely Miller, CHC Communications