CHC was a "great prep" for the chaos of law school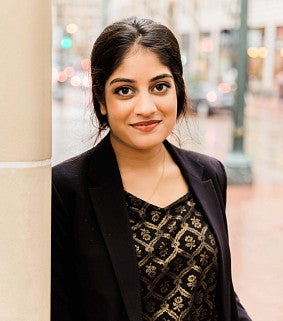 Karishma Shah, a CHC alum now at University of Chicago Law School
by Ashley Lorraine Wiesner, CHC Communications
Light floods into a Chicago apartment as the ear-grating noise of an alarm clock goes off. It's 7:15 a.m., and Karishma Shah begrudgingly gets out of bed. She mentally prepares for her second day of law school orientation, does her makeup, and throws on her mandatory neon orange t-shirt—a shirt she is less than thrilled to be wearing, thanks to its less-than-desirable color.
A 14-hour day is ahead of her. It's complete with classes, seminars, and an orientation mixer aboard a riverboat cruise. She returns home at two in the morning, beat from the day, and hops right into bed. Her alarm set for a mere five hours later. Another early morning and long day at the University of Chicago start tomorrow.
Sleep deprivation and work-life balance aren't new to Shah, as she says her time at Clark Honors College prepared her for the chaos of law school. Shah graduated from the University of Oregon with degrees in operations and business analytics and Spanish, while participating in a variety of organizations and clubs at UO, most notably mock trial.
CHC allowed Shah to hone in on her passions and excel academically, but what Shah learned to value the most during her time with the CHC is the importance of mentorship and community.
"[CHC] provided me with a group of mentors who are really looking out for me," Shah remarked. "Even now they still support me."
Aside from finding her own mentors within CHC, Shah became a mentor herself through mock trial. She joined mock trial at the end of her sophomore year and quickly became a standout leader in the organization, due to her quick thinking and ability to inspire her peers. Shah was a pivotal part of why the mock trial team grew from about 30 members to 100 members in the span of about a year and she was a key component of her team's success at the regional competition. 
"She had the capacity to bring out the best in her teammates," Trond Jacobsen, director of forensics, said. "She was a competent competitor but also a supportive teammate."
An epiphany during her study abroad in Italy is what ultimately inspired Shah to attend law school. In the midst of exploring her options and a new country, Shah found herself missing something. It wasn't the comforts of home she missed the most; it was the practice and study of law. Upon the realization that she missed mock trial, Shah said everything clicked for her—law was her future.
Though politics and law had been a passion of hers since high school, it was her experience in mock trial that solidified her decision to pursue a career in law.  She said mock trial proved law had the complexity and intensity she wanted in a future career.  It was the hands-on exposure to the law and the opportunity to test persuasion and advocacy skills that got Shah hooked on the actual practice of law.
"Law was uniquely challenging for me," Shah explained.
She explored more than the law during her time at CHC. An active member on the rowing team, she also founded an Indian dance group, and interned for the FBI as a data analyst—an experience she refers to as a "bucket list" opportunity. Shah said this ability to balance academics, hobbies, and friendships continues to serve her in law school.
"She was remarkable and exceptional from the beginning but then got even more so," Jacobsen commented in regards to her intelligence and interpersonal skills.
When it came time to select a law school, Shah had no shortage of options. She was accepted to a multitude of prestigious schools but wanted to attend somewhere that had values similar to CHC.
Shah ultimately decided on the University of Chicago with the guidance of David Frank, UO rhetoric professor. Conversations with Frank allowed Shah to weigh her options with her values in mind. University of Chicago, aside from being an esteemed law school, offered small class sizes, encouraged student engagement, and had interesting professors—all qualities she had grown accustomed to during her time at CHC.
Shah doesn't fancy herself as a star;

she considers herself quite normal.

Despite her overwhelming resume,

Shah's dreams aren't much different

than any other 20-something—

she just wants a job and to be happy.
As a Portland native, Shah looked forward to living in a new environment. When she isn't consumed by the workload of law school, she hops on public transportation to explore the city, and spends her evenings cooking dinner for her newfound friends. Work-life balance is one of Shah's keys to success. It's a skill, she said, that she perfected at CHC and continues to utilize in law school.
Though many consider law school to be more time-consuming than a full-time job, Shah said it hasn't been difficult to manage.
"Honestly, the honors college was more demanding than law school has been," Shah said with a laugh.
Halfway through her first year of law school, the sleep deprivation and readings haven't gotten to her. Shah hopes to continue building connections with her law professors, secure competitive internships, and build memories with her newfound social circle. Her motivation to succeed continues to be balanced with her passion for friendships and community.
"She's brilliant. A great student, a hard worker, a great leader, a compassionate human being. She's the full package," Jacobsen said. "I see her as a rising star."
Shah doesn't fancy herself as a star; she considers herself quite normal. Despite her overwhelming resume, Shah's dreams aren't much different than any other 20-something—she just wants a job and to be happy.
Following law school, Shah hopes to have a brief stint in corporate law and to travel to the next location on her travel bucket list, South India. Following her corporate law experience, she hopes to transition into family law and land back in the Pacific Northwest.
She looks forward to her future, a time when she no longer worries about required readings or exams. Her dream home in Seattle will let in the morning light and have windows that showcase the evergreen trees she has grown to miss in Chicago. A space of her own where she can sip her morning tea and prepare for her day at a boutique law firm. 
And finally, she dreams of a point in her life when she might be able to get some sleep.