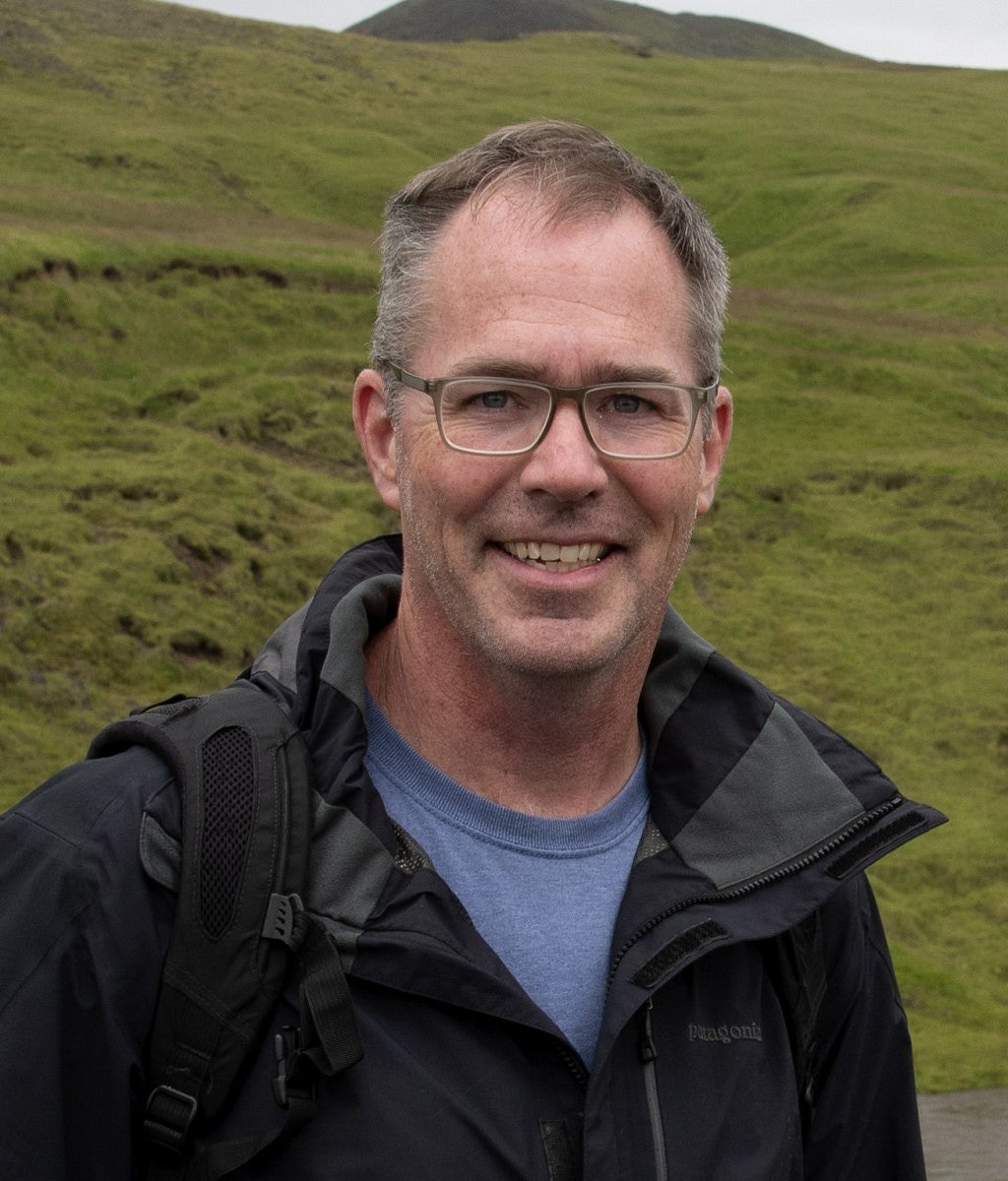 Teaching Philosophy
Professor Carey's courses bring a critical but often overlooked historical perspective to key present-day environmental issues, from water management and climate change to natural resource extraction and indigenous knowledge. His underlying goals focus on inspiring curiosity and creativity, sharpening critical analysis of everything from historical texts to today's news, refining writing skills, and teaching students to communicate new ideas and arguments.
Professor Carey's mentoring and training also goes far beyond the classroom, such as through his Glacier Lab. He was recognized for this mentoring of Clark Honors College students by winning the UO's 2015 Outstanding Faculty Advisor Award and the 2019 Faculty Research Mentor Award.
Past Courses
HC 231H Science, Technology, and Environment in the Pre-Columbian Americas
HC 231H Nature and Knowledge from the Greeks to the Aztecs
HC 232H Environment and Empire in the Modern World
HC 434H/431H Climate and Culture from the Arctic to the Andes
HC 434H/431H Inside Out Prison Exchange: Water, Climate, and Environmental Justice
Opportunities for Students
Professor Carey hires honors college students as Research Assistants every year in his Glacier Lab, giving them valuable research opportunities on a variety of topics - from field work on glaciers and water in Peru, to library and web research on national parks, to website design for disseminating research results. He has co-authored articles with students that have been published in journals like Nature Climate Change and Progress in Human Geography, just to give a couple examples.
Professor Carey's Glacier Lab facilitates this work, bringing together undergraduate and graduate students, along with post-doctoral fellows and faculty, to study on projects ranging from the societal effect of melting glaciers in the Andes, to the history of ice coring in Antarctica, and iceberg monitoring in the North Atlantic Ocean.
Undergraduate students interested in joining the Glacier Lab should contact Professor Carey via email. There are opportunities for undergraduate students to work as research assistants nearly every summer and often during the academic year.
Graduate students in the Glacier Lab currently come from history, geography, and environmental studies. I am always interested in working with graduate students who want to explore the societal dimensions of glaciers and icebergs. My research has focused on people and glaciers in the Andes and on the societal side of icebergs in the North Atlantic (Greenland and Newfoundland). But I am open to working with students in other world regions, too, particularly if there are strong community and/or interdisciplinary approaches.
Carey's courses also provide unique opportunities for students, such as his course on "Climate and Culture in the Americas" in which all students present their research projects at a public student conference Carey co-organizes with Kathy Lynn (UO Environmental Studies) on Indigenous Peoples and Climate Change.
Academic Background
Ciriacy-Wantrup Postdoctoral Fellow, Geography Department, University of California, Berkeley, 2005-2006
Ph.D., Latin American and Environmental History, University of California - Davis, 2005
M.A., Latin American and Environmental History, University of Montana - Missoula, 1998
B.A., History, State University of New York College at Potsdam, 1991
Professor Carey is currently the director of the UO Environmental Studies Program. He also served for two-and-a-half years as associate dean of the Clark Honors College. In addition to his position in the honors college, he is a core faculty member of the environmental studies program and has affiliated appointments in history, Latin American studies, and international studies.
Research Interests & Current Projects
Professor Carey's initial research was on Latin American environmental history, particularly on climate history and glacier disasters in the Peruvian Andes. This work culminated in his book, In the Shadow of Melting Glaciers: Climate Change and Andean Society, which won the Elinor Melville Prize for best book in Latin American environmental history.  More recently, his work has analyzed glaciers, climate change, water, and indigenous knowledge in high-mountains globally and in the Polar Regions, particularly Greenland and Antarctica. Carey was also a contributing author for chapters of the 2014 Intergovernmental Panel on Climate Change (IPCC) fifth assessment report and the 2019 IPCC Special Report on Oceans and the Cryosphere.
Careyis currently involved in several research, teaching, and campus projects, including: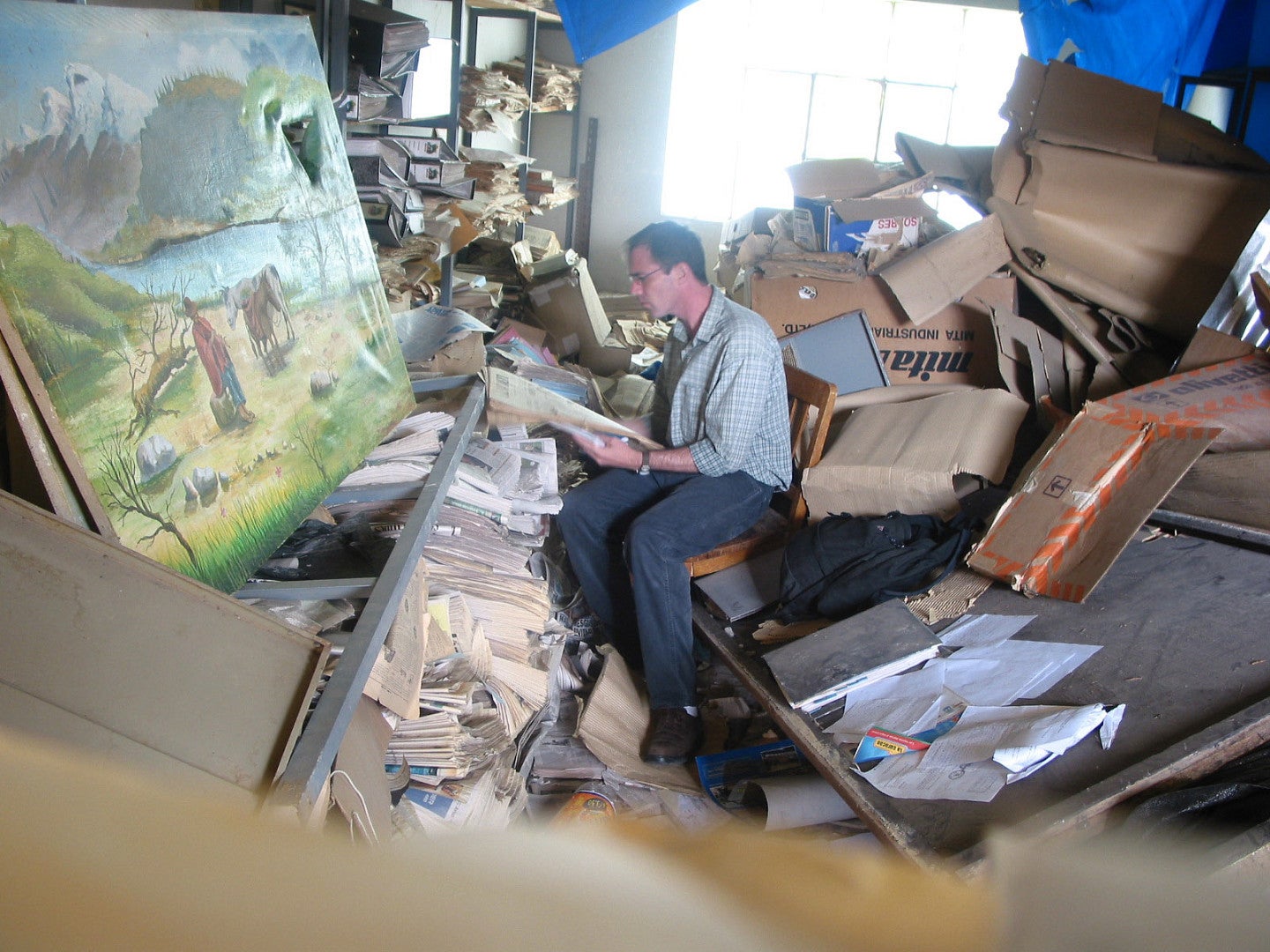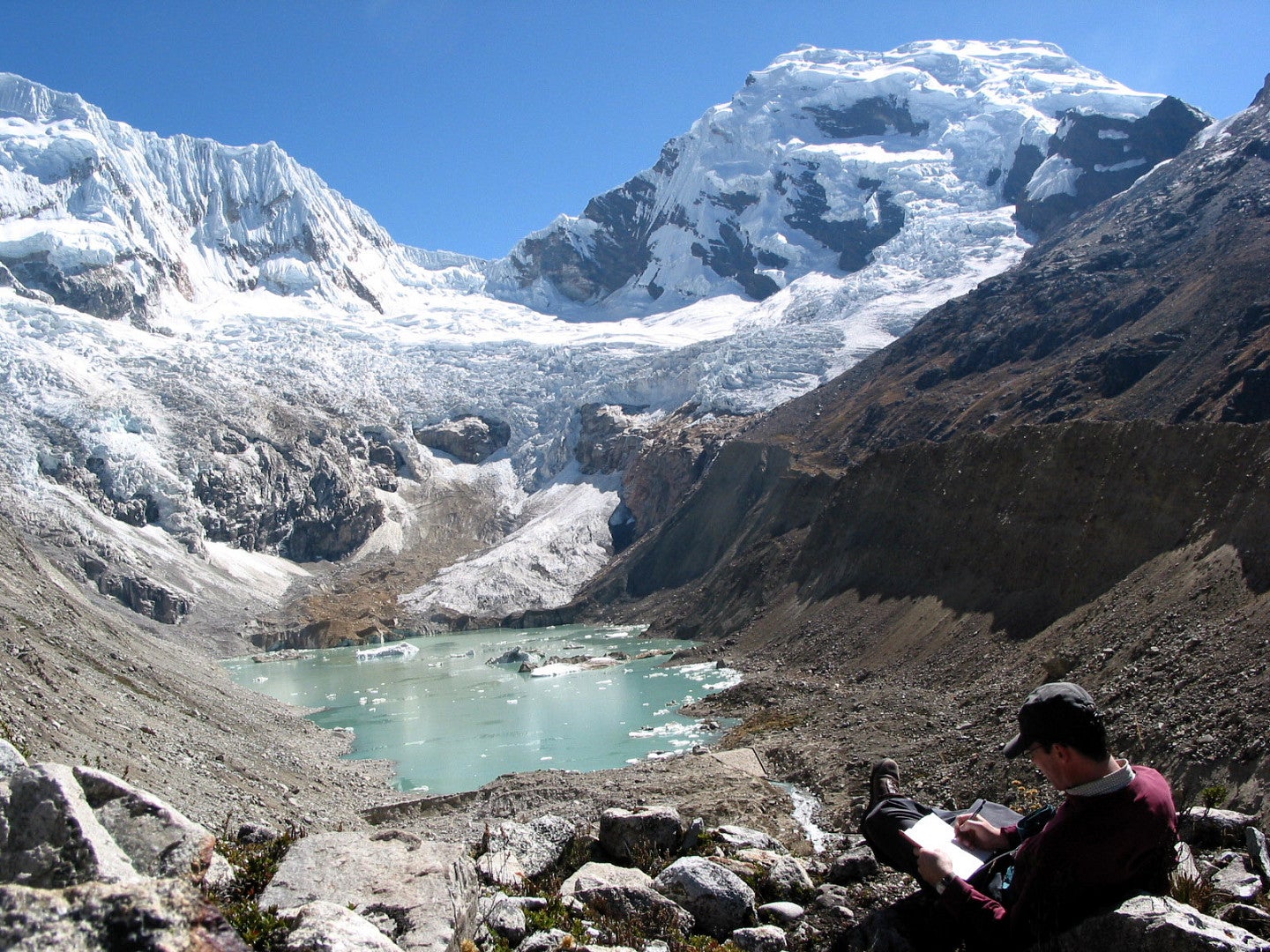 Awards
2019: Faculty Research Mentor Award, Center for Undergraduate Research and Engagement
2018: King Albert Mountain Award, King Albert I Memorial Foundation, Switzerland
2016: University of Oregon Fund for Faculty Excellence Award
2015: University of Oregon Outstanding Faculty Advisor Award
2013: University of Oregon Early Research Career Award/Research Excellence Award
2013: Faculty Excellence Award from the Center for Multicultural Academic Excellence
2011: Elinor Melville Prize for the Best Book in Latin American Environmental History
2011: SONY Scholar Award, University of Oregon
2009: "Rising Star" Outstanding Faculty Award, Virginia State Council of Higher Education
2007: Leopold-Hidy Prize for best article in the journal Environmental History
2007: Social Science Research Council Book Fellowship
Major Grants
2016 - 2019: National Science Foundation, "Collaborative Research: The Impact of Oceanic Forcing on the Melting of West Antarctic Peninsula Glaciers," Grant in Polar Programs, Antarctic Ocean and Atmospheric Sciences (with David Sutherland, University of Oregon; Carlos Moffat, University of California, Santa Cruz; Eugene W. Domack, University of South Florida; John M. Klinck, Old Dominion University; Michael Dinniman, Old Dominion University)
2013 - 2018: National Science Foundation, "CAREER: Glaciers and Glaciology: How Nature, Field Research, and Societal Forces Shape the Earth Sciences," Grant in Science, Technology, and Society
2010 - 2013: National Science Foundation, "Collaborative Research: Hydrologic Transformation and Human Resilience to Climate Change in the Peruvian Andes," Grant in Coupled Natural and Human Systems, (with Jeff Bury, University of California – Santa Cruz; Bryan Mark, Ohio State University; and Kenneth Young, University of Texas – Austin)
2008 - 2010: National Science Foundation, "Glacier Science and Technology in the Central Andes," Grant in Science, Technology, and Society
Selected Publications
For a complete list of publication click here or see Professor Carey's Curriculum Vitae.
Books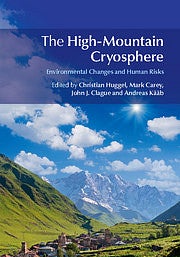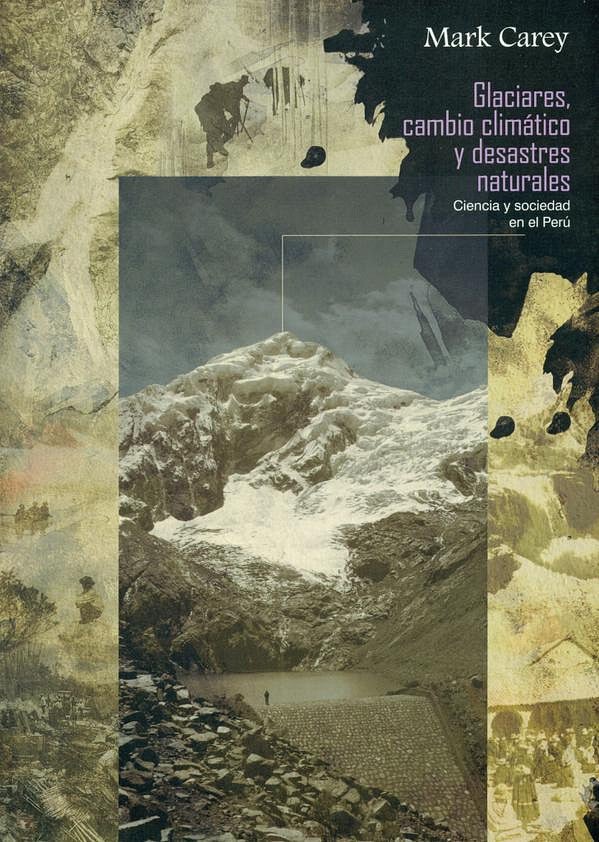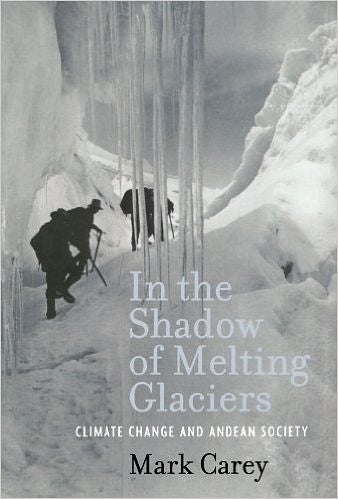 Recent Articles
2019, Henry P. Huntington, Mark Carey, Charlene Apok, Bruce C. Forbes, Shari Fox, Lene K. Holm, Aitalina Ivanova, Jacob Jaypoody, George Noongwook, Florian Stammler, "Climate change in context: putting people first in the Arctic," Regional Environmental Change, 19: pgs. 1217–1223.
 
2019, Christian Huggel, Veruska Muccione, Mark Carey, Rachel James, Christine Jurt, and Reinhard Mechler, "Loss and Damage in the mountain cryosphere," Regional Environmental Change, 19, no. 5: pgs. 1387–1399.
 
2018, Mathias Vuille, Mark Carey, Christian Huggel, Wouter Buytaert, Antoine Rabatel, Dean Jacobsen, Alvaro Soruco, Marcos Villacis, Christian Yarleque, Oliver Elison Timm, Thomas Condom, Nadine Salzmann, Jean-Emmanuel Sicart, "Rapid decline of snow and ice in the tropical Andes — Impacts, uncertainties and challenges ahead," Earth-Science Reviews, 176: pgs. 195-213.

2017, Alessandro Antonello and Mark Carey, "Ice Cores and the Temporalities of the Global Environment," Environmental Humanities, 9, No. 2: pgs 181-203.

2017, Mark Carey, Olivia Molden, Mattias Rasmussen, M Jackson, Anne Nolin, and Bryan Mark, "Impacts of Glacier Recession and Declining Meltwater on Mountain Societies," Annals of the Association of American Geographers, 107, No 2: pgs. 350-359.
Recent Book Chapters
2018, Mark Carey, "Regando el desierto, alimentando la revolución: La influencia de Velasco en las leyes del agua y la agricultura en la costa norte del Perú (Chavimochic)," trans., Fernando Purcell, in La revolución peculiar: Repensando el gobierno militar de Velasco (edited by Carlos Aguirre and Paulo Drinot), Lima: Instituto de Estudios Peruanos: pgs. 319-352.

2017, Rodney Garrard and Mark Carey, "Beyond Images of Melting Ice: Hidden Stories of People, Place, and Time in Repeat Photography of Glaciers," Before-and-After Photography: Histories and Contexts (edited by Jordan Bear and Kate Palmer Albers), New York: Bloomsbury Academic Press.

2017, Mark Carey, "Watering the Desert, Feeding the Revolution: Velasco's Influence on Water Law and Agriculture on Peru's North-Central Coast (Chavimochic)," The Peculiar Revolution: Rethinking the Peruvian Experiment under Military Rule (edited by Carlos Aguirre and Paulo Drinot), Austin: University of Texas Press: pgs. 241-265.

2016, Mark Carey, Kathy Lynn, Kevin Hatfield, and Jennifer O'Neal, "Teaching about Climate Change and Indigenous Peoples: Decolonizing Research and Broadening Knowledge," Teaching Climate Change in the Humanities (edited by Stephen Siperstein, Shane Hall, and Stephanie LeMenager), New York: Routledge: pgs. 86-93.

2016, Mark Carey, "The Trouble with Climate Change and National Parks," National Parks Beyond the Nation: Global Perspectives on "America's Best Idea" (edited by Adrian Howkins, Jared Orsi, and Mark Fiege), Norman: University of Oklahoma Press: pgs. 258-277.

2015, Mark Carey, Graham McDowell, Christian Huggel, M Jackson, César Portocarrero, John Reynolds, and Luis Vicuña, "Integrated Approaches to Adaptation and Disaster Risk Reduction in Dynamic Socio-cryospheric Systems," Snow and Ice-Related Hazards, Risks, and Disasters (edited by Wilfried Haeberli and Colin Whiteman), Amsterdam: Elsevier: pgs. 339-353.