Where Students Belong, Contribute, and Lead
Behind the oak doors and up the winding staircase in Chapman Hall exists a community dedicated to the production, acquisition, and sharing of knowledge.
At the Clark Honors College, you learn how to learn. To debate. To synthesize. To find your own voice. To nurture your intellect. Imagine yourself here, surrounded by students as curious as you are, mentored and taught by scholars from across the university.
Our graduates emerge from an exhilarating four years with the skills, knowledge, and intellectual self-confidence needed not only to accomplish big, important things in their professional lives, but also to grapple with hard choices and seek solutions in their lives long after graduation.
Clark Honors College is where you find your purpose.
It is the place where opportunities empower you to flourish.
It is where you become you.
Faculty in Residence Information
 
A Community of Scholars
Biology majors in architecture classes, computer science majors on archeological digs. Welcome to the Clark Honors College, where we've been breaking the rules and mixing things up for over 50 years. Our small classes bring together the best students from every discipline at the University of Oregon. Led by award-winning faculty, we are a community of insatiably curious, undeniably driven, unique individuals. We don't just try and find the answer to a question—we find new questions. In this fusion of diverse perspectives we seek the connections, rather than the separations. And we find them, together.
Join Us.
"The curriculum is challenging and engaging, the teachers are brilliant and encouraging, and discussion is always exciting—and on more than one occasion has continued out the classroom door and on the walk home." —Sam Selbie, BS '16
We Value Diversity
We the students, faculty, and staff of the Clark Honors College are committed to nurturing a diverse community. When we learn from each other, and are exposed to ideas we may not have thought of before, it makes us better citizens, able to engage in thoughtful and critical discussion about our world and our role in it. We do not condone any form of racism, homophobia, misogyny, ableism, xenophobia, or religious prejudice within our community, and will treat each other with kindness, reserving judgment, and recognize that we are greatly enriched by our diversity.
"Our student body is comprised of individuals from diverse majors, interests and specialties, and we all have something to learn from one another. The social and academic facets of our college thrive upon our strong sense of community." —Virany Men, BS '16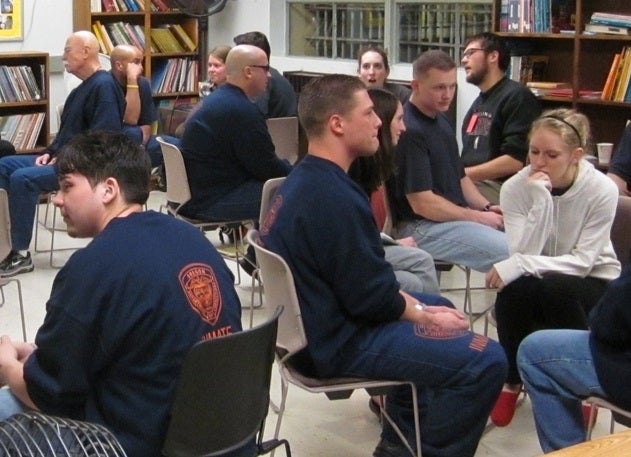 Discussing Literature in Prison
Each term, the Inside Out class brings 12 CHC students together with incarcerated men and women to study as peers behind prison walls. Inside Out creates a paradigm shift for participants, and deepens the conversation. It transforms our collective approaches to understanding crime, justice, freedom, and inequality.
---
Excellence in Public Education
At the Clark Honors College we are proud to provide an excellent public university education to the best and brightest young minds from Oregon, and across the country.
Our alumni, donors, and friends of the college are invaluable in helping us make an honors education a reality. Learn more about how you can help us educate the next generation of high achieving students.
Honoring Native Peoples and Lands
The University of Oregon is located on Kalapuya Ilihi, the traditional indigenous homeland of the Kalapuya people. Following treaties between 1851 and 1855, Kalapuya people were dispossessed of their indigenous homeland by the United States government and forcibly removed to the Coast Reservation in Western Oregon. Today, descendants are citizens of the Confederated Tribes of Grand Ronde Community of Oregon and the Confederated Tribes of the Siletz Indians of Oregon, and continue to make important contributions in their communities, at UO, and across the land we now refer to as Oregon.
The University of Oregon has operations at various locations in Oregon, and wishes to acknowledge the traditional homelands of the Kalapuya peoples of the Willamette Valley of Eugene; Chinook, Clackamas, Kalapuya, Kathlamet, Molalla, Multnomah, Tualatin, and other tribes and bands (Portland area); and the Coos, Lower Umpqua, and Siuslaw (Charleston area).  We express our respect for all federally recognized Tribal Nations of Oregon. This includes the Burns Paiute Tribe, the Confederated Tribes of the Coos, Lower Umpqua and Siuslaw Indians, the Confederated Tribes of the Grand Ronde Community of Oregon, the Confederated Tribes of Siletz Indians of Oregon, the Confederated Tribes of the Umatilla Indian Reservation, the Confederated Tribes of Warm Springs, the Coquille Indian Tribe, the Cow Creek Band of Umpqua Tribe of Indians, and the Klamath Tribes.  We also express our respect for all other displaced Indigenous peoples who call Oregon home.