Major: History
Chair of African American Studies, Boston University
Professor, Howard University
Captain, US Military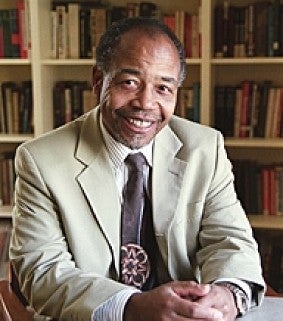 Dr. Allison Blakely is the George and Joyce Wein Chair of African American Studies and professor of European and comparative history at Boston University. Dr. Blakely, class of 1962, wrote his Clark Honors College thesis on
The Peace of 1865, an assessment of the reconstruction period following the Civil War
.
Last spring, CHC student Lizzy Gillespie interviewed Dr. Blakely as part of Professor Suzanne Clark's course on the history and founding of the Clark Honors College. During the interview, Dr. Blakely summed up the importance of attending the honors college, stating that his undergraduate experience gave him "A very good start both for advanced studies and role models for academic life."
Born into a family of sharecroppers in rural Alabama, Dr. Blakely grew up in north Portland, Oregon. Encouraged by his mother, who had only a sixth grade education, he spent many days reading in the Multnomah County Library. Through his personal experiences of racism and his reading, Dr. Blakely says he developed "an awareness of how historical analysis can at times provide a salve and a shield against the inherent psychological pain." In high school, he studied the Russian culture and discovered intermittent similarities between the Alabama culture into which he was born, and that of Russia.
After attending Oregon State University on a small scholarship, Dr. Blakely transferred to the University of Oregon and completed his junior and senior years in the honors college. He recalled the honors college in its early days:  "My favorites [professors] were special in different ways … Paul Holbo, Val Lorwin, and Earl Pomeroy in the history department. I also recall a fascinating visiting classics professor from England, Ernst Badian, who recovered well from his astonishment in discovering at our first class meeting that none of us knew Greek or Latin. Another favorite was Aaron Novick, a brilliant molecular biologist who was also unbeatable in ping pong during parties at his home."
Dr. Blakely graduated Phi Beta Kappa from the UO and continued his studies on a Woodrow Wilson Fellowship at the University of California, Berkeley, earning his MA in Russian history. Despite his personal opposition to the Vietnam War, he completed two years of service - including one year in Vietnam as an Army intelligence officer attached to the First Infantry Division - and rose to the rank of captain. He received both a Bronze Star and Purple Heart.
Upon his return to the United States, he earned his PhD at Berkeley in Modern Europe (Russia) in 1971, and began teaching at Howard University, a predominantly African American university in Washington, D.C. In his interview with Lizzy Gillespie, Dr. Blakely described his thirty years at Howard: "…[the Howard students] awakened my intellectual curiosity about the presence and role of blacks in European history. I also became personally swept into that history. In the course of research visits to the Netherlands in the early 1970s to exploit rich archival materials on Russian populism in Amsterdam, I began to experience racism after the independence of Surinam in 1975 suddenly brought a larger black population to the Netherlands. When speaking Dutch, I was mistaken for a black Surinamer, and was treated differently than earlier, when I had been seen as a professor from the United States."
Dr. Blakely is the author of two books. Blacks in the Dutch World: The Evolution of Racial Imagery In a Modern Society was published by Indiana University in 1994. His first book, Russia and the Negro: Blacks in Russian History and Thought (Howard University Press, 1986), won a 1988 American Book Award.
In addition to his academic research and publications, Dr. Blakely served as President of the National Phi Beta Kappa honor society from 2006-09. He is also an editor for Phi Beta Kappa's award-winning publication, The American Scholar, and represented Phi Beta Kappa at the investiture of UO President Richard Lariviere last May.
On November 3, 2010, Dr. Blakely will receive the 2010 Clark Honors College Alumni Achievement Award at a special luncheon recognizing him and his contributions to Phi Beta Kappa. 
August 2010