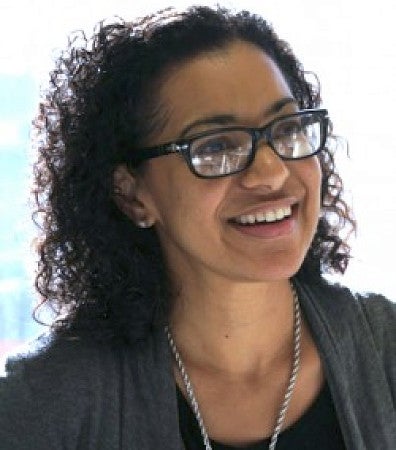 Leyla Farah   February 20, 2022  
Story by Lauren Church, CHC Communications
First, she studied psychology at the University of Oregon as a Clark Honors College student; for grad school, she dove into intellectual property law at University of California, Berkeley. Then, she became a coder. Today, alumna Leyla Farah ('94) is a storyteller for Salesforce.org where her team partners with non-profits and social impact groups to "tackle the world's biggest problems." Throughout her "zig-zagging" career, one thing has consistently guided her: a passion for utilizing technology to spread the stories of marginalized groups. Her CHC thesis research, she said, helped her discover this north star.
The thesis, "The Mainstreaming of Gay America," analyzed the marketing industry's impact on society's general acceptance of the gay community. Today, Farah said, this sort of analysis might seem commonplace, but it was groundbreaking at the time.
Farah's interest-based expertise helped her filter career opportunities over the years, she said, chasing experiences that she knew would be a good fit for her.
"The thesis is such a gift," she said. "I have not, in my travels, come across another undergraduate environment that encourages the idea of a thesis where you have the freedom to explore your own interests and to become an expert in something."
From her thesis research using the early internet to her remote collaboration with storytellers across the globe, Farah says technology has been a huge part of her career. Coding, she says, is like another language. Understanding it has helped her fit into the tech world to scale up her social impact. "I was very average as a coder, so I didn't have a path to be an engineering superstar," she said. "But I dug it!"
Now, as she's made a professional pivot to storytelling in tech organizations, it's the experience she leads with.
While Farah's career pivots may not have made sense at the time, she said in hindsight, she sees that the research, marketing, and LGBTQ+ marketing expert she became at CHC has opened doors for her every step of the way.
"Here I had this grounding of the best available thinking about marketing and representation of gay images because of my thesis," Farah said. "And then I moved into marketing at mostly-gay or gay-friendly companies."
Farah's passion for LGBTQ+ advocacy through storytelling has guided her outside of the classroom and office, too. She has sat on two non-profit boards: the Human Rights Campaign, a political organization focused on creating policies that benefit the LGBTQ+ community in California, and Outfest, an organization based in Los Angeles that archives, catalogs and preserves LGBTQ+ cinematic imagery.
Now a member of the CHC Advisory Council, Farah draws upon her professional success and experience to support today's students. She offers one main piece of advice: "Your job as a person moving through your career is to figure out what lights you up," she said. "There are moments in your day that light you up. You have to pay attention to them and figure out what they're all about."