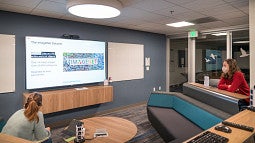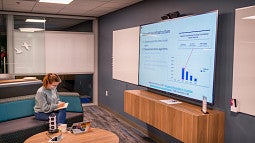 Story by Claire Warner, CHC Communications
Photos by Jasper Zhou, CHC Communications
In the University of Oregon's Knight Library, Clark Honors College students attempted to eat Thai food with stirring sticks. 560 miles away, other CHC students were networking while waiting in line for the restroom. They gathered on March 7 to attend the national Women in Data Science (WiDS) conference through Stanford University. While four students congregated in the library's Digital Research, Education, and Media (DREAM) Lab, two students flew to San Francisco to attend the conference in person alongside Clark Honors College Interim Dean Carol Stabile.
WiDS aims to inspire and educate participants worldwide, regardless of gender, and to support women in the field, according to the conference's website. Now, in 2022, women make up less than 20% of the field; WiDS aims to increase that number to 30%  by 2030.
"Too few women are involved in the design and creation of new technology, and while there's been progress — and this conference itself has contributed to that progress — we have a lot further to go," Debra Satz, dean of the Stanford University School of Humanities and Sciences, said.
The conference included keynotes, technical talks, and panel discussions from women using data science to achieve a variety of goals in technology, health care, and social justice. Attending the talk in person, CHC student Micah Woods was interested to learn how people entered fields they were traditionally discouraged from being in. They hoped that by attending the conference, they could understand how to make STEM fields more accessible for others in their future academic career. What Woods didn't expect was that the conference would be welcoming to people of all genders, as one speaker took time to recognize participants who were not women.
"That was really cool, that was not something I'd seen before," Woods said. "The space being mostly women was so welcoming. It was a lot of emphasis on how we can lift each other up."
They noted that their "proud moment" was talking to the Chief Data Scientist of the United States, Denice Ross, who presented on using data to help with hurricane relief.
"Going into her speech not talking about the data but talking about the people was something that stood out to me and I really wanted to tell her that I resonated with that. Seeing her as a person I think was what helped me be able to approach someone of that rank," Woods said. "That's something I realized a lot of the speakers emphasized, is that you can't separate the data from the people that the data is about."
Another speaker, Maria Gargiulo, a student at Oxford University studying demography, explained how she uses data science to estimate undocumented human rights violations. Lucy Roberts, a CHC student studying spatial data science and attending the conference in the DREAM Lab, was thrilled; not only was she passionate about social justice issues, but she would also be traveling to the United Kingdom to attend the Oxford Consortium for Human Rights in just a few days. With encouragement from the other attendees, Roberts clacked away on her laptop, drafting an email asking Gargiulo if they could meet.
"Everyone was like, 'Lucy, if you do not email her, you're kicked out of the WiDS conference,'" Roberts said. "I'm a strong believer that conferences are partially about the talks, but mostly not about the talks. The things I'm going to take away are the sense of not just community but the empowerment that I felt that you guys shared with me in that room."
Just nine days later, Roberts sipped a latte at The Grand Café, the oldest coffee shop in Oxford, as she spoke with Gargiulo about data and human rights.
"We had these really cool conversations about the intersections between our fields," Roberts reflected. "I think it was really inspiring to see her apply the data sciences in a way that fulfills my hopes and dreams for what I can use my field for."