Major: Education
Professor of Education and Health Sciences, University of Canterbury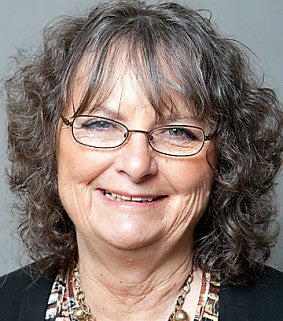 Kathleen Liberty discovered she wanted to devote her life to helping people with disabilities when she was twelve years old. She was playing piano for a Sunday School class at St. Michael and All Angels Episcopal Church in Portland, and a woman brought in her two-year-old son who was deaf.
"This started me wondering," Liberty recounted, "what will he do when I am playing the piano and all the other children are singing or clapping their hands? I put the little boy between my knees and put his hand on the sounding board, the part beneath the keys on the upright piano, and I could tell that he could feel the music that I played. That was it."
Liberty, now an associate professor in education and health sciences at the University of Canterbury in Christchurch, New Zealand, earned her undergraduate degree in elementary education. Her CHC thesis involved an experiment to improve the understanding of numeracy concepts in children with intellectual disabilities through the application of Piagetian theory. 
"The Clark Honors College experience paved the way for my career, because it taught me how to read and ask questions across all of the major disciplinary areas of knowledge," she said. "These skills gave me the intellectual confidence to explore ideas from other paradigms, and to build bridges for research for people with disabilities across disciplinary boundaries with business, economics, health and medicine, psychology, physiotherapy, communication disorders, occupational therapy, and education."
The late 1960s were a groundbreaking time in the study of special education, Liberty recalled. Research in the 1950s had shown that people with developmental disabilities were much more capable of learning than previously thought, and President John F. Kennedy, who had a sister with a developmental disability, increased funding for further research.
Liberty went on to earn an M.A. in special education from the University of Oregon in 1972 and a Ph.D. from the University of Washington, where she later went on to teach, in 1979. Her doctoral research, which combined the fields of special education and business, showed that while training people with special needs to live and work independently might be expensive, it was far less expensive than providing total care for them over a lifetime. This was a radical idea at the time. 
"Now, of course, many people around the world recognize it as a right that people with disabilities will be in charge of their own destinies - and it is this belief that may be the most important change of all," Liberty said.
She joined the University of Canterbury faculty in 1990. In 1993, she introduced the first undergraduate course in a New Zealand university on inclusive education for children with disabilities. This course became a compulsory part of teacher education in Christchurch in 1999. By the early 2000s, there were more children with severe and ongoing disabilities included in classes with typical children in Christchurch than in any other city in New Zealand, Liberty said.
Liberty also worked to establish, and is now the director of, the first graduate program in Australasia on early intervention for children with disabilities. In 2007, she began a five-year term on a national expert panel in New Zealand to coordinate social services for children and youths with conduct problems and antisocial behavior.
Liberty accepted the 2008 Clark Honors College Alumni Achievement Award from UO President Dave Frohnmayer during the convocation awards luncheon last May.
February 2009