Many University of Oregon students jumpstart their STEM careers by joining laboratories, securing internships, and working with mentors. But the Knight Campus Undergraduate Scholars (KCUS) in partnership with Clark Honors College provides structured support that enables students to take on a wide range of research projects, from  testing yeast proteins to creating mutant zebrafish. Two students per year secure the fellowship, which offers financial and mentorship support as well as lessons in effective science communication, professional development workshops, and a community of passionate scientists.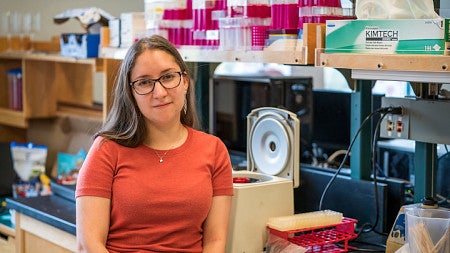 CHC students Mikala Capage and Sam Craig recently finished their fellowships, spending the year immersed in the intricate research of misfolded proteins and mutant zebra fish. They were able to do that, Capage says, because of the nature of the program.
"One really big component of the Knight Campus is that it's very generously funded, so it really gives students the space to prioritize research during the week, during the term, and certainly during the summer," Capage said.
Capage's research focuses on identifying prions, which are misfolded proteins that take on different functions due to their altered shape. They are also infectious, causing other proteins of the same kind to adopt their shape. The first prions discovered were those that caused mad cow disease, a fatal neurodegenerative disorder in cattle. But unlike many diseases, it was not caused by a virus, bacteria, or mutation.
"Two cells could have the exact same genome, but one of them for some unknown reason has its proteins in a different shape, and then it has a different trait; it behaves differently, grows differently, and it interacts with its environment in a different way," Capage said. "The task that the field now has is to figure out how widespread is this as a system, as a mechanism."
While doing such complex research, Capage was grateful for the support she received from her mentor and principal investigator, Assistant Professor David Garcia.
"He makes a lot of time for his undergraduate students and really goes out of his way to provide research support like troubleshooting and help with the research but also very much thinking about opportunities to present research, career opportunities, things like that," Capage explained.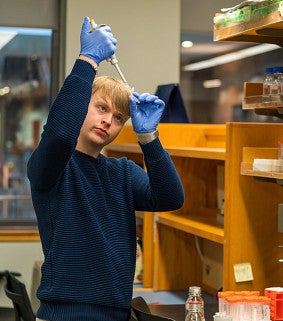 While Capage tested for novel prions in her lab, Sam Craig spent his time in the KCUS program characterizing a novel zebrafish mutant which has defective motile cilia. Motile cilia — hairlike projections on the outside of cells — beat, causing fluid to move outside the cell. Fluid flow is essential throughout many organs, as non-functional motile cilia lead to severe developmental defects.
"Motile cilia are also crucial in humans. If they are mutated in a person, then they develop with similar defects," Craig said. "We're studying this mutant to hopefully try and understand these conditions better with a hope for treatment in the future."
Craig said his favorite part of the KCUS program was being part of the scientific community and discussing his research with peers.
"Sometimes I would get really exciting experiments done or find some data that was significant, and it would be really fun to talk about that with the other people in the program and present it to them," Craig said. "They asked really insightful questions that helped me understand my own research better and to look at it from different angles as well."
Craig said he would recommend KCUS to anyone who "would like to be part of a longer program where you learn how to perform research and be in a lab and talk to other scientists. I think it's the perfect place to do that."
He also recognizes mentor Zoe Irons and Principal Investigator Daniel Grimes for their support throughout the experience and as he continues his research.
"They have been nothing but supportive," Craig said. "They've helped answer every question I've had about my research, and I wouldn't be here today without their support and their guidance."
Additionally, Capage recognized KCUS Senior Program Manager Karl Reasoner for facilitating the program's weekly meetings and teaching students a variety of lessons in research, communication, and professional development.
"He really did an amazing job of giving presentations, talking about editing, writing your CV and your resume, and talking about lots of different ways to present your research," Capage said. "The program really gives you, in a sense, two mentors — your research mentor and then Karl, who I think is just an amazing resource for Knight Campus students."
One of the program highlights was when Reasoner had students practice communicating complex research topics in a short amount of time. In one exercise, students had to present their research in three minutes with only one slide without any words. As a result, students came up with creative ways to communicate their research. Capage was able to transfer these skills directly to her presentations for the thesis prospectus class and her thesis defense.
"I think it was a really good lesson in science communication in that you can be very effective maybe even by saying less," Capage said. "Being really restricted in how much time you had made you work really hard on boiling those ideas down to their essential concepts."
Story by Claire Warner, CHC Communications
Photos by Jasper Zhou, CHC Communications