Major: Biology
Senior Scientist, Hospital for Special Surgery - New York
Lecturer, Weill Cornell Medical College at Cornell University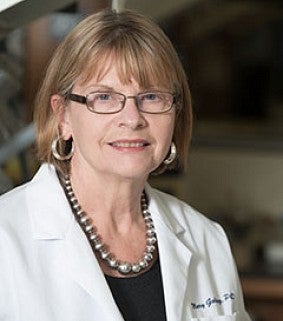 Mary (Brennan) Goldring, an internationally recognized medical research scientist, is a world expert on cartilage biology and molecular biology, particularly as it relates to the behavior of arthritis. She developed in vitro methods for the study of the degeneration of human cartilage in osteoarthritis and inflammatory joint diseases, disorders that affect millions of people worldwide.
"Dr. Goldring is a pioneer in her field," said University of Oregon President Dave Frohnmayer. "She is noted for her multiple awards, including a New Investigator Research Award from the National Institute of Health, and the highly competitive Searle Arthritis and Prostaglandins Research Challenge grant. She is also a three-time recipient of the prestigious Arthritis Foundation Biomedical Research Grant."
Now a senior scientist at the Hospital for Special Surgery (HSS) in New York City - a position that includes an affiliated position as lecturer at the Weill Cornell Medical College at Cornell University - the focus of Dr. Goldring's laboratory is on defining the molecular and cellular mechanisms that lead to alterations in remodeling of cartilage in osteoarthritis and inflammatory joint diseases. Osteoarthritis, a leading cause of disability, particularly among individuals over 65, is the most common type of arthritis and affects an estimated 12.1 percent of the U.S. population or more than 20 million Americans. As the population ages, the number of people with osteoarthritis will grow and it is predicted that by 2030, 20 percent of Americans – about 72 million people – will be at high risk for the disease.
Goldring is moving forward with her research efforts. She is even undergoing injections of trial medication in her arthritic left thumb in order to broaden her knowledge in the field.
Goldring traces her scientific curiosity back to her elementary school days in Reno, Nevada. "The Sputniks went up in the late fifties, and there was a lot of hype about pushing science in schools," she says. "If you tested well, they were pushing you to do math and science all the way through high school." At that time, she notes, girls were not exactly encouraged to pursue medicine as a career. "I didn't even think about doing pre-med, but I was helping all these pre-med guys with their work in our organic chemistry classes!" Goldring immersed herself in her high school laboratory studies, and worked as a teaching assistant for her biology teacher who recommended Oregon as a university with a well-rated science program.
At the honors college, Goldring quickly found her niche in biology classes with Professor George Carroll, a noted mycologist of the time. Selected for a National Science Foundation Undergraduate Research Participant (URP) Fellowship, Goldring completed a research project for her honors college thesis, An Analysis of Ultra-Structural Aspects of Sporulation in Imperfect Fungi, while working with Carroll. "I really do credit him for giving me the opportunity to assist him with his project," she says. "Even though I ultimately didn't end up working directly in basic biology with fungi, it really gave me a taste for independent research."
Throughout her career, Goldring has also functioned as an educator and mentor, beginning with several years teaching biology for the Peace Corps in Peru after completing her undergraduate degree. Goldring currently supervises students at HSS, guiding their research projects. Clinical trials go on for years, she says, "But there are new developments and discoveries made on an ongoing basis. That's what's exciting to me; I'm working with this group of eight very talented postdoctoral students. It's great to see that I've guided them in the right direction."
Dr. Goldring accepted the 2009 Clark Honors College Alumni Achievement Award at the CHC's commencement banquet on Friday, June 12, 2009. Selected by a subcommittee of the CHC Alumni Advisory Council, Goldring has distinguished herself as a leader in the field of chondrocyte biology. 
March 2010