Montana is known as the "Treasure State" for its abundance of natural minerals and diverse wildlife. But when Catalina de Onís thinks back to her childhood in the Rocky Mountains, the opposite comes to mind.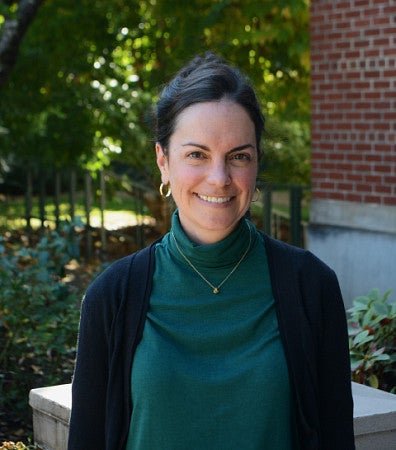 "It was very obvious growing up that environmental injustices were all around me," says Onís, who recently joined the Clark Honors College as a professor in environmental studies and Latinx culture. "There were many workers and their families who were exposed to horrible levels of asbestos, and the company they worked for was very negligent and created so many harms for those individuals." 
As Onís learned more about the impacts of her home state's environmental issues, she started to become more aware of how the crisis that loomed over her childhood could be traced to historical efforts to destroy different cultures and environments. 
That's when things clicked for her. The environmental issues that she witnessed at a young age and the colonialism that affected her Puerto Rican family members are not only intertwined, but they cannot be pulled apart. "I can't think about any environment without also thinking about culture and community and survival," she says. 
Environment, culture, and community are the concepts Onís brings together in her Fall 2022 HC301H course: Environmental, Climate, and Energy Justice in Latinx Communities.  
Onís comes to Clark Honors College from the University of Colorado-Denver, where she was assistant professor of Environmental Communication and Social Justice. She has authored three books in two languages, written countless articles and essays, co-produced a documentary, and co-authored a successfully funded grant proposal to support grassroots organizers in the Jobos Bay region of Puerto Rico. 
Carol Stabile, acting dean of the Honors College, is "thrilled" that Onís has joined the CHC and brings with her a "commitment to collective action that offers the CHC community models for what Professor de Onís describes as 'alternative world-building.'" 
❧
In her debut course at the CHC, Onís encourages students to share their personal experiences to create "a space where we can show up as whole humans, and not feel like we have to perform the academic way." 
Onís also shares her personal experiences by openly talking about her mixed heritage as a woman born to an Irish-American mother and a Puerto Rican and Spanish American father, whose mother who was born in Mayagüez, Puerto Rico. 
She explains that despite living as a woman of mixed heritage in a predominantly white community, she experienced a level of environmental privilege in the way she grew up. "Access to mountain spaces or clean air and clean water, those are things that I had that so many people didn't," she says. 
She wants her students to understand her background, but she's hoping most of the sharing will be done by them. "It's important to discuss these struggles in community with others," she says, "to feel less alone."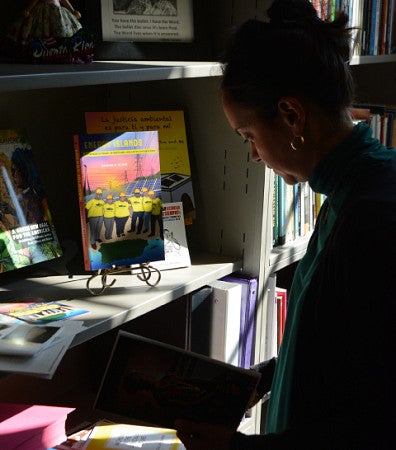 Onís knows the importance of hearing all perspectives – from her studies as an undergraduate journalism major at Northwestern University to holding experiential learning spaces with undergraduates to the conversations she facilitated for her book: Energy Islands: Metaphors of Power, Extractivism, and Justice in Puerto Rico. The book won both the 2022 Rhetoric Society of America's Book of the Year Award and the 2022 National Communication Association's James A. Winans-Herbert A. Wichelns Memorial Award for Distinguished Scholarship in Rhetoric and Public Address. 
Onís doesn't just talk to the grassroots activists of Puerto Rico: she also talks to the officials within the fossil fuel industry. Hearing from multiple sides of the crisis, she says, "was really important for understanding the complexities of why it's so difficult to transform people's energy systems." 
But above all, Onís's work focuses on and is dedicated to the coastline communities of Puerto Rico, places where people welcomed her into their meetings and into their homes to share stories for her to record. 
"I would witness how people intergenerationally were connecting," she recalls. "And just the beautiful mentoring relationships that took place; people who I established deep relationships with sharing their fears and their joys." 
But Onís didn't just see the beauty of a community coming together to fight for a cause. She also saw the reason they had to fight: illnesses in Puerto Rico continue to rise as a direct consequence of human-made climate crises and environmental racism. 
Onís highlights the harms caused by the coal-fired power plant in Guayama, on the southeast coast of Puerto Rico. "There are cancer clusters. There are people with many respiratory and cardiovascular illnesses because of the damage of this coal-fired power plant," she says. 
One of her biggest concerns is how the plant disposes of the "toxic ash" and how waterways are being contaminated. 
The Guayama power plant and the damage it caused the coastline community surrounding it inspired Onís to co-author a bilingual children's book: La justicia ambiental es para ti y para mí /Environmental Justice Is for You and Me. 
❧
Onís also co-authored a Spanish-language book: "¡Ustedes tienen que limpiar las cenizas e irse de Puerto Rico para siempre!:" la lucha por la justicia ambiental, climática y energética como trasfondo del verano de Revolución Boricua 2019, a book she says is getting less attention because it is not in English – something she feels doesn't appeal to a monolingual academic audience in the U.S. 
She says she isn't deterred because she recognizes how important it is to write in the language of the people she's writing for and about. 
"I think it was also important to publish with a Puerto Rican press (Editora Educación Emergente), she says. It's "a way of supporting them and their efforts to show that it's important to dedicate time and energy to publish with you because we want to create spaces for Puerto Ricans to share their work, and to not be privileging these Western European sources." 
At the Honors College and UO, Onís says she wants to "challenge the problems of whiteness more broadly." 
How does she plan on doing that?  
By recognizing her role as a faculty member and using the power of the stories she tells within that role. She also wants to "collaborate with interested students of color, especially Latina/o/x/e undergraduates, to spark, sustain, and strengthen community and belonging." 
And that collaboration, she hopes, will carry over to faculty and staff at the Honors College. Working with her students and peers to create a more just world is what motivates and energizes her work. 
She's not looking to do her work alone. Instead, she says humbly that she sees herself as "just one granito, just one little piece of sand, in this larger playa, or beach, coming together." 
Catalina de Onís will teach a Calderwood Seminar next spring and two sections of HC221H, focusing on autoethnographic storytelling and Latinx/e cultures in Winter Term 2023. 
Read Onís's most recent article on Hurricane Fiona and the historical and present-day systems and structures that  require many community members to mobilize alternative networks of mutual support. To support these efforts in the Jobos Bay communities, donate to this GoFundMe page. 
Story by Julia Boboc, Clark Honors College Communications 
Photographs by Riley Hoerner, Clark Honors College Communications