Year in school: Sophomore  
Major/intended major: Environmental Studies  
Hometown: Oakridge, Ore.  
Song on repeat: Business Lunch by Shakey Graves  
Coffee or tea: Tea – sweet and spicy Good Earth  
Who is your role model? I don't really have a role model; I like worldly people. I have a lot of professors I look up to.  
Favorite study spot:  Recently, I've been getting into Willamette more often.  
Favorite class at the CHC: HC101: Psychology of Pilgrimage and HC221: Religion After Atheism  
Toughest thing you've faced so far: Freshman year. Just all of it. I hated it.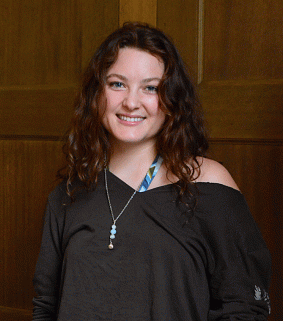 ❦
Ailah Altemus spent last summer on a fire crew helping fight wildland forest fires, including the Cedar Creek Fire that threatened her hometown, Oakridge. Growing up with two parents who were smokejumpers – people who parachute directly into wildland fires, Altemus heard plenty about the mismanagement of forests and the importance of fire ecology. 
After working on the Cedar Creek Fire that threatened Oakridge and seeing her hometown in danger, she decided to focus her studies on reversing the effects of climate change. Fighting a fire that put her hometown in danger took a toll on her well-being and changed her plans for the future. Fire ecology and environmentalism are no longer just passions, Altemus says. They are a necessary part of her life and she plans to build her career shaping the environment for good. 
"I always knew fire ecology was important," she says. "But seeing it for myself and getting involved with the Climate Justice League, I don't have much of a choice in my future. I have to shape my life around climate change." 
She hopes her activism projects will provide a local launchpad for others to get involved with reversing the impacts of climate change. She is a part of the Climate Justice League (CJL), a club at UO that takes action to get students involved in climate activism in the Eugene area, and recently testified in front of the Eugene City Council for the advocacy group Fossil Free Eugene. 
Altemus thinks that one of the biggest problems to tackle while mitigating the risks of climate change is "bridging the gap of partisanship on the issue." She grew up in a conservative area that she feels is less inclined to address climate change. Her grandfather was a logger, and told her it doesn't make sense that working class people should be blamed for such issues. Altemus says that "creating bipartisan support for climate justice" isn't the easy answer, but getting there is a way to create sustainable and meaningful impact. 
She plans on centering her CHC thesis topic on fire ecology and forest management, and plans to track forest health and the effects of local and national fire suppression policies. In the end, she says "the wilderness is meant to be untouched." 
—By Sofia Rodriguez Baquero, Clark Honors College Communications
—Photo by Riley Hoerner, Clark Honors College Communications