The CHC music professor talks about his favorites, his approach to teaching, and a new music album that dropped in December.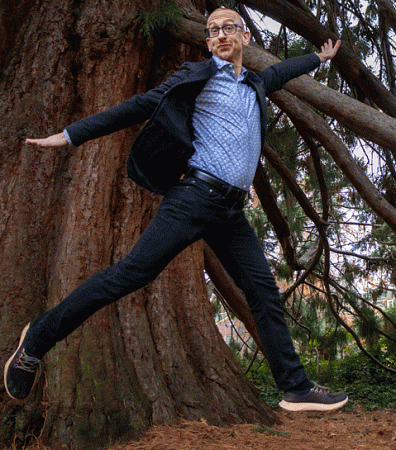 Song on repeat: Stravinsky's Petroushka (1947 version)
Guilty pleasure: Coffee
Hometown: Portland, OR
Favorite memory at the CHC: I've been at UO for a long time but only at the CHC for a few years. Shortly after I was hired at CHC, I remember going to my first faculty meeting and I thought: "Oh my goodness, I didn't know faculty meetings could actually be fun!" I feel very fortunate to work with my colleagues here.
It's a challenging task to capture the totality of Brian McWhorter's experience. As a UO professor of music who is a core faculty member at the Clark Honors College, McWhorter specializes in performing arts, nuance, and gesture. Since 2012, he has also served as the music director for the Eugene Ballet. McWhorter organized and created a training orchestra called "Orchestra Next," which combines student musicians with professionals. His most recent project – the orchestra's newly released album – is titled "The Nutcracker." We sat down with McWhorter to hear about his love of music, teaching, and making a difference in the lives of students. The interview has been edited for clarity and length.
If your personality was a music genre, what would it be?
Punk. I love the music and I grew up on it. There's something a little counterculture about it that we all get into and there's a lot of reasons for that. But at the end of the day, it's still music that you can move to. There's a little bit of rage bristling at the surface.
How did your passion for music begin?
I wanted to play the drums in fourth grade when band was starting, but I wasn't allowed to play them. We didn't have a lot of means growing up, so I was able to play the instrument that was around and that happened to be my uncle's trumpet. I took to it pretty quickly and it kind of just became my life. There's a lot that I love about music, no question, and I feel very fortunate to be involved in music the way that I am. The main thing is that I get to work with some extraordinary musicians. I get to be around them and create with them and that means the world to me.
How do you apply your worldly experience to your teaching?
One can unpack the different styles of music and think about it in academic ways regarding structure, tonality, or form, but we all feel music. Every culture feels music. We feel it in our bodies and that is endlessly fascinating. One can get into different ways of feeling music and it moves you in a slightly different way. That is in a word: empathy. When we hear other music, we may not necessarily be attracted to that music immediately. But anything that you hear, there's someone out there that really loves that music. If you can be open to the music, then that's building empathy in a really powerful way.
In regards to Orchestra Next, you've said: "Being able to witness that mentorship in action from the podium for these last 10 years has fundamentally changed how I've thought about music, the performing arts, and teaching." How so?
There's an idea in music education where we keep students in this confined space until we grant them permission to be out in the field with all of us. That's just bull----. Orchestra Next is unlike any orchestra in the state. What has been most impressive to me is what happens when you trust students. It's a fascinating dynamic. The first rehearsal is all over the place. There's a lot of worry and panic. By the second rehearsal, the students have practiced and pulled themselves together. They keep getting better so much so that they start to make the principals nervous. So, then the principals go home and practice themselves. There's a battle to the top and there's this amazing dance that happens in that way – trusting students to bring excellence to everything that they do and what follows with that. Every time I teach a class, I come out better for it because of what students have brought on.
What made you want to form a live orchestra for "The Nutcracker?"
In 2012, my two children were at that age where it would've been fun to bring them. So, I asked the Eugene Ballet company which orchestra in town they were using, and they said that they didn't have one. So, I said: "How about I start an orchestra for you?" This was a couple of months before the show and my main reason was because I wanted my kids to see "The Nutcracker" with a live orchestra, but then it presented another opportunity. In this area, we don't have a training orchestra like Orchestra Next. There are not a lot of jobs in this field, and while professional orchestras sometimes have a couple students, there's just not enough space for all of them. So, this is like a stepping-stone kind of vibe. We have a lot of students from UO, but it's like a professional experience. It's like filling a gap between student and professional ensembles. Something in the middle where they can start getting some real and meaningful experience.
What can listeners expect from the album that dropped in December?
It's just been a long time coming. We recorded it last December and it took a lot of work between then and now. Out of all the projects that we do every season, "The Nutcracker" is the closest to all of our hearts. It's what started our orchestra and it's central to our mission. It has so much weight to it. It was very expensive. We had a lot of supporters in town help us get to where we needed so that we could do it. But, more than any of that, it just sounds freaking awesome. The band sounds amazing. I was a little nervous at first. It sounds so good. I really do believe it's something that everyone that made this thing can be proud of.
What was the process like for making the album?
In the evenings, we were doing the shows for the ballet and during the day we were recording. So, it was a lot. Very long days. We finished the album over six, three-hour recording sessions where we just plowed through all of it, movement to movement. We knew the music in our bones at that point, so the recording process was joyful.
What are some of your goals working at the Clark Honors College?
I want to bring a study of music to students that don't think they have any business studying music. I want to teach classes that get into music where people think they have no interest in it at all.
What's your favorite part of teaching at the CHC?
I love my students. I love my colleagues. The Honors College has been a real dream come true for me. It's been important for me to teach music to a really broad group of students in this liberal arts model that we put out there. So, to get a classroom with 19 students who are in so many different kinds of fields and their interests are so varied, to come together and look at a thing like music and bring all of their life experiences to the study of this thing, it has broadened how I think about music itself.
Can you describe your teaching philosophy?
Do no harm (laughs). A lot of my teaching philosophy has to do with building trust in the classroom. Encouraging a co-learning environment and doing everything that I can to not build unnecessary barriers for students as they explore these very subjective topics that I deal with in the arts. I'm trying to look at my teaching and think about classes that I've done in the past. Maybe even instincts that I mistakenly have now that might just build too many barriers for students. I'm trying to just be better at creating an environment where there are no barriers, where we can just get into a topic and learn from each other.
Who are some of your inspirations?
As of now, Louis Armstrong partially because I'm thinking of teaching a class on his life. What an inspiration. It comes down to the joy he radiated on stage; I am so impressed by that. He carried that effortlessly throughout his entire performing life. I will never be able to sustain that, but I admire it so much. He's a figure who is so gigantic; it's just hard to say that there's anybody that's more joyful than Armstrong.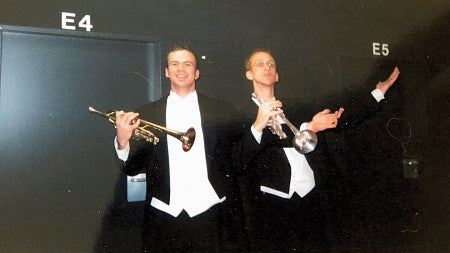 If you could go back, what would you tell your college self?
I used to play in the marching band, the jazz ensembles in town, the local mariachi band, a salsa band and a disco band. I also used to play at Falling Sky Cafe twice a week for two years with my own groups. I was full-on into music; nothing else mattered. So, if I saw myself, I would say: "Wake up! You have some really interesting classes and they're gonna help you out in your life!"
—Interview by Keyry Hernandez, Clark Honors College Communications
—Photo by Alex Rodriguez, Clark Honors College Communications