Business, the law, and helping other students are all part of this CHC student's life at UO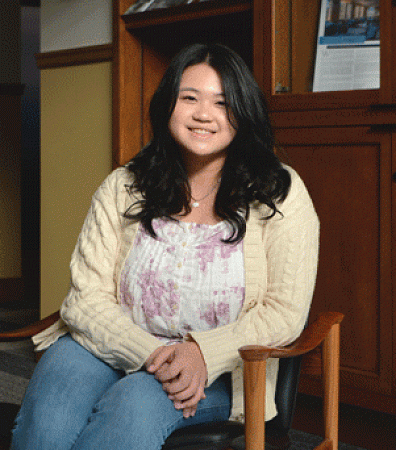 Name: Nia Suryanata
Year in school: Junior
Major: Business
Hometown: Eugene, Ore.
Song on repeat: "Darl+ling" by Seventeen
Coffee or tea: "Boba's the one for me."
Who's your role model: "My mom. She's just everything that I aspire to be."
Favorite study spot: The Tykeson Balcony and the Business Honors Lounge
Favorite class at the CHC: HC101 Philosophy of Food and HC 221 The Velocity of Gesture/Intro to Air Guitar
Aiming for an early graduation amid a pandemic is no easy task. For Nia Suryanata, it meant striving to stay on track while separated from family overseas and facing the isolation of lockdown. But as tough as it's been, she hasn't let it stop her from moving forward. In fact, the adversities she's faced have only driven her to assist new students in having a valuable college experience.
Suryanata, a Clark Honors College student, is kicking off her third and last year of her undergraduate career at the University of Oregon. As a member of the Clark Honors College 3+3 Program – which allows honors students to enter law school a year early – she juggles her three-year graduation plan alongside the Business Honors Program and her work with UO's Women in Business club.
Although she entered university with a clear plan in mind, it took time to find the right path. When she was assigned a project in middle school aimed to help students consider future careers, she found herself struggling to pick a subject that interested her. In the end, she settled on law.
"I think it was because I watched a lot of Criminal Minds," she says now. Pop culture and media have interested her from a young age, and seeing prosecutors on TV piqued her interest. After interviewing a real district attorney for the project, however, she was sure the profession wasn't for her. The thought of working with criminals in real life seemed a lot scarier to her thatn watching fictional accounts on TV.
She continued to explore other possibilites, but none felt quite right. With college rapidly approaching and her original plans squashed, she knew she had to find something. Still, she wanted her major to be more than just a job. It had to draw her.
It wasn't until a visit with her family in Jakarta, Indonesia, that she began seriously considering a degree in business. Her grandparents owned several businesses, leading her to think of her own options. She decided to give law another chance after considering the ways it could intersect with a business degree.
"I could do something with this," she insisted. At UO, she's worked to show that, getting involved in the business school in as many ways as possible. Much of that work has involved creating opportunities for new business students.
As part of the Business Honors College's executive board, she developed the Peer Mentorship Families Program, which connects members of the lower cohort with mentors who are
upperclassmen. While the program was implemented in her first years at UO, pairings weren't as personal as she and her peers expected. So, when she became the director of peer mentorship, she dedicated herself to bridging the gap between the upper and lower cohorts.
She planned a panel to give students a chance to network with potential mentors and find people that shared common interests. When the pairings were finalized, the lower cohort received hand-written letters from their mentors. Suryanata has watched the excitement of the participants grow over the course of the program.
She's also a member of the current Women in Business executive team. A career fair introduced her to the club, and she's been thrilled to watch it grow. It was one of her first opportunities to be part of an on-campus community, and through it she's built lasting relationships.
Last winter, she put together the Great Gatsby themed "De-Stress Event" to give members a chance to unwind during Week 10. Having felt so welcomed by the club during her first year, she knew she wanted to give that feeling to others, too. "It's just super exciting for me because I didn't get these experiences," she says.
Family history led her to UO, with many of her relatives being alumni. But it was the 3+3 program that brought her to the Honors College. Now, with graduation in sight, she's looking forward to the next half of her academic career.
Suryanata's final year has her diving into research for her thesis. She plans to combine her focuses on business and law by looking at influencers and the moral clauses in their contracts with brands. The love of pop culture that made her think of the legal field in the first place plays a key role in her research.
Thesis Prospectus, which she plans to take winter term, will be her last class with the Honors College.
"It's weird, but also exciting," she says. "I love the CHC classes, but it's time to jump into the next avenue of my life."
—Story by Elizabeth Yost, Clark Honors College Communications
—Photo by Riley Hoerner, Clark Honors College Communications