Kennedy Parish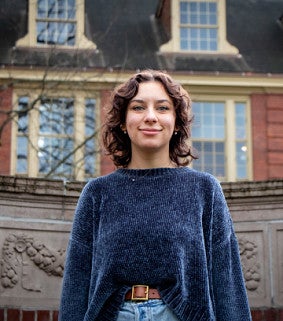 What's on the pre-competition playlist: Queen's "Don't Stop Me"
Preparation for competition checklist: Go to the bathroom, drink water, check hair
Must eat beforehand: Nothing until after the first round of competition, though she doesn't recommend that practice for others.
When Kennedy Parish looks back on her time as part of forensics at Clark Honors College, she thinks about how much the debate program helped shape her day-to-day life. She recalls how the skills she learned helped her overcome a fear of public speaking and prepared her for a future career as a lawyer. Most of all, she says, she will remember the rush of competition.
"The adrenaline after a debate makes you feel like you are on top of the world," she says.
Parish, a Clark Honors College senior, is majoring in comparative literature with a minor in political science. She has been a part of forensics for all four of her college years. Before UO, she participated in speech and debate through high school. "It has allowed me to travel and research interesting topics," she says.
Parish was a shy kid growing up and had to attend speech therapy to work on how she pronounced words. Once she joined the debate team in high school, things changed immediately. Her confidence grew and she found that her debate skills made her stand out. It also improved her writing.
Parish remembers when she arrived at UO, she immediately sought out Trond Jacobsen, the CHC forensics director. He encouraged her to take the Honors College debate class to test the waters and see how she liked the program. Right away, she found that participating helped her learn important research skills that she could apply to her academics.
The experience has helped her outside the classroom, as well. She recalls a job interview she attended on campus. Going in, she was nervous about how she might come across. But when the interview panel heard that she was part of forensics, the members connected with her immediately. "During the interview, it was really easygoing because they all loved debate so much," she recalls. "It kind of gave me a leg up."
Parish works at the UO School of Law as the student assistant for the legal research and writing program. She plans to attend law school but will take a year or two off before she starts because she wants to get experience in the real world. "I am just preparing my writing and research skills before going into law school," she says.
Debate strengthened her skills of argumentation, as well as teaching her how to properly process information while being prepared to understand and argue both sides of a topic. "The overall program is just wonderful," she says. "It's a program where you get to just jump in and learn by trial and error."
Tommy Douglass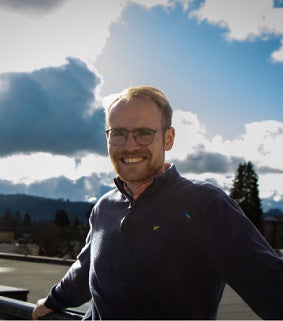 What's on the pre-competition playlist: Billy Joel's "Vienna"
Preparation for competition checklist: Drink water, charge laptop, find Eli Wiles
Must eat beforehand: Turkey sandwich
Clark Honors College senior Tommy Douglass has a black belt in martial arts. It took him 10 years to master the craft of Shaolin Kempo, a form of karate that combines kung fu, Western boxing and jujutsu.
The political science and economics double major says he uses the same kind of determination and dedication in his approach to debating on the CHC forensics team. As far as discipline goes, "they are all extremely research heavy and require extensive background knowledge," he says.
Debate has helped Douglass learn how to question information properly. "Everything in a sense can be an argument and you have to be able to defend that," he says.
As a youngster, Douglass displayed an eagerness to learn more and he recalls that debate was always something he wanted to try out. He joined the debate team at McMinnville High School as a freshman and immediately thrived in the preparation and competition because he was passionate about researching pressing issues.
During a high school debate trip, he traveled to the UO for a tournament and decided to apply to the school. He joined the team the moment he arrived on campus as a college student. "I had really good experiences in high school with the debate team," he says. "And I wanted to get the ball rolling right away and join."
After graduation, Douglass plans to teach middle school math for two years through the Teach for America program before attending law school. "I have always had my eye on law since high school, and debate was the avenue that made me understand that was what I wanted to do," he says.
As he prepares to finish his CHC academic career, Douglass says he will always be a huge advocate for the forensics program. He encourages all students to give it a try.
It's "a community of people who are really into research and like to engage in scholarly discussions," he says.
Eli Wiles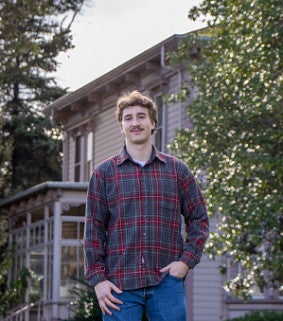 What's on the pre-competition playlist: Eric Clapton's "Promises"
Preparation for competition checklist: Drink coffee, charge computer and wash face
Must eat beforehand: A smoothie
Eli Wiles has always been a confident speaker. He's outgoing, relaxed, and puts forth a friendly demeanor that makes people feel at ease.
As a senior on the UO forensics team, Wiles spends a lot of time doing research and shaping his arguments. He's been involved with forensics since high school. Debate, he says, has helped him improve his study techniques and critical thinking. "I have learned such a unique set of skills that cannot be taught in the classroom," says Wiles.
Wiles is a Clark Honors College double major in political science and environmental studies. In his down time, he likes to spend time outside enjoying the natural beauty around him. "I have such a great appreciation for the state (of Oregon) and the beauty that it has," he says. "Any time I have an opportunity to go outside, I will."
He says his classes and his time working on debate are both challenging. Over time, he has come up with ways to improve his comprehension of large amounts of information in a short period of time. Being able to think things through on the spot has benefited him, he says.
He is spending his last few months at UO researching and preparing his CHC thesis about dam removal in the Pacific Northwest. After graduation, he is planning to move to Memphis, Tennessee to participate in the Teach for America program. He will be assigned to teaching elementary education to students at an underfunded school. To prepare, he's been doing a lot of reading and taking tests to get his teaching certificate.
While there, Wiles plans to study for the entrance exams for law school, and he hopes to attend somewhere in Chicago in the future.
Wiles enjoys debate because he knows he will be able to use the same skills he's mastered in competition in the real world. "Debate is such a worthwhile experience for anyone who wants to take that step to become a better student and become a better person," he says.
—Stories by Bella Oberlatz, Clark Honors College Communications
—Photos by Alex Rodriguez, Clark Honors College Communications