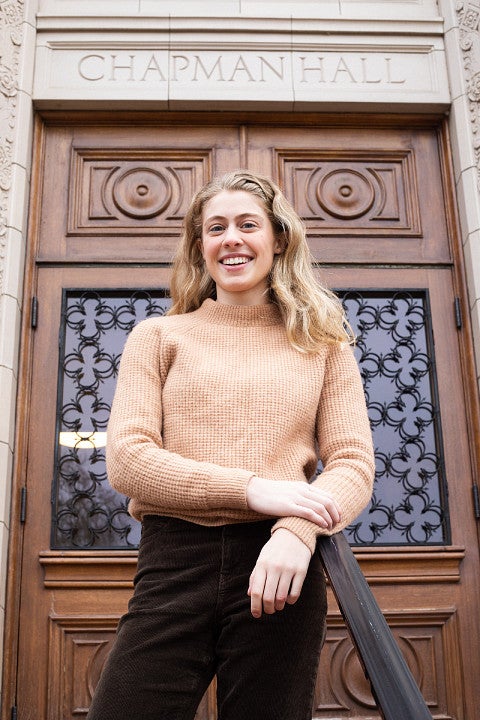 Year at UO: Senior
Hometown: Portland
Why data science: It allows you to explore a wide variety of interests. Everything involves data. The applications are endless.
Goal: To work for a company or organization whose mission I really agree with. I think I would be miserable in a job where I don't see myself contributing some sort of good to the world.
At the University of Oregon's Information Security Office, student cybersecurity analysts monitor campus networks and cyber health. They investigate phishing campaigns, track down malware, and develop code to improve efficiency. For new hires, it can be a lot to learn.
It's what Julia De Geest has been doing in that office for the past two years.
As a senior, she's using her Clark Honors College thesis to make the learning curve feel less daunting. Using her studies in data visualization within the data science major, she's creating a map that tracks system health.
"When I was first starting out, things seemed a bit overwhelming," she recalls. Her map will allow analysts to spot problems at a glance – speeding up the process and making it "more approachable for people who have never done work in cybersecurity."
Last fall, De Geest attended the Presidential Scholar Recipients dinner, where she met CHC Acting Dean Carol Stabile. After explaining her thesis to Stabile, the acting dean told her about the opportunity to write for the Women in Data Science Conference at Stanford University.
"She thought that I seemed like a good fit," De Geest remembers. De Geest is currently working with fellow CHC student Zoe Tomlinson to write a profile of Gabriela de Queiroz, founder of R-Ladies and Inclusive AI, and one of the conference keynote speakers.
De Geest grew up surrounded by science. The daughter of two doctors, her parents often discussed their work at dinner each evening. It set an example of what "happily pursuing your passion as a career" looked like, says De Geest.
In Portland, she attended a liberal arts high school where the science and technology curriculums were lacking. Still, she took what classes were available and got involved in the robotics club. During her junior year, she attended Conserve School in Wisconsin, where every class connected to the environment.
"Every class was held outdoors," she said. "Our history class was the history of environmental activism in the United States. English was reading pieces about nature."
When she came to the University of Oregon as a freshman, there was no data science major. So, she spent her first year taking biology classes. She remembers missing the rigorous challenges of math and computer classes.
In fall of 2020, De Geest's sophomore year, UO began offering data science as a major. She described it as a cumulation of her interests: math, computer science, and a domain emphasis of the student's choice. She chose biology.
She's also the vice president of the UO Climbing Team, where she puts her problem-solving brain to work as she puzzles out the best way to scale walls. She began climbing at a young age but fell out of touch with the sport until last year when she joined the club.
"It's a great way to find friends with similar interests," she says. "A lot of the people who climb kind of have the same analytical mindset."
She decided to give back to the team this year, working as vice president and using her coding skills to automate tasks like the creation of competition rosters.
As she approaches graduation, De Geest is excited for a glimpse into the community the Stanford conference will offer, along with the powerful lineup of keynote speakers. Although her major doesn't call for much writing experience, she's feeling confident about her article because of the practice she's had in the CHC.
"The Honors College lets you explore," she explains. "It makes for a well-rounded individual."
As she approaches a new chapter of her life, De Geest is exploring the professional paths available to her. She's considering either continuing in cybersecurity or delving into data analytics. Regardless, she's confident that what she's learned will help her in the future.
"Nothing is set in stone at the moment," she says. "There're a few things that I'm considering, but we will see."
—Story by Elizabeth Yost, Clark Honors College Communications
—Photo by Ilka Sankari, Clark Honors College Communications