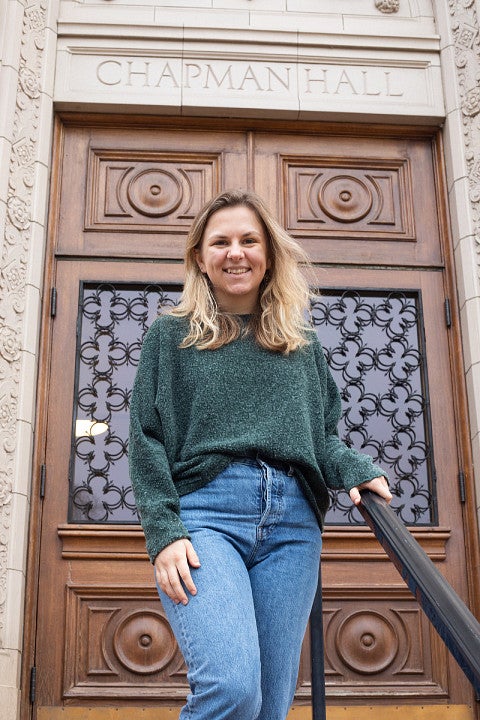 Year at UO: Senior
Hometown: Grants Pass, Ore.
Why data science: It gives me a tangible way of understanding the fascinating ways humans, nature, and science interact and influence each other. 
Goal: To move environmental conservation efforts forward on a global scale.
Lucy Roberts remembers the stress she felt at the end of her first year at UO – the same time the pandemic struck. She moved back home to Grants Pass, Ore., and like most students finished the year remotely.
She had landed a job as a COVID-19 contact tracer in her hometown, making calls to people to let them know they had been exposed to the virus and tested positive. She spent hours each day helping trace the sometimes-deadly affliction through Josephine County and recalled the fear she heard on the other end of the phone.
"I had several cases who died, and I had cases who got really sick," she says now. "There was a lot of emotion tied up in there for me."
Roberts, a Clark Honors College senior, has always been passionate about health. She wanted to focus on public health but realized UO doesn't have that as a specific major. She ended up scrolling through the list of degree options and read each one until she found spatial data science.
Spatial data science is part of the geography department and focuses on the collection of data that has a geographic component. Data surfacing from crime patterns, health patterns and climate change are all examples of how spatial data science can be used to understand and analyze relevant issues.
For Roberts, the skills she is learning help her make sense of the large issues facing the world. "I am interested in the ways society and science layer on top of each other," she says.
As a student, Roberts has always been motivated to succeed in her classroom. In high school, she was the editor of the school newspaper and ran the speech and debate team. She was also a member of the National Honor Society and remembers spending an inordinate amount of time on her academics. She was seen as a top student, but it came at a cost. "I was just focused on how I can get into college," she recalls. "I was running myself into the ground."
She was admitted to the Honors College but knew she needed to take a step back. She decided to take a gap year and travel to Thailand. The trip was just what she needed. For 11 months, she studied in a small town called Sattahip where she learned Thai. She also traveled throughout the country.
"It showed me that there's a lot of life to live outside of my academic career and that was a realization I needed to have before starting college," she says now. "Otherwise, the burnout would have just – I wouldn't have been able to make it."
The burnout did not win, and she is now finishing up the last few months of her senior year. As part of her spatial data science major, Roberts recently landed a job as student lab manager in the Infographics lab in the geography department. The lab is designed to "help people's research, private research, campus research and nonprofits to create visualizations that communicate their data in the most effective way," says Roberts.
Notable work by the lab includes the publishing of the Atlas of Yellowstone and contributions to the Wyoming Migration Initiative.
Roberts will put her journalism skills to the test next month when she attends the Women in Data Science Conference at Stanford University. She will work on a story that will be published in Ms. Magazine about how women in data science are helping improve extreme weather forecasting.
"I love getting to sit down and put words to paper," she says. "It combines my excitement about writing with my interest in data science."
Roberts plans to stay in Eugene for another year after she graduates while she figures out what she wants to do next. She got an interview for what she describes as her "dream job" to potentially work as a data storyteller.
"I want to go into a field where I can continue to get mentorship and push my skills as a data scientist," she says. "Whether that's public health or environmental science depends on what job I get but those are my goals."
—Story by Bella Oberlatz, Clark Honors College Communications
—Photo by Ilka Sankari, Clark Honors College Communications