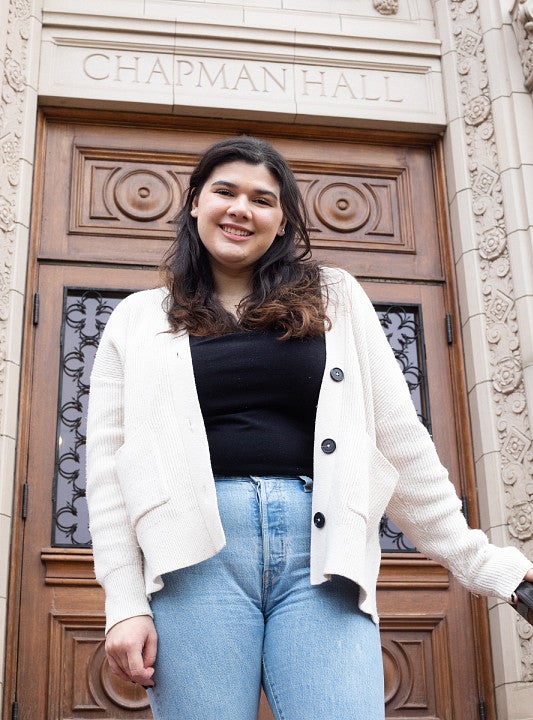 Year at UO: Sophomore
Hometown: Eugene
Why data science: "It is a dynamic field with a lot of potential for growth."
Goals: To attend graduate school and work in cartography.
Maya Rios remembers the moment in her first year at UO when she made the decision to make data science a regular part of her academic life.
It was the lunch rush hour, and she was working at her student job in the kitchen at Unthank Hall, waiting for the sandwich oven to cool down so she could clean it. As she waited, she remembers thinking: "How can a hot surface cool faster…so I can clean it?"
She pondered that question, then asked her coworkers if anyone was a science major. A student colleague told her that he was majoring in data science. "It was the moment that sparked my imagination and curiosity," Rios, a Clark Honors College sophomore, recalls.
Hearing the buzz around data science as an emerging field, she decided to take an introductory course.
At the time, Rios was an English major, but she wanted something more. Her colleague at Unthank made her think about making a change. She read up on data science and declared it as her major, with a focus on marketing analytics. "I just wanted to do something completely different, something that was emerging (with) a lot of real-world applications so I can be super employable," she says.
Rios grew up in Eugene and attended North Eugene High School where she was vice president of the Key Club and a member of the National Honors Society. Her family encouraged her to take academics seriously.
"I think being family oriented has influenced me more than anything else in my life," she says. "Any problem that I have or anything that I am insecure or concerned about, I can go to my family and they're always supportive."
In March, Rios will travel to Stanford University for the Women in Data Science Conference where she will work with CHC classmate Lucy Roberts on a story about extreme weather forecasting for Ms. Magazine.
She is a member of UO Muxeres, a UO club designed to create a safe environment for members to discuss issues faced by Latinx students. "I wanted to find a community of people who had similar life experiences that I do so we can connect on a cultural level," Rios says.
As a woman of color in the male-dominated industry of data science, Rios says she has personally seen cases where there is lack of inclusivity and respect. It's something, she says, that can be a deterrent to women who are considering a career in the area. "I remember a couple of times in my computer science classes, I'm sitting next to a male student and my male (graduate teaching assistant) would address his problems directly," she recalls. "Then when he addressed my question, he sat down and got to my eye level and talked to me like a child in a very demeaning way."
Rios says such experiences frustrate her because men in data science don't get treated the same way. But being able to go to the Stanford conference makes a difference, she says.
"You have to just be thankful there are programs like (this) that allow you to seek out organizations where other people have these problems and you're not alone," Rios says. "The more effort and the more love you put into it, the more you'll get back."
—Story by Bella Oberlatz, Clark Honors College Communications
—Photo by Ilka Sankari, Clark Honors College Communications