Miriam Alexis Castellón Jordan has spent a lifetime learning and she wants others to appreciate the colors that life brings.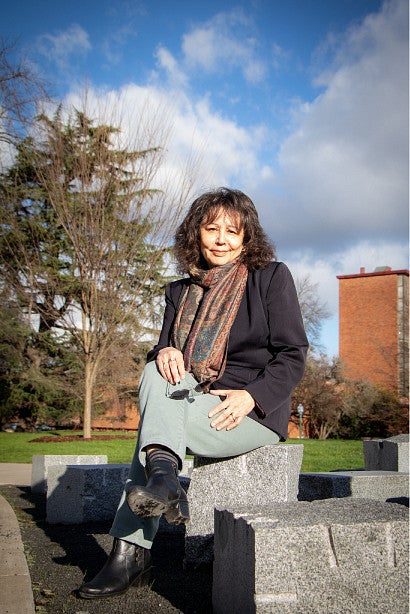 Position at CHC: Academic and Thesis Programs Manager
Song on repeat: "Take Five" by the Dave Brubeck Quartet
Coffee or tea: Coffee in the morning. Green tea in the afternoon.
Guilty pleasures: Euphoria chocolate sauce over vanilla bean ice cream
Advice for students: Be easy on yourself and bring out the good.
On a recent winter day, Miriam Alexis Castellón Jordan sits at her desk in a brightly colored sweater as she schedules a thesis defense for a graduating Clark Honors College student. She has about 20 thesis defenses lined up for this term and another batch coming for spring term – upwards of 190, she says.
When she closes the calendar tab on her computer, there's still plenty to do. Jordan's job is to support CHC students through every step of the thesis process. She is a liaison with UO's Scholars' Bank to make sure student theses get published online, and she also keeps track of enrollment at CHC.
Her job makes Jordan a key component to the success of all Clark Honors College graduates. "I just love it," she says. "I've been doing it now for 12 years and every cohort is different. A different characteristic sticks out about each of them, and I learn something new to help the next cohort."
Jordan's role at the CHC is only a piece of what drives her. Over her life, she has developed a passion for art. Whether it's on the UO campus or across the Lane County community, Jordan brings people together to appreciate the arts.
"Everywhere I look, there are things that speak to my soul. Public art is vibrant," Jordan says. "Without artists, it would be a bleak world."
Born in El Salvador, Jordan and her family immigrated to the Berkeley, California area when she was an infant. Jordan and her parents became U.S. citizens when she was 9. Raised in a predominantly white neighborhood, she was one of a handful of Latino students at her schools. "We all acted the same, programmed the same way to be accepted in that society," she recalls. "I spoke Spanish haltingly, with an English accent."
Jordan remembers being made fun of by other Spanish speakers for her accent, so she just stopped speaking the language altogether. At home, her parents encouraged her to speak English from an early age. In Jordan's mind, she made the decision to minimize her cultural heritage.
She initially had dreams of becoming a physicist or a doctor, but she felt like she received mixed messages from her family about reaching those goals. She recalls being advised to stay at home until she could start a family of her own. "Growing up, I thought there was something wrong with me," Jordan says now. "It seemed like what I wanted to do was not the right thing to do."
While she appreciated the sacrifices her parents made for her, she moved out at 18 because she wanted "to be independent and to be secure. Those two things were paramount," Jordan says.
She moved around California before settling in Los Angeles, where she earned an associate of arts degree in fashion and design from the Fashion Institute of Design & Merchandising. Her first job was in retail, and she bounced around different careers from fashion design to real estate development. She moved back to the Bay Area, met someone and got married.
The marriage came to an end after nine years and Jordan knew something in her life had to change. In 1992, she started driving north and decided that if she liked a town, she would stay there for a week to see if she could find work. If not, she would move on.
She turned to her faith for inspiration. "God, I made a mess of my life," Jordan said, while on the road. "It's not working. I will follow you."
That's when doors began to open. She arrived in Lane County, found a place to live and got a job in the vice president's office at Lane Community College. While working, she went back to school to receive her bachelor's degree from Linfield College.
After graduating in 2003, she began working at UO's Jordan Schnitzer Museum of Art. She also started coursework in a master's program to earn a degree in art management. "I was enthused, energetic, and I knew that was what I wanted to do," she recalls.
She concentrated on building the infrastructure for people to enjoy the arts rather than creating art or memorizing artists and titles of artwork. She found her knack for organizing events and promoting the arts.
In 2007, Jordan took a call from her aunt, who encouraged her to take a trip to El Salvador to visit her aging grandmother. She hadn't stayed in touch with her family and hadn't been back in her home country for more than 30 years. She was nervous but decided to make the journey. "It took me way too many years. Too much time had passed," Jordan says, reflecting on her decision to learn more about her history and investigate her past.
She remembers arriving and meeting all the generations of her family. They went to a beach together, walking in the sand and collecting seashells.
Jordan embraced the language again and by the time she left, she was dreaming in Spanish. "I reclaimed aspects of my Latino culture," she says now.
Family traditions, architecture, food and togetherness became her guideposts around her heritage. She laughs today and declares that she'll never make tamales from scratch. But, eating comfort foods with family on that trip brought her closer to her roots.
Today, Jordan lives with her second husband of 25 years, Max. She spends a chunk of time promoting the visual arts in the Eugene-Springfield community. She serves on the board of directors of the Emerald Empire Art Association (that oversees the Emerald Art Center). Some of her work there includes facilitating the Second Friday Art Walk, a community outreach project that brings people to Downtown Springfield and showcases local businesses and artists.
At the Honors College, Jordan served on the committee that curated public art that was brought to Chapman as part of the 1 percent for art in the building's renovation in 2018.
Jordan continues to prioritize independence and security – advancing this message to CHC students by supporting them to become creative problem-solvers.
"That's one of the many reasons why I enjoy my work here." Jordan says. "I have the privilege of guiding students through the thesis process. So, to me, that's fulfilling because I'm sharing my knowledge and encouraging them on whatever path they want to take to make a positive difference in the world."
One of her key messages for students? "If you don't like the chapter you're on," Jordan says, "make a new one."
—Story by Sofia Rodriguez Baquero, Clark Honors College Communications
—Photo by Alex Rodriguez, Clark Honors College Communications