Dedication, helping others and honoring community.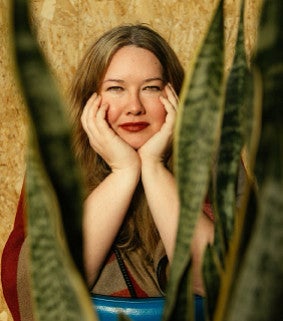 Graduated from CHC: 2006
Major: Political Science
Song on repeat: "Lovely Day" by Bill Withers
Coffee or tea: I'm trying my hardest not to live on coffee anymore, so I'm doing everything I can to only drink water.
Guilty pleasure: I love escaping in a good book. I also love listening to Dave Chappelle. I always try to end my day doing something that causes me to smile or laugh.
Favorite memory of CHC: One of the authors we were reading in Professor Bishop's class was doing a reading in Portland, so she got the class tickets and we all drove up together. I still have pictures of all of us dressed up for the event. Afterwards, we sat in a Starbucks discussing class topics, which gave me such a sense of utopia that I felt like I was floating.
Sarah Koski remembers the heat dome that hit Lane County in summer 2021, bringing 120-degree temperatures and the distinct possibility of illness or death for those living on the streets. 
At the time, she was serving as executive director for a nonprofit in Eugene that aided the homeless. She remembers approaching tent after tent of the people living outside, bringing water and electrolytes so they wouldn't fall victim to the heat. 
With each person she met, Koski – a 2006 Clark Honors College graduate – recognized the sense of belonging that came from helping others. "I feel like this is the place where I'm supposed to be, which is working with the homeless," she says of the experience. 
At CHC, Koski was a decorated political science major who went on to work as a lobbyist, as a communications strategist, and a fundraiser. But she has since found her stride as an advocate for the homeless in the Eugene area. She has dedicated the last three years of her life to supporting the underprivileged. 
Last fall, she left her position as case manager of a homeless safe sleep site with St. Vincent DePaul of Lane County after earning a fellowship from Vital Voices Global Partnership. The partnership, together with the Estée Lauder Emerging Leaders Fund, tapped Koski as one of 100 women leaders across the globe to participate in leadership training so they can create positive change in society. 
In January, Koski was tabbed as one of the recipients for a stint in the Athena40 2023 Global Thinkers Forum, which works to connect and train leaders across business, science, education, and other fields. The outside opportunities are allowing Koski to find what she says is her "true calling" in helping others. 
"I don't want to be the person that just slaps a bumper sticker on their car," Koski says. "I want my car to have mud on the tires from wherever I go to help somebody." 
Koski grew up in Salem, Ore., as her parents' only child. She remembers going on weekend trips to history museums, indie film showings and never passing up an opportunity for an outdoor adventure. 
But while her friends played together as kids, Koski spent most of her time around adults, something that left her feeling isolated. 
"I didn't always feel relatable," she recalls. "I knew how empty of a feeling that was and I never wanted anyone to have that same feeling of emptiness. That's why I fought so hard for others to feel included and welcomed." 
She participated in her school's Talented and Gifted Program for both math and writing. She formed an environmental club that cleaned up litter during recess. And she won medals for her poetry, some of which was published when she was nine. 
In high school, she spent her lunches with her favorite teacher writing poetry. Her desire for self-expression took a turn when she was one of the 12 students in an AP history class elected to join a conference with a member of the Oregon League of Women's Voters. 
It was there that she met Janet Marki, who took a liking to Sarah and mentored her in legislative structure, lobbying and advocacy. They went out to dinner and talked about everything from politics to Hollywood films. Marki also helped Koski think about career possibilities. 
Koski spent a few summers lobbying for the league on issues such as environmental advocacy and women's health and reproduction. 
When she started at UO and the Honors College, Koski received further recognition for her academic efforts. She was twice elected student advisor for the university president. She was named the Vernon Barkhurt sophomore of the year. And she maintained a top-level GPA. But all the certificates and attention, she says, became a double-edged sword. 
"I was feeling seen, but at a certain point it became a slippery slope of chasing awards for recognition and losing my own sense of validation," she says now. "I got to the point where I wasn't quite sure if I was doing what I was doing for recognition." 
She graduated in 2006 and worked for the CHC as a fundraiser, learning that storytelling was a key to convincing others to donate. She later worked as a marketing and communications consultant, helping groups work effectively to increase giving. 
In 2020, the pandemic hit and Koski says remote work made her feel isolated. She became executive director of Love For Lane County, an agency that helps people in need with short-term needs. She worked to support those without permanent housing, including veterans, as the agency assisted people attain things like furniture, transportation, and other household items. 
As she entered a new working field, Koski came across people who were also passionate about supporting vulnerable communities. She took the case manager job of the St. Vincent DePaul safe sleep site for 10 months, making sure the community understood the site was full of human beings with life experiences who just needed help. 
Koski recalls one resident – known as "Professor" – who wanted to organize others to participate in voting in local elections. He wanted to homeless to have a voice, and they worked together to register people. 
"You never really know someone's story just by looking at them. Professor had so much passion to rouse an entire population to start voting so that policies would start getting changed," says Koski. "That made a huge mark on me." 
During her fellowship, Koski has found time to continue her work with the unhoused community. She has created "Holy Narcan Batman," an artistic collective that links up local artists with the homeless population who want to create art, make zines, and work on other projects. 
In the future, she plans to use what she learns in her fellowship to help influence policies that move to end homelessness. 
"When transitioning into the job front, I had to deprogram myself. Working in homeless services was so impactful because the title and awards you win don't matter," she says. "Now, I've gotten to a place where I can strip myself from that elitist mentality. I'm doing work for the right reasons. It's about how I can use my work to propel the community for the greater good."
—Story by Keyry Hernandez, Clark Honors College Communications
—Photo courtesy of Sarah Koski