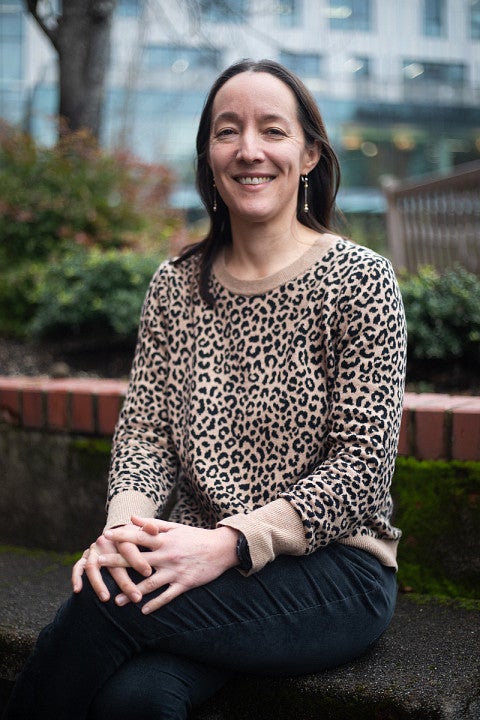 Coffee or Tea: Coffee
Favorite singers: David Bowie, Bjork, Debussy
Memorable movie: Any Tim Burton film
Go-to snack: Potato chips
Favorite animals: Birds, whales, manta rays, octopuses, and bees.
Best memory at the CHC: During a particularly rainy period, there was a large invasion of earthworms in the building's elevator lobby. After rescuing all the ones I could off the carpet and relocating them back outside, I was squatting down trying to scoop a few more out of the elevator track before they got crushed. Barbara Mossberg stepped right in to hold the elevator door open while I scooped up the little wormies. Afterwards, she shared a beautiful poem she had written about earthworms with all the faculty.
For this CHC instructor, the ocean has always been calling.
Lisa Munger remembers diving into the Indonesian reef last month and noticing every surface teeming with life. Large manta rays swam around her. Tiny arthropods crawled across the reef in search of food. Colorful fish dived and dipped, sure signs of a healthy ecosystem and so different from the dry land up above.
For Munger, such dives are always breathtaking. "In between breaths, you can hear the snapping shrimp and fish making little popping sounds," she said. "It's astounding to be in this abundant of an ecosystem."
At UO's Clark Honors College, Munger is an instructor of marine biology and teaches a variety of popular classes that tackle everything from the impacts of climate change on the environment to how some marine mammals occupy a special place in the human psyche. Her research lately focuses on marine acoustics—using the sounds of marine life to gauge the health of ocean ecosystems and analyzing the external influences that impact them.
"It's non-invasive and lets us have a long-term picture of what is going on under the surface," she says.
On her recent trip, she focused her attention on placing sound monitoring devices in the reefs of Misool, Indonesia. The area was once a popular spot for "shark finning," capturing and killing sharks for their fins. But the reef there has been protected since 2005.
While climate change, human invasion and pollution have left many ocean sub-ecosystems with a decline in marine life, Misool has seen the opposite. Munger spent two weeks placing the audio-tracking devices and listening for the first results. These devices will track reef conservation in Misool for years to come. "The more we can demonstrate that protection is working, the stronger case we can make for protecting other parts of the ocean," Munger says.
Even when she was a kid, Munger had a significant attachment to biology that grew into a love for the ocean. "I was one of those kids who collected insects, drew pictures, and wrote little books about them," she says.
With a physicist dad and an artist mom, she grew up in a home that instilled in her the freedom to explore any passion or interest that she held. "Whether it was creative work, digging up bugs in the backyard, or doing my own science projects," she recalls.
She fondly remembers heading to the Pacific Ocean while she lived in the Southern California area. She recalls going on "grunion runs" with her family and friends, trips that entailed watching grunions—a kind of small fish—swimming onto the beach to lay eggs. Kids and adults would observe the fish as they attempted to head back to the water after spawning.
"It was a celebration of life, community, and the special ocean," she recalls. "It felt like a magical ritual or something." Watching a natural event take place in person is what sparked her curiosity about the ocean.
By the time she reached high school, her family had moved to Colorado. She enjoyed biology, especially studying flora and fauna. She remembers entering her freshman year of college at the University of Colorado at Boulder, unsure of what major she would declare. She decided on biology.
"The thing I love about biology is that it combines all the sciences, and it is a way to observe nature to gain a deeper appreciation for it," she says.
After earning her undergraduate degree and spending a few years in the workforce, Munger decided to do graduate work in her chosen field. "I wanted to pursue my career further, learn more, create more opportunities for field work and big projects, to make it possible for my career to take me places," she says.
She moved back to Southern California and continued her education in marine bioacoustics at Scripps Institution of Oceanography in San Diego. "I knew I wanted to be back near the ocean, and I knew I wanted it to be a part of my career and my identity," she says now.
It was there, in San Diego, that she developed a love for teaching. While studying in the graduate program, she taught elementary school kids part time at the San Diego Maritime Museum. Going out into the harbor with her students and examining ocean critters, Munger had found the happy medium between teaching and research.
At the Honors College, she has spent the last three years working with students from a broad array of backgrounds. In her courses, she brings aspects of her current research into the classroom. "I'm always trying to improve, doing different projects, and getting people to think in different ways so it stays fresh and engaging," she says.
Munger says what keeps her passionate about teaching is the "wow" moment when students lights up with the joy of discovery, of learning something, of making a connection to their own lives—whether it's finding a colorful anemone in a tidepool or watching the indicator test turn colors to measure the pH of the seawater in the harbor."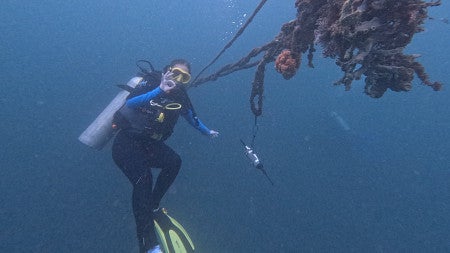 Her project in Indonesia is something she wants to develop over time to show the world how marine conservation can rebuild ecosystem diversity. "The data should be considered in the context of what we can learn from this protected area and try to conserve other parts of the ocean," she says.
For Munger, since she found it, biology has always been the answer and the solution. But what stands out about tracking the sounds of marine wildlife is the sensory stimulation of it all.
"It feels satisfying to have something that is so tangible, you can hear it, you can look at it, and play it back to other people to make them feel like they're in this immersive environment," she says.
Munger wants to protect these underwater ecosystems so that future generations have the opportunity to feel that same sense of wonder.
- Story by Bella Oberlatz, Clark Honors College Communications
- Photo by Ilka Sankari, Clark Honors College Communications