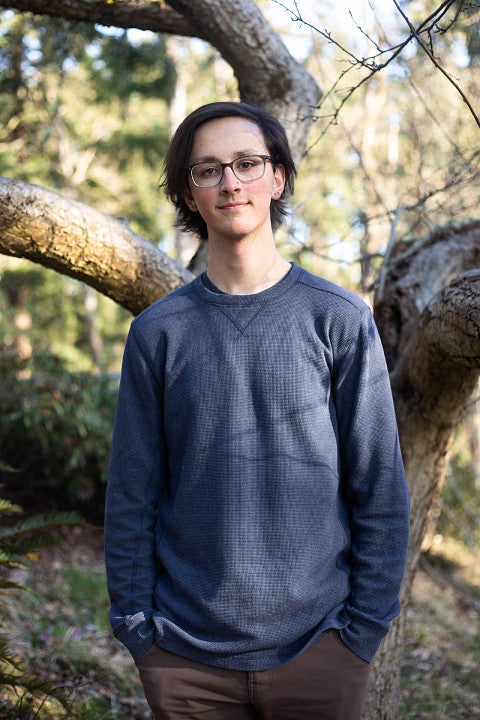 Year at UO: Sophomore 
Coffee or tea: Black coffee
Song on repeat: Kyoto by Phoebe Bridgers
Favorite study spot: Fourth floor of the Knight Library
Free time: I play guitar and work on my motorcycle with my friends.
Favorite Honors College class: Global Wellbeing with David Meek
How his words came to matter.
In the afternoon, you might find Nathan King tucked away in an empty classroom in McKenzie Hall, headphones on, typing vigorously at his computer. The privacy, floor-to-ceiling windows, lanterns, and hanging plants make the perfect atmosphere for him to craft some of his best poems.
He writes about nature, he says. He's written about the moon. And he has put together prose about rivers and other waterways. But deep within the lines of his poetry, King writes to let his feelings out onto the page.
As a sophomore at the Clark Honors College, King is majoring in environmental science and Spanish. He's also one of 48 students in the Kidd Creative Writing Workshops, a program for UO undergraduates interested in poetry or creative writing.
Brian Trapp, the director of the program, calls it "a tight-knit community of artists all helping to make each other better writers and humans." The program's focus is to help students find "material they might have previously been afraid to write about, a voice they didn't know they had, or a skill they had no idea they were good at," Trapp says.
Students who are eligible can receive as much as $3,000 in scholarships from the program each year and gain access to creative writing resources and teachers. Jesse Sawyer, a UO graduate student, is one of them and he's been working with King last fall.
Sawyer says King has a uniquely mature way of writing poetry and looking at the world with a conscious effort to consider different perspectives. "He's really interested in not just communicating what he has to say, but also writing a poem that allows a reader to inhabit it and understand the experience," Sawyer says.
King was raised with his two older brothers in Corvallis, Oregon. As the son of two computer scientists, he grew up hearing about complex concepts over the dinner table from a young age. He remembers how his parents "would start talking about something they're passionate about, scientific stuff, and they would always scoot their plate forward so they could use their hands."
Some of King's first memories are of going over flashcards with his parents, playing math card games and doing multiplication timetable competitions with his friends. Learning has always come naturally to him, he says, in part because it was something his parents encouraged, and because he was always trying to keep up with his brothers.
Jeremy, King's older brother by six years, is a computer scientist. His other brother, Torrey, is two years older and studying mechanical engineering at Northern Arizona University. Because they were so close in age, they competed somewhat when it came to academics.
"There's definitely always been that pressure for him to keep up with me and my older brother," Torrey King says. "I would have teachers and the next year he would have the same ones, and I think he felt the need to like prove that he was as good as me."
King says it is what drove him.
"I must have just developed quickly with that," King says. "I know all my teachers from a younger age had to put up with me being able to do all the worksheets very rapidly and then having to supplement me."
In kindergarten, King was pulled aside to take a third-grade placement test. His scores helped him skip first grade and join the gifted program at his school.
At the same time King was getting academic validation, he was being bullied by his classmates. At first, it was because he was a scrawny kid with glasses. Then it was for the way he behaved and the fact that he was a vegetarian. The treatment, he remembers, started taking a toll.
In high school, he found a different way to cope. He remembers finishing essays early in his junior English class and writing short poems on the edges of his paper. He didn't think anything of it until his teacher started giving him feedback.
"She always laid it on thick with compliments. But then she would be like, well, these things don't make sense," King remembers. "It was super helpful and helped me get invigorated and more passionate. Like, people are interested in this kind of thing. There are people out there that like reading this and want to help me learn."
King continued writing poetry for fun through high school, especially during the pandemic. "I spent a lot of time by myself during COVID, thinking about the time that we have and how you should spend it," he recalls.
Lockdown was like taking a big breath, he says. It gave him time to reflect on the bullying he experienced and its effect on the way he interacted with other people, significant themes in his poems.
For King, poetry is the form of artistic expression that distracts him from the logistical thinking that his environmental science and Spanish majors demands. In fact, the reason he didn't follow in his parents' footsteps and pursue computer science was because he wanted something more.
"I need some kind of emotional fulfillment in a way that numbers can't get me," he says. King knows he will always have classes based on scientific formulas and complex calculations aren't difficult for him, but he finds more satisfaction in pulling ideas together and incorporating perspective into his work.
That's also why King wanted to be a part of the Honors College, to pursue a higher education that challenged him to take classes out of his comfort zone, like African Philosophy or the Psychology of Pilgrimage.
"The people that teach those classes want to be teaching those classes really badly," he says, "It's their pet project most of the time…and they have these people that really care and will help you figure out so much about it."
Through the Kidd workshop, King's hoping to develop his poetic skillset and put out more work for people to see and connect with. Currently, his coursework at the workshop is about poetic line-structure and complex metaphors he can use. He tries to incorporate new techniques into his poetry, but it doesn't always make sense, he says.
But that's the point. The KIDD workshop is about trying new things, Trapp says. "We want to provide a space for students to be creative, to take risks, to be vulnerable, and to grow as artists," he says.
After college, King wants to get a master's degree and a PhD so he can become a university professor of environmental science. "Also, Dr. King sounds pretty cool," he says.
King also wants to do some kind of environmental work in Latinx communities, using his Spanish to try to make a difference in places where environmentalism isn't always prioritized.
As for his poetry, King doesn't plan on letting it get drowned out by his environmental work. Poetry is his therapy, he says, and everyone needs that. "I think I've found a thing that works really well for me," he says. "So, I'm going to hold onto it."
- Story by Julia Boboc, Clark Honors College Communications
- Photos by Ilka Sankari, Clark Honors College Communications