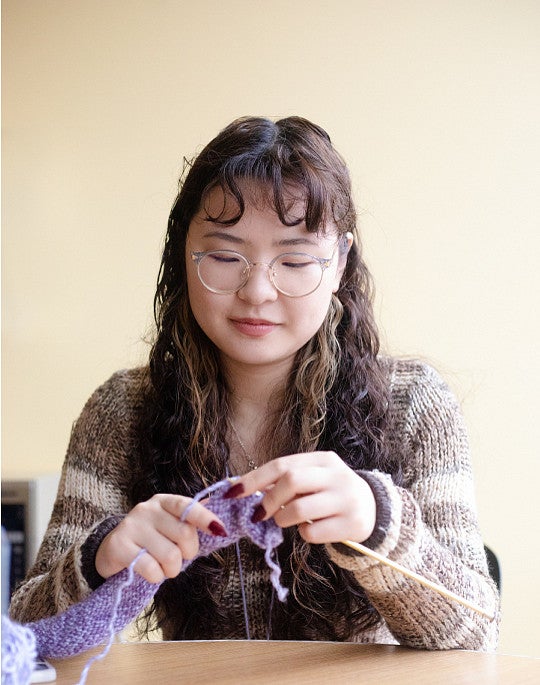 Age: 19
Year at CHC: Freshman
Major: Global Studies
Hometown: Portland
Emma Nazareno found her love of crocheting through her family. Her grandmother handed her the tools – a crocheting needle and yarn – and she ran with them. She started a crochet club at her middle school, taught friends how to do it, and hosted crochet parties in high school. At UO and the CHC, she continues spreading the art. Far from just a social activity, Nazareno finds peace when she settles in to create something.
The history: "I learned to knit and crochet from my grandmother when I was 10. It clicked right away. I have ADHD...the repetitive motion and making something tangible with your hands is really helpful. I always bring my crochet with me wherever I go. I knew that I was really into it when I started looking up Victorian shawls and manuscripts from the 1800s. I stopped doing patterns with such complicated patterns, like vintage ones because I just don't have the time. I've been making more simple things, like sweaters. I'll do it till I die."
Finding community: "In Portland, my friends and I have crochet parties where instead of going out we stay home, we crochet, and we drink tea and watch a movie or something. At UO, a bunch of my friends from orchestra and my classes were like: 'Oh you have to teach us how to crochet!' So I'm going to have a crocheting class with all of my friends."
How it helps with school: "It helps me concentrate...during lectures. It's so nice to focus on something that's not school. It's definitely stress relieving."
- Story and photo by Ilka Sankari, Clark Honors College Communications