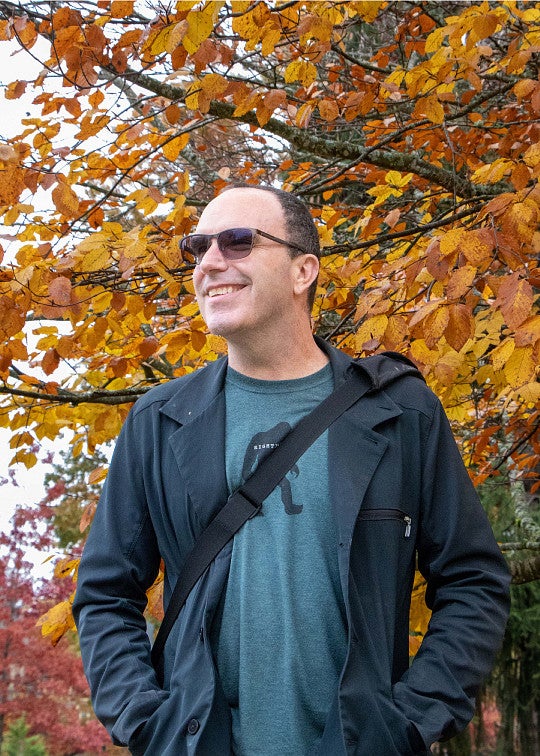 Coffee or tea: I love coffee but gave it up, so now I drink a lot of matcha and chai.
Current shows: "Daisy Jones and the Six" and "The Last of Us"
Song on repeat: "Overland" by I'm With Her
What do you do to treat yourself after a long day: I break out my guitar or my mandolin and play some Texas music or some bluegrass, and my dog Rae Rae sings along. Rae Rae is reincarnated; I have a feeling she was an Appalachian mountain singer in a past life.
Favorite spot to eat in Eugene: Pupuseria Juanita, a food truck on First Avenue
The CHC associate professor's childhood influences how he engages with students.
On a recent rainy Friday afternoon, associate professor Gantt Gurley gathers together with three Clark Honors College students in a lounge at Tykeson Hall. The group sits in silence as the students type away at their laptops.
Gurley, a CHC core faculty member, hums and sighs as he works on an article about a German poet. Then a timer on his phone rings aloud, signifying that time is up for the writing circle he has formed to help students ease their anxieties about the daunting blank page.
The writing circle is one of the ways Gurley shows his commitment to making education accessible for his students. Some remain after the session ends to catch up or clarify class assignments. They make edits to their work as part of the discussion. "Sometimes after 30 minutes is up, students just want to keep going," Gurley says. "You don't need to know all the rules before you start an assignment. Sometimes, just doing is the hardest part."
Gurley started as a faculty-in-residence at the CHC in the fall of 2022. He's taught two Honors College classes so far – "The Garden and The Wall" and "The Natural World." Both classes focus on linguistics, something Gurley has been passionate about since his upbringing in South Louisiana.
People in Gurley's hometown of Opelousas often spoke three different languages: English, Cajun, and Kouri-Vini, a Louisiana Cajun dialect of French. Gurley was never formally taught the latter two in school.
"My grandfather had this La-Z-Boy chair, and he would lay in it and I would lay in his lap, and he would teach me lots of things," Gurley recalls. "That was the only kind of language training I got in that way."
It was usually easy for him to pick up and switch between languages as he drifted around his relatives, going household to household. But he remembers struggling sometimes to understand the dialects in Opelousas used by his elders.
"It would be weird that I could understand my grandfather but not my grandmother all the time," he says now. "My grandmother spoke a whole different language, a Creole dialect of French that I didn't realize was a whole different language until later in life. It made me realize how intricate communities of language are."
Gurley also spent time with his great-grandfather, who only spoke Creole. "I couldn't ask what he was saying, so I just kind of had to figure it out," he says. "That was always really weird, but I loved it, and I was really close to my great-grandfather."
These experiences with language inspired Gurley to explore linguistics as a focus in college. He was inspired to apply to colleges in New York because of an essay called "Here is New York" by E.B. White. "It fixated this amazing story of New York in my mind," he says of the time. "The way E.B. White wrote about that… it made me want to go to New York."
He considered all the colleges in New York state, but chose Bard College because of its motto at the time: "A place to think…"
"I thought it just looked like the best place and I was totally right," Gurley says now.
When he first arrived, he remembers comparing himself to his peers who came from prestigious high schools and already had a lot of experience reading and writing. In his mind, he came up short. But it didn't take him long to catch up.
"I would just read when other people would party," he says. "You can make up lots of time that way."
At Bard, he was introduced to languages like Greek, Sanskrit, and German, He also honed in on his love of linguistics and made lasting connections with faculty members.
Gurley's advisor, Richard "Doc" Wiles, guided him through college and shaped him into the person he is today. What does Gurley remember most about Doc, who was a labor historian, ghost-story historian, a Marxist, and had a penchant for sipping on the occasional drink made with bourbon.
"I don't know where I would be without him," Gurley says now. "He would let my imagination go, wouldn't reel me in, and as a result, I just learned an incredible amount."
After Bard, Gurley attended graduate school at the University of California-Berkeley. He remembers thinking that the state of California was an entirely different world than he had known before. "It was just a whole different code I wasn't used to," he says.
He says he took a number of breaks because he was trying to find a place where he would fit. He went to Austin, Texas to work at a start-up, to Denmark to archive at the Royal Library, and to Prague.
But it was John Steinbeck, the famous American author, who brought Gurley back when he strayed. While living in Prague, he spotted a Steinbeck novel on his girlfriend's bookshelf that he'd never read. The book, The Wayward Bus, opened with a scene from the California Poppy Reserve in Salinas after it had just rained.
"This is when I thought I'd never live in America again," he recalls. "And reading that, I thought: 'I have to go back to California.' That's how important Steinbeck is to me."
Gurley finished his degree and taught at Berkeley for two years. He then spent a year at Harvard working on a post-doctorate at the Center for Jewish Studies. That got his foot in the door at the University of Oregon, where he's been working ever since.
He acknowledges that he had been struggling to find an intersection between his niche research areas and his teaching. Now that he's core faculty with the Honors College, he enjoys being able to experiment.
"I feel like I'm unleashed," he says. "Both courses I've taught in the Honors College definitely help me reformulate my research into my classrooms. That's special. You don't always get a teaching opportunity like that."
Last fall, Gurley taught "The Garden and The Wall," a class that discussed the fragility and decay that is inherent in being in a garden or paradise landscape from an etymological perspective. In the winter, his class, "The Natural World," dove into the scientific, literary and philosophical thinking that goes in explaining how the world operates.
"We think of science as being almost the opposite of the humanistic," he says. "If you look deeper into the etymology of words, you can find paradoxes or problems from the actual semantic meaning, which I think is really cool."
Gurley's work often attempts to deconstruct national rules of literary theory or find paradoxes in the etymology of words. "I think that sometimes puts me at odds, or kind of puts me on the outside in a lot of ways," he says. He's studied the idea of peripherality as well, which he thinks might subconsciously force him outside of academia.
He still feels like an outsider at times. "I wonder if that's something I consciously wear," he says, noting that his research is atypical, falling between the folds of Judaic Studies and Scandinavian Studies.
He says what is most interesting is what research can reflect about a person. The place he fled in search of academia is what he returns to in his research. "I grew up in a marginalized community and a bilingual community, and those tend to be the things that really excite me about research," he says.
- Story by Sammy Pierotti, Clark Honors College Communications
- Photo by Alex Rodriguez, Clark Honors College Communications